Workplace Essentials for Small Business
Everyplace is a Workplace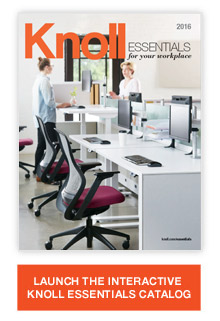 In today's more collaborative offces, work can take place anywhere. That's why Knoll offers workplace essentials that inspire people to do their best work—for both primary work areas and shared activity spaces.
Whether you are furnishing an office for one or a workspace for many, our functional, user-friendly furniture and accessories offer the timelessness of good design with the enduring qualities of careful workmanship and practical materials. Most are ready to install in just four weeks. Connect with your Knoll dealer to get started.
To learn more about Knoll Essentials, click on the interactive catalog.
EssentialsNow Quick Ship
From open plan and private offices to activity spaces, we provide the workplace essentials to support your greatest investments—your people and your space. Need it fast? With EssentialsNow, these easy-to-order products ship to you in just one week!