DIFFA Dining by Design at Pier 92/94
An annual creative dining installation features designs by Schultz and Bertoia
This weekend, Pier 92/94 hosts Dining by Design, an annual event where international designers and local talent come together to imagine creative dining installations. The DIFFA-sponsored event will be held from March 19th through March 23rd. With styles ranging from the opulent to the whimsical, the installations showcase burgeoning talent, emerging trends, and new products against the backdrop of stylized displays that recall the imaginative inventiveness of Bergdorf Goodman's window mechandizing. In addition to the 30,000 square feet worth of dining arrangements, the event features a cocktail reception, a gala dinner, and public viewing session. The times and details for each event can be found on DIFFA's website.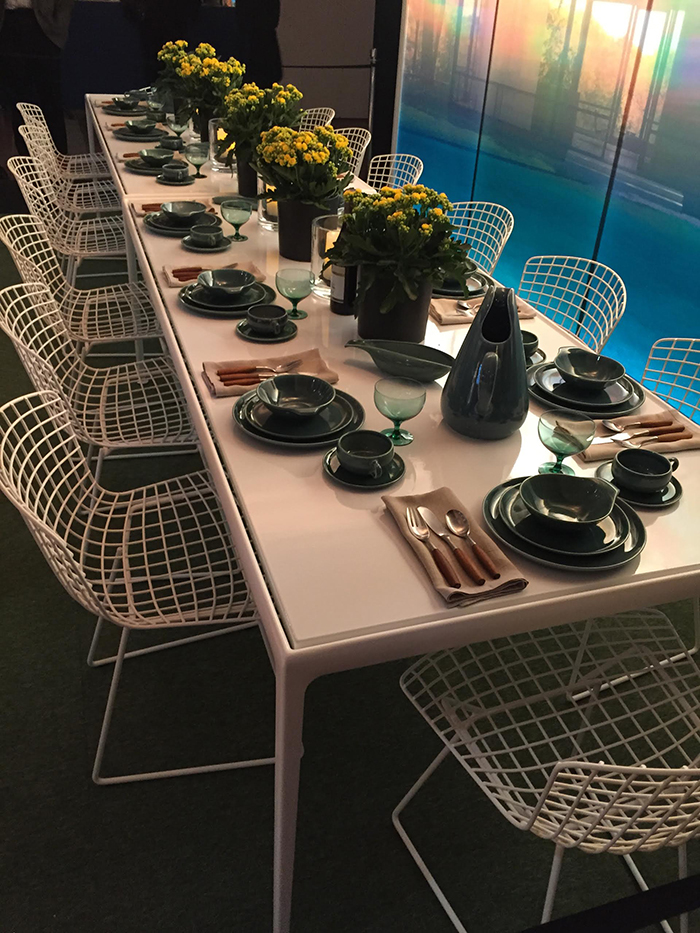 DIFFA Dining by Design featuring 1966 Table and Bertoia Side Chair ​by Gensler, 2015.
Gensler, an international architecture and design firm, included several pieces from Knoll for their spring-inspired setup, which features a set of Bertoia Side Chairs flanking two 1966 Dining Tables by Richard Schultz with Russell Wright place settings. In 2005, Knoll was the recipient of the Russel Wright Marketing of Modernism Award, established to honor today's market leaders who carry forward Wright's philosophy and legacy in design and architecture. The foundation stated that, "Without Knoll, Modernism would have had a much lower visibility in America and would be far less accessible to the public today."
DIFFA Dining by Design featuring Saarinen Dining Table and Washington Skeleton Chair ​by HOK, 2014.
Last year, Knoll contributed a white laminate-topped Saarinen Table surrounded by David Adjaye's Washington Skeleton™ Aluminum Side Chairs for an installation designed by HOK.
For more details and tickets, please visit DIFFA.