Our Tools, Our Time: Women at MoMA
Knoll "muses and shapers" showcased in 100 years of design history
"We have plans and blueprints, but we learn to listen to voices: to the yes and no of materials, our tools, our time."
-Anni Albers
The current exhibit at The Museum of Modern Art entitled Designing Modern Women 1890-1990 pays homage to "the creativity of women" which shaped design in the last century. Certainly Knoll would not have existed as it does today without Florence Knoll at the healm. But there are other women, equally celebrated if not as universally known, whose work is woven into that legacy. MoMA's spotlight shines on some of those designers, the "muses of modernity and shapers of new ways of living," as the exhibition notes.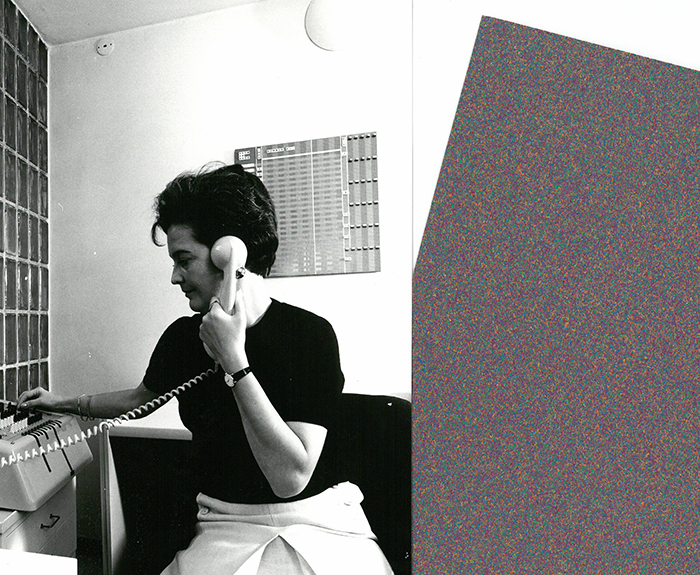 Lella Vignelli of Vignelli Associates, who along with Massimo Vignelli designed the Handkerchief Chair for Knoll. At right is Speckle, one of the paint finishes available for the Handkerchief Chair at the time. Images from the Knoll Archive.
MoMA presents a timeline that is punctuated by women who worked at Knoll, spanning design perspectives from the Bauhaus in the 1920s through Post-Modernism in the 1980s. Some, like Gunta Stolzl, influenced Knoll indirectly. Stolzl taught textiles at the Bauhaus, establishing weaving to be as important as any other craft, and it is here where Albers studied and taught in the 1920s (at the same time Ludwig Mies van der Rohe and Marcel Breuer were designing furniture that Knoll would later produce). MoMA presents two of Albers' pieces from 1927—a drawing for a wall hanging, and the wall hanging itself—which demonstrate her interest in quiet and restraint through geometric composition. "I didn't want people to go into a room and say immediately, 'Ah, an Albers,'" she told Knoll. Nonetheless, Eclat, the fabric she designed for Knoll in 1974, is instantly recognizable.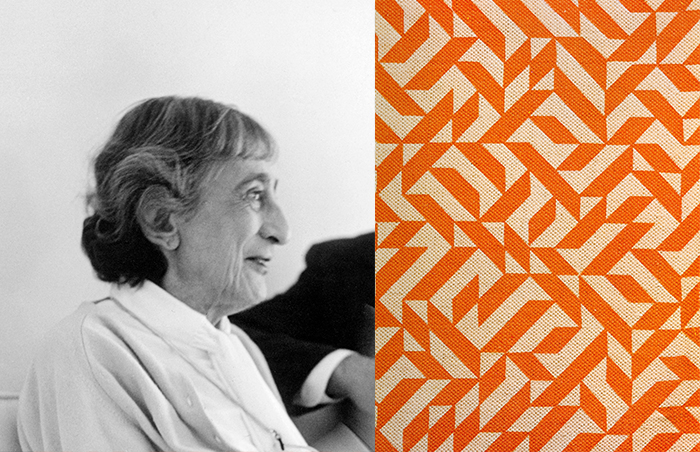 Anni Albers, recipient of the AIA Gold Medal Award in the same year as Le Corbusier and Florence Knoll. At right is Eclat Weave, which Albers originally developed for KnollTextiles as Eclat in 1974. The pattern was influenced by her printmaking. Images from the Knoll Archive.
The exhibition also features a charcoal drawing by Lily Reich. Reich worked with Ludwig Mies van der Rohe on his iconic chairs that Knoll would later manufacture. The elegant seat curve in Reich's conceptual drawing (c. 1931) is recognizable in Mies' MR Series, which Knoll would later produce.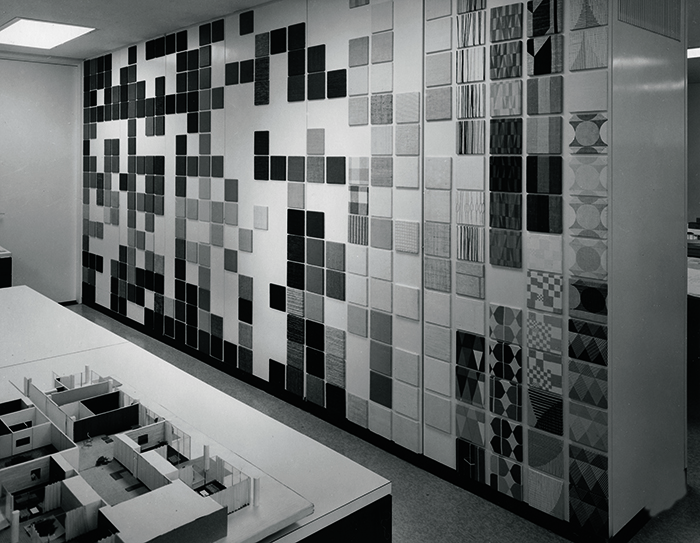 The gridded KnollTextiles wall, Florence Knoll's development, created an organized system for displaying the company's offerings while also acting as an architectural element. The Knoll Planning Unit, also Ms. Knoll's invention, is modeled in the foreground. From the Knoll Archive.
From the 1950s, the exhibition highlights Eszter Haraszty, who directed KnollTextiles from 1949 until 1955. Three screen-printed fabrics from the early 1950s demonstrate the designer's vivid sense of color. Joining KnollTextiles at a pivotal moment in the company's history, following the direction of Evelyn Hill, Haraszty led the way for her successors in the industry.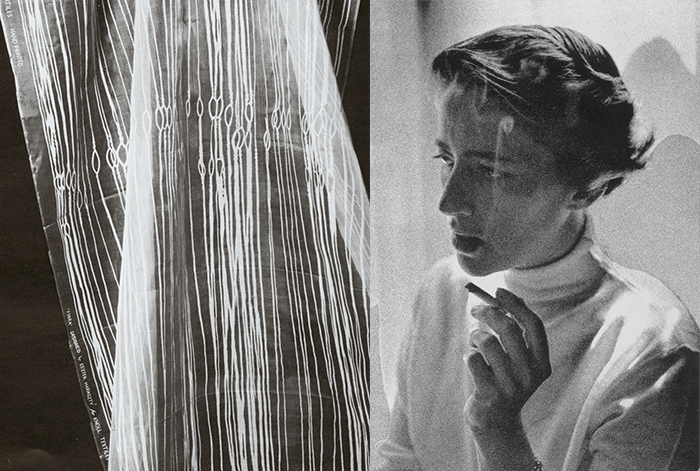 Fabrics by Eszter Haratszty, who designed for KnollTextiles, are featured in the MoMA exhibition. Above, an image of Tracy (1953), and a portrait of the designer herself. Images from the Knoll Archive.
Also featured are Florence Knoll, whose many contributions to Knoll and American modernism cannot be measured; Denice Scott Brown, who designed playfully post-modern chairs for Knoll with her more frequently cited husband Robert Venturi; and Lella Vignelli, who designed the Handkerchief Chair (1983) and PaperClip Table (1994) with her husband Massimo Vignelli as part of Vignelli Associates. Vignelli Associates also created Knoll's recognizable graphic identity of the late 1960s and 1970s.

From left, designs by Florence Knoll, Denise Scott Brown and Robert Venturi, and Vignelli Associates. From the Knoll Archive. The MoMA exhibition features Florence Knoll's Showroom design from 1947, her coffee table from 1954, the Venturi-Scott Brown Queen Anne Side Chair from 1983, and the Vignelli & David Law Handkerchief Chair from 1985.
The exhibition Designing Modern Women 1890-1990 will be on display through September 21, 2014 at The Museum of Modern Art, located at 11 West 53 Street in New York City. Museum hours are Saturday through Wednesday from 10:30am to 5:30pm and Thursday and Friday from 10:30 am to 8pm.