To Tortola
With its seaside location, the headland residence includes opalescent ocean views
Located on the western tip of Tortola, this architectural marvel sits atop a headland that affords the home owners a panoramic view of the water surrounding the British Virgin Islands. With its grand vistas and epic sunsets, the location warrants a pared-down interior, one that doesn't compete with the home's surreal surroundings. The project's interior designer, Jan Navarre Chevalier, lived in the Carribean and understood the challenge of integrating Knoll's modern sensibility with the island's native environment. "Because of the villa's dramatic architectural form, the clean lines of the furniture respresent the perfect marriage."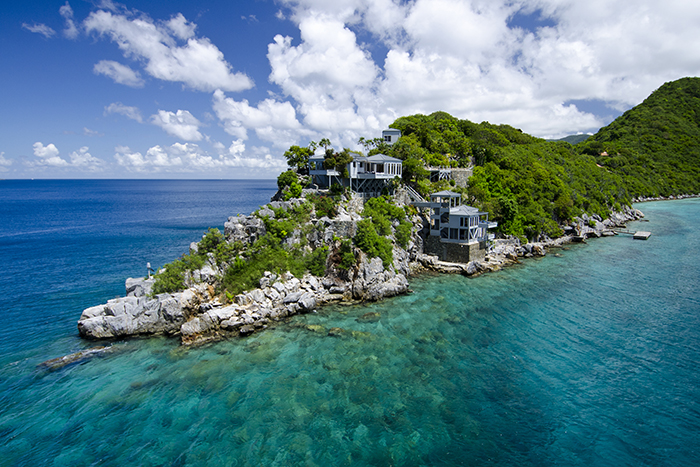 The divisions between interior and exterior are intentionally deconstructed, facilitating one's experience of the outdoors from the comfort of home. The kitchen and dining room, for instance, open up onto the patio, allowing for entertaining en plein air. The bedrooms overflow onto neighboring decks, one of which features a breakfast nook suitable for an early-morning bite. Even the shower includes a palm tree that grows through the ceiling.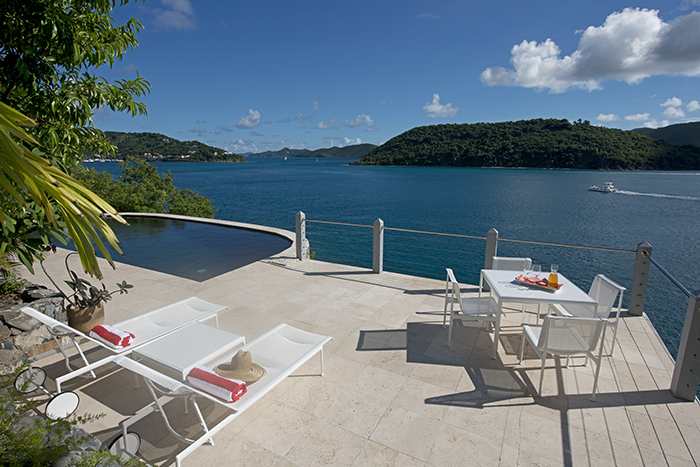 Another terrace includes a pair of chaises for midday sunbathing and a cluster of Richard Schultz's 1966 Collection.
Scattered along the slats, Toledo Chairs (and Pensi Table) represent the ideal choice for patio furniture, being both impervious to the elements and stackable for easy storage.

Ludwig Mies van der Rohe's iconic glass Barcelona table sets the tone of the living room, which is at once contemporary and unobtrusive. A Platner Side Table sits nestled between two armchairs introducing a graceful curve to counterbalance the strong right angles of the Mies-inspired décor. Taken together, "the furnishings pair well with the stainless steel railings throughout the home."

In the sequestered office space, a Generation chair is tucked away under an infrequently used workdesk.

The house includes a pathway down to the wharf, where the home's summer denizens spend the majority of their time swimming, sailing, and snorkeling.
All photographs courtesy of the homeowner.