Features
Architectural Digest Features The Adjaye Collection by David Adjaye
Knoll in the News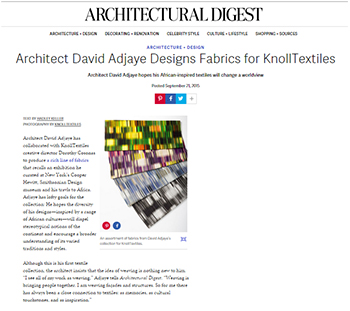 Architectural Digest featured The Adjaye Collection by David Adjaye for KnollTextiles on its Architecture + Design blog. The collection, a collaboration between the acclaimed architect and KnollTextiles Creative Director Dorothy Cosonas, launched this month after being previewed at NeoCon 2015. It is Adjaye's first work with textiles; he has collaborated with Knoll on furniture since the 2013 launch of The Washington Collection.
Architectural Digest draws a thread between the KnollTextiles collection and the Cooper Hewitt exhibition of African textiles that Adjaye curated, and which is currently on view. Both works are part of the architect's ongoing project to demystify African culture and reflect the diversity of the continent's culture, people and urban centers.
The piece quotes Adjaye: "I see all my work as weaving.... So for me there has always been a close connection to textiles: as memories, as cultural touchstones, and as inspiration."
The Adjaye Collection comprises six upholsteries, two draperies and a wall covering, each named for a different city in Africa. The color, material and pattern palettes are drawn from Adjaye's deep explorations into the cities' landscapes and the history of textiles and architecture in Africa and matched with the precise needs of contemporary spaces.