Design Story: Behind the Olivares Aluminum Chair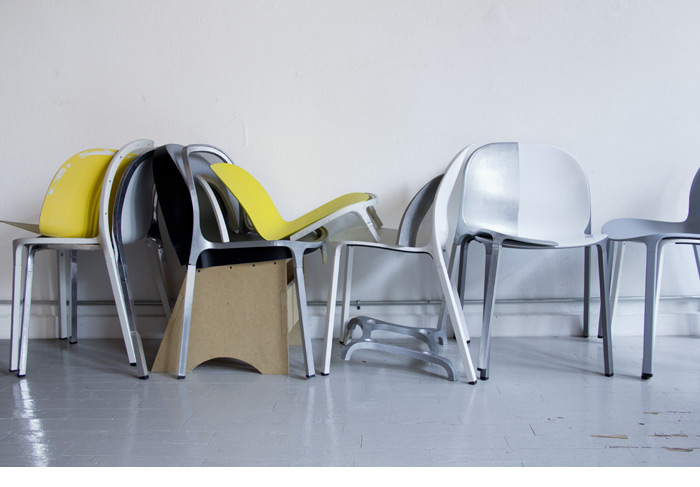 Jonathan Olivares is admittedly obsessed with the Newtonian idea of standing on the shoulders of giants. In this case, the giants are outdoor chairs and mostly metal ones: Harry Bertoia's wire frame side chair (1958) and Marco Zanuso and Richard Sapper's Lambda Chair (1959) among others.
Supported by Knoll's experienced team of furniture and engineering experts, and with these icons in mind, Olivares went forward on an ambitious quest to create a perfect outdoor chair: not too heavy, certainly not too light, more comfortable than anything else, and something smart enough should it make its way inside. The result — a deft arrangement of material, technical craft, form, and color — is so comfortable, durable, and handsome that you don't even think about it. Olivares has hosted the languorous meals and hang outs to prove it: no complaints.

Olivares, author of The Taxonomy of Office Chairs, a headfirst dive into the evolution, aesthetic and functionality of office chairs, approached the initial product design phase with an objective, and not surprisingly taxonomic survey of outdoor chairs: which ones were in fact too heavy; which were too light; how comfortable were they; how were they produced; and then of course, how were they to interact with, to sit with, to live with.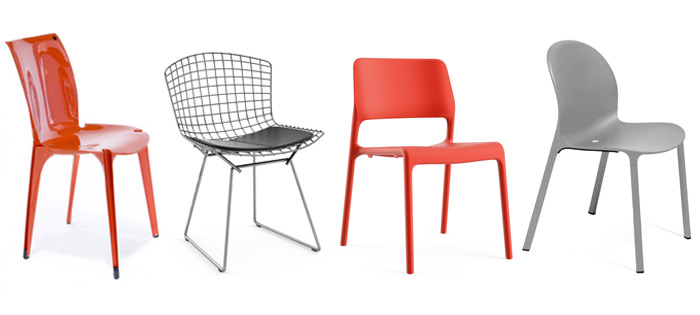 After a series of experiments with hydro-forming, stamping, and other means of manipulating metal, Olivares and team posed a hypothesis: what if we could cast this chair in a single piece of material — not only for ergonomic comfort, but to reduce cost, the chair as thin as feasible. Ultimately it was the aluminum supplier that suggested this might work. Material drives the idea, functionality follows; a series of models and prototypes later and the vocabulary set. The final chair is composed of a die-cast aluminum body-contoured shell and extruded aluminum legs; plastic connections allow the chairs to stack neatly without scratching. For Olivares, access to fabricators and near-instant protyping, helps him to better understand materials: "Can you surprise yourself with learning something new — or something that can be measured to be more successful? Through experimentation you can push materials beyond their conventional limits."
At its thinnest, the Olivares Aluminum Chair is three millimeters thick; at its widest points nearly three times that. This keeps the edges from being too sharp, but also allows the aluminum to do its job: stay cool. In fact, the thinness of the center of the chair lets the material adjust quickly to your body temperature; the outside edges in turn help to continuously temper that warming center.
The chair's shape evolved in order to maximize structure and hit the sweet spot in terms of weight. Olivares's team continuously measured against the Bertoia chair (15 lbs.) until shavings here, adjustments there yielded the perfect weight. (The final product is just under 15 lbs.) Advanced computer modeling systems allowed his team to constantly "weigh" the chair. Structural and ergonomic tests, and a cache of scale models and printed prototypes are now relics of a nearly four-year-long process toward the final product. Throughout decisions are made and paths followed in order to optimize the overlap between designer, manufacturer, and customer needs. The result betrays Olivares's earnest ambition to create a product "worth its weight on the planet."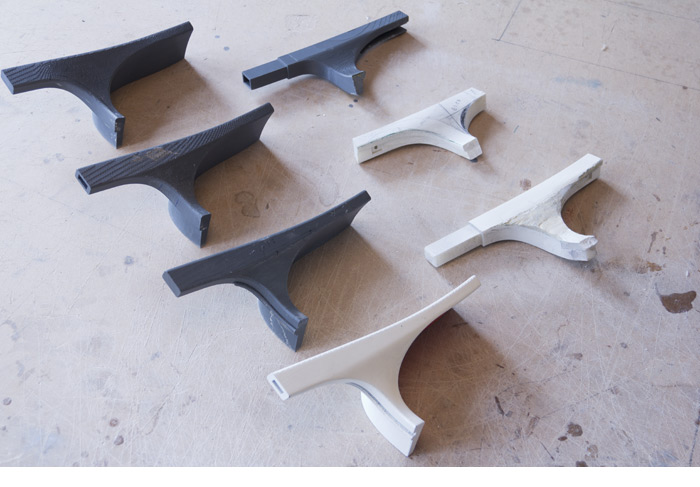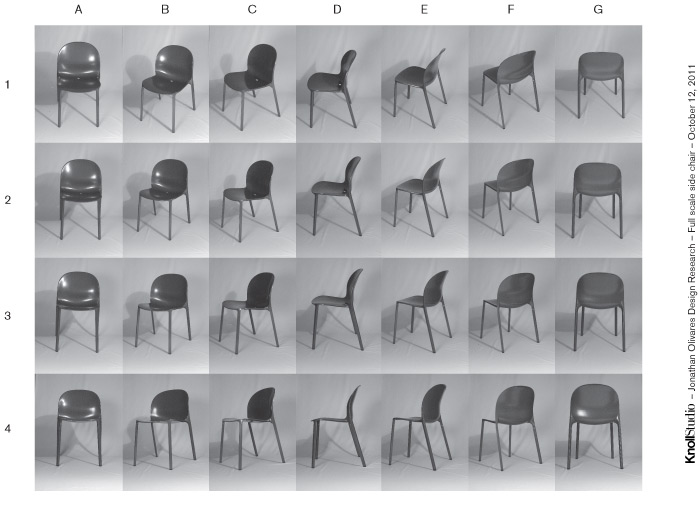 A fastidiously ordered grid of photographs made communicating easier between Olivares and Knoll design director Benjamin Pardo about potential adjustments and their cascading effects.

"We developed the color with Benjamin Pardo — he was totally instrumental in developing the palette. We were looking at David Hockney Paintings — and wondering what are good outdoor colors? What are good artificial outdoor colors? We were drawn in by the paintings' acceptance of artificiality," Olivares recalled. "A die cast aluminum and powder coated chair is an artificial object. We wanted to be very clear that it was inspired by nature but man-made." Pardo also sites Italian futurists painting inspired by the summer and the spring, like Ennio Morlotti. And Olivares is thrilled with the color. A lively palette of bright, electric hues. With plum, yellow, lime, orange, blue, sky blue, grey and white, there's something for everyone.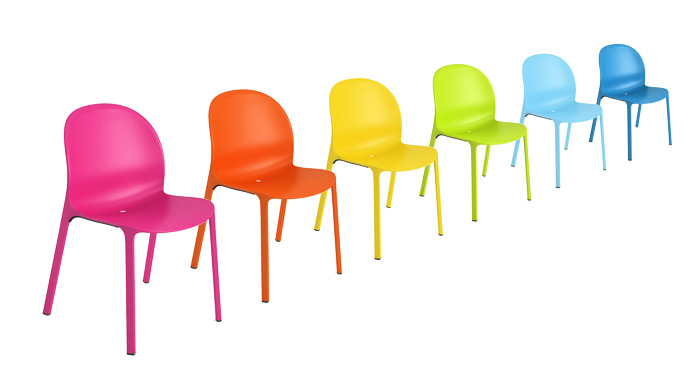 And the hole. As Olivares put it, it does its job — an outdoor chair needs to drain. But the hole also gives some relief to the big surface of the chair, Olivares explains. Plus, you get a chance to see exactly how thin the chair is; something he's really excited about.
His LA-based office, Jonathan Olivares Design Research, embarks on a multitude of projects for both public and private clients. Olivares cultivates a diverse office environment of curious and multi-disciplinarian contributors, as comfortable computer modelling as synthesizing insights, whether observed, mocked-up, or researched. For Olivares, the research aspect of his office is integral to his practice, and proves essential to his operation. (Knoll first got to know Olivares in the context of a survey he was completing for Domus Magazine on the state of the American furniture industry in 2007.) He's become adept at simplifying complex quantities of information, helpful for both sides of his practice.