Features
Hospitality Design Features Maria Cornejo for KnollTextiles
Knoll in the News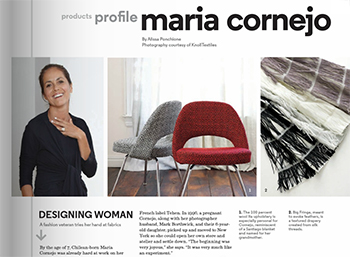 Hospitality Design features Maria Cornejo and her work with KnollTextiles in its August issue. The Chilean-American fashion designer partnered with KnollTextiles to create the Maria Cornejo Collection for Knoll Luxe in 2014. The deeply personal and unique line of textiles was developed in collaboration with Knoll Luxe Creative Director Dorothy Cosonas, and is alive with rich pattern, color and texture. The collaboration has generated creative feedback in Cornejo's fashion design work. "I'm constantly questioning everything," she told Hospitality Design. "I call it inspiration depression. How can we make it better? How can we evolve?"
The piece describes the evolution of Cornejo's career and her childhood journey from Chile as a political refugee to Peru and, finally, to England. As a teenager, she discovered her passion for design and its power to communicate visually–a quality that was especially attractive to her as she was struggling with communication in English.
Now a celebrated designer worn by Michelle Obama and Tilda Swinton, Cornejo developed her first fashion line in Paris in 1989 at the age of 27. She found success after moving to New York City to open her own store and atelier, Zero + Maria Cornejo. Cornejo is the fourth fashion house to collaborate with Knoll Luxe.