David Adjaye
Chat with David Adjaye and get to know the Washington Collection for Knoll™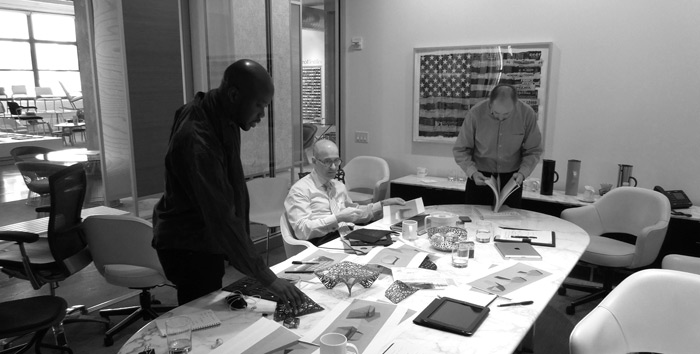 David Adjaye with Knoll design director Benjamin Pardo.

KNOLL INSPIRATION: Could you sum up the Washington Collection for Knoll™ in a few sentences?
DAVID ADJAYE: The Washington Collection is an investigation into form, materials, balance and weight. I wanted to create furniture that is both playful and beautiful – appearing light yet also expressing monumentality.

Have you ever designed any furniture before? How did you approach the earliest phases of design?
I work at many different scales, with products and furniture sometimes providing a testing ground for the architecture. I have designed bespoke furniture – such as a concrete, integrated sofa for one of my clients, the Monoforms range and exterior seating at Waddesdon Manor – as well as products – including a range of vases for Gaia & Gino and door furniture for IZE. What is entirely new, however, is to have designed an entire collection and this has been extremely exciting. I have enjoyed the collaboration with Knoll – the sense of joint purpose and the creative dialogue with the technical team.
What surprised you about the experience of working with Knoll?
Sometimes what you think will work as the final product becomes an investigation – a kind of experiment. You know instantly that it ultimately won't work, but it is part of the story and I have a real delight in the samples, the mock-ups and the sketches. It is an amazing luxury to be able to manipulate and sculpt – at full scale – as you go along. This is something you can't do with buildings.

To what extent were you involved in the production, prototyping, color selection process?
We were totally involved! It was very exciting to see the full scale models and to experiment with feasibility as well as the aesthetic or intellectual dimension. We were also involved in the colour palette – the possibilities and the limitations – and we thought through very carefully how the furniture would be seen in different environments.
One could argue that furniture is at least temporarily without place, without context, without geography; did this influence your approach to the designs?
I would disagree. There is always a context – but it is a shifting context. For me, the context was the work I am currently doing in Washington – the connections are not linear – but there is a narrative about skin, form and structure that is manifested in the collection. It has been very important to respond faithfully to this moment, this current focus in my career. I strongly believe that architecture or design should have integrity within the context of its own time. This is what gives it an enduring relevance. I delight in the idea that once the collection is in production, it will re-emerge in many different contexts and take on a whole new language. This is hugely exciting – although not entirely different to the way that buildings are part of the shifting urban landscape, for example.
Describe your first encounter with Knoll.
In school – during the history of furniture lessons.
Do you have a favorite Knoll product?
Mies van der Rohe's iconic Barcelona day bed.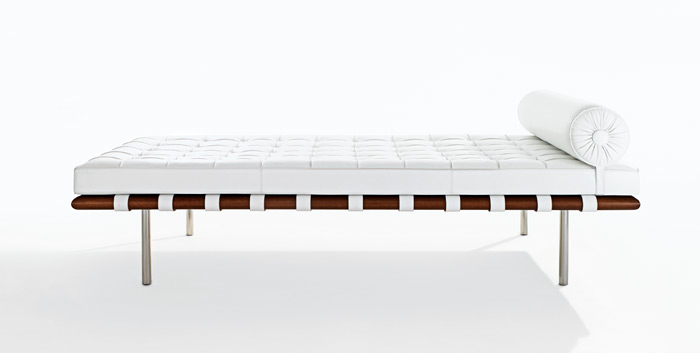 Do you sketch?
Yes, all the time.
Your first "design memory"?
I lived in a number of African cities when I was growing up – and the idea of the modern city is a powerful memory. My father's career in the civil service meant that we were usually posted in the emerging cities, the new cities that were being reinvented after independence. So for me, the continent of Africa is a group of rising metropolitan, Modernist cities. I thought that's how all cities looked until I came to Europe!
Your favorite public space?
Luis Barragán's Torres de Satélite in Mexico – a series of monumental sculptures – a moving composition that has established a strong resonance with urbanity and materiality in the city.
Best city for design?
"Best" and "worst" is not a relevant way of thinking about cities in terms of design. Cities are about the way people do things.
Best museum for design?
Mies van der Rohe's Neue Nationalgalerie in Berlin – a highpoint of 20th Century architecture and engineering, representing a moment when modernity successfully conceptualised the relationship between inside and outside and created a highly symbolic space.
Some of your favorite buildings?
I am inspired by a number of buildings as well as the ideas of particular artists and architects. I admire the work of the late Egyptian architect, Hassan Fathy for example, who pioneered an architecture that responded very directly to climate, local materials and place.
Have you any interesting upcoming projects to share?
My first tower in China, a concept store in Nigeria, a silk weaving facility in India, a slavery museum in Ghana, a fashion hub in London…
A book to recommend?
Style in the Technical and Tectonic Arts; or, Practical Aesthetics by Gottfried Semper. It is an important manifesto on the root nature of architectural fabric and provides a formative discourse about the evolution of architecture.