Ray Booth
Get to know the New York and Nashville-based designer
Knoll recently teamed up with Ray Booth, of McAlpine Booth & Ferrier Interiors, to specially curate a collection of Knoll furniture—one that personally inspires his design vision.

Follow this link to see the beautiful New York City apartment that he shares with his partner John Shea, and read below for a Q+A with Ray. Then visit promotions.shopad.net/knoll to enter for a chance to win David Adjaye's Washington Skeleton™ chair—the same Ray chose for his terrace.
When did you first know that you had an interest in design?
It started at the age of four when I began turning over chairs and furniture to build houses. Granted they were for "stuffy" clients at the time (as in stuffed animals), but occasionally an unfortunate living cat was the recipient of my design talents.

Who are your design heroes?
I am fortunate to have a few. Of course Eero Saarinen and Charles Eames have to be considered heroes.
Have you had a design "ah ha" moment? When/where did it happen?
It happens each time we discover in our clients the reasons why they want to build or create an interior of a home.

What is your favorite room to design?
I love a main gathering room of a building. In these rooms we are allowed to express a client's tastes, personality, graciousness, and diversity in style of furnishings.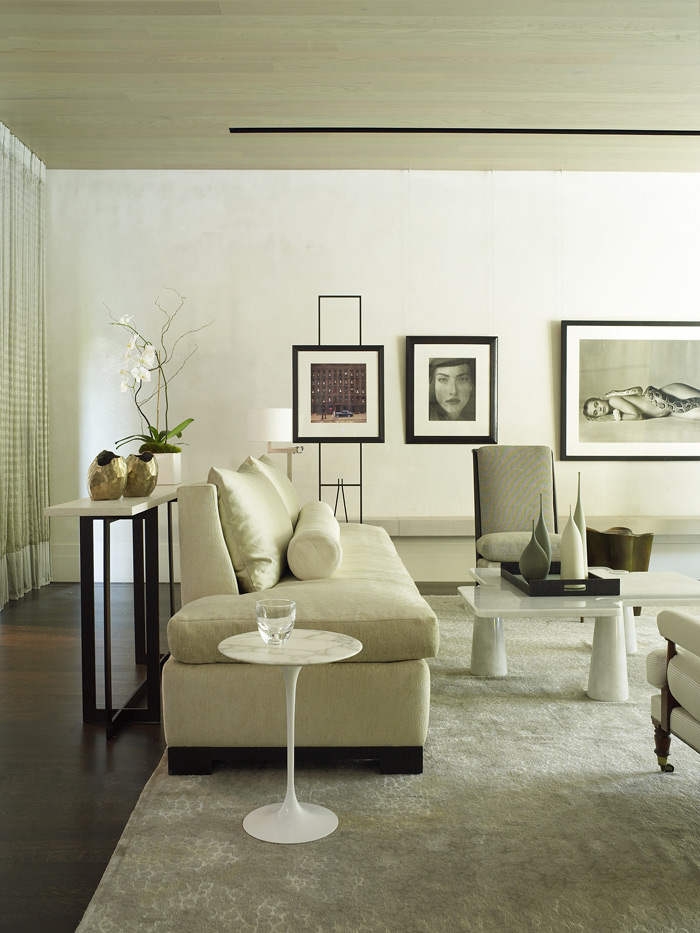 Frist Residence. McAlpine Booth & Ferrier Interiors. Tria Giovan Photography
Do you have a favorite piece of furniture?
I have to say that the Saarinen Tulip table remains one of my favorites. I love that it can be translated into so many sizes—from small to large—and topped in so many materials. And it always retains its grace and function. Its origin in design, being the answer to a table laden with legs, is a brilliant and simple solution that remains timeless.
What is on your design bucket list?
To design the architecture and interior of a home—all in my hand. I have been fortunate to have pieces and parts of each of these processes but I long for that project that allows me to fully marry these two disciplines.
In his Washington Collection™ for Knoll, David Adjaye turned his architectural vision into accessible home furniture. What piece do you relate to most in the collection?
The Washington Corona table is an intoxicatingly beautiful piece. It is a piece of architecture to me, in that it sits as an object in space while creating and holding space within itself. The curvilinear form is suggested subtly on the outside of the piece and then celebrated in the interior…magic!
If you had to describe your design aesthetic in three words what would they be?
I would hope they would be architecturally reverent, timeless, evocative (Sorry, I guess that is four…)