Features
Chairs by Architects Features Knoll Furniture by Iconic Designers
A new illustrated volume from Thames & Hudson includes designs for Knoll by celebrated architects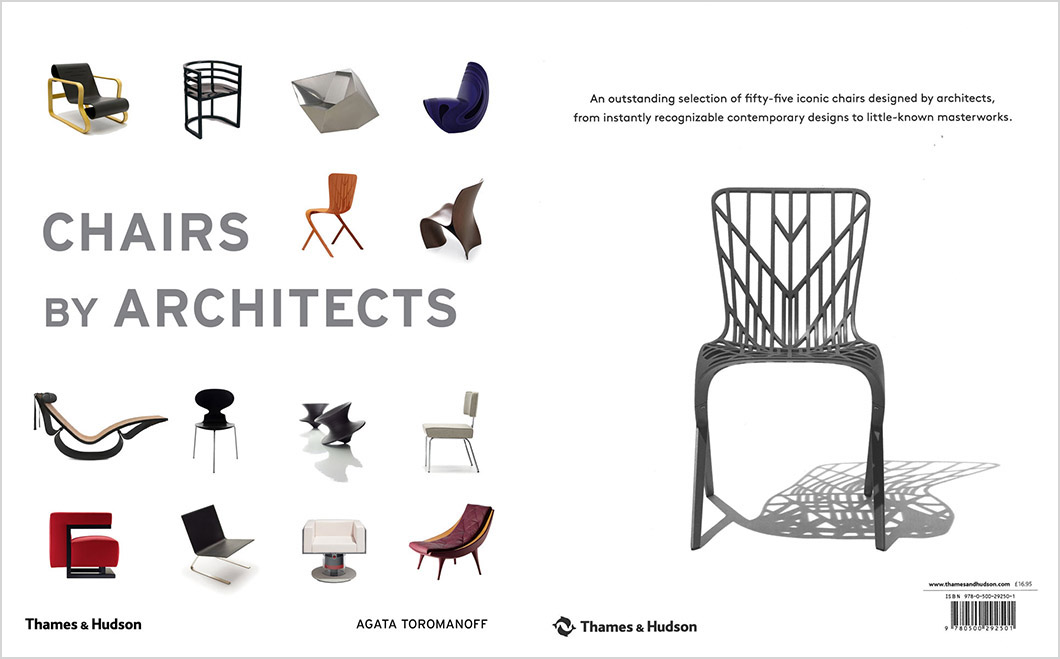 Front and back cover of Chairs by Architects, featuring designs by Rem Koolhaas, Richard Meier, and David Adjaye. 2016 © Thames & Hudson
Chairs by Architects is a new chronological volume of furniture design from London-based art book publishers Thames & Hudson. Written and compiled by Agata Toromanoff, the book includes chairs by iconic architects from 1835 to the present day, including several Knoll products and works by designers affiliated with Knoll. With simple spreads that clearly relate the architects' furniture to their larger built projects, Toromanoff foregrounds the notion of a translatable creativity, the singular aesthetic ideal of an architect that can manifest on multiple scales.
In this vein, the structural ingenuity of Ludwig Mies van der Rohe's Barcelona Chair is likened to his 1968 design for the Neue Nationalgalerie in Berlin, while Eero Saarinen's sinuous Tulip Chair is placed in dialogue with the curved roof of the Dulles International Airport in Washington, DC. Richard Meier's Armchair 810, designed for Knoll in 1978, bears a pleasing sense of proportion that is reflected in the loggia of his Ara Pacis Museum in Rome. Rounding out the modern period are Marcel Breuer and Frank Gehry, whose personal tenets of architecture can similarly be read in their forays into furniture.
More recent Knoll designs in Chairs by Architects include the 01 Arm Chair by Rem Koolhaas from the 2013 Tools for Life series, a blocky design that recalls the white concrete massing of OMA's Casa da Musica in Portugal. David Adjaye's Washington Skeleton Chair and Washington Skin Chair, also from 2013, suggest the architect's ongoing interest in cantilevering that is clear in his 2010 design for the Skolkovo School of Management in Moscow.
Toromanoff concludes the book with interviews that discuss the nature of design and manufacturing, speaking with David Adjaye about the iterative process of creating the Washington collection, from initial concept to final prototypes: "It is an amazing luxury to be able to manipulate and sculpt at full scale as you go along," he said. "You can't do this with buildings."
The author, who also manages a blog dedicated to books on art and design, spoke directly with Knoll about the technology and collaboration integral to manufacturing a chair, where "each project is marked by an exploration of a new material or engineering technique."
With its straightforward pairing of seating to building, Chairs by Architects makes the case that a design philosophy need not be limited to a specific typology, but, if rigorous enough, can traverse various domains. As Adjaye explains, "it is an exploration of the body in space—something that informs the design of buildings as much as objects and how we interact with them."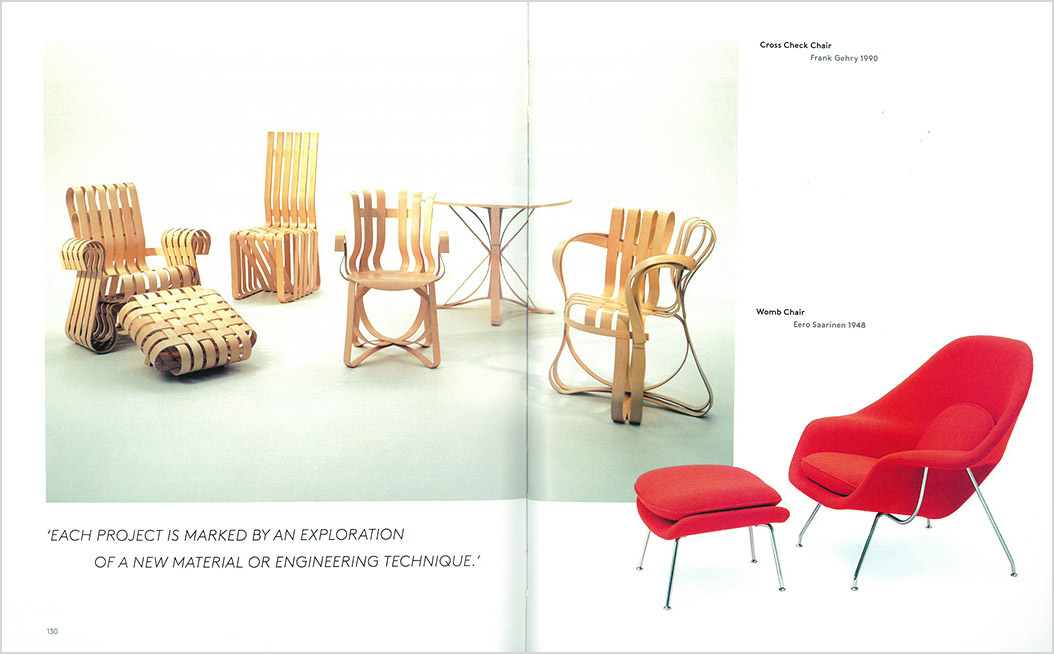 Spread from Chairs by Architects, featuring the Frank Gehry Collection and Eero Saarinen's Womb Chair. 2016 © Thames & Hudson