Features
Knoll Participates in Workplace Panel at WorkTech '15 London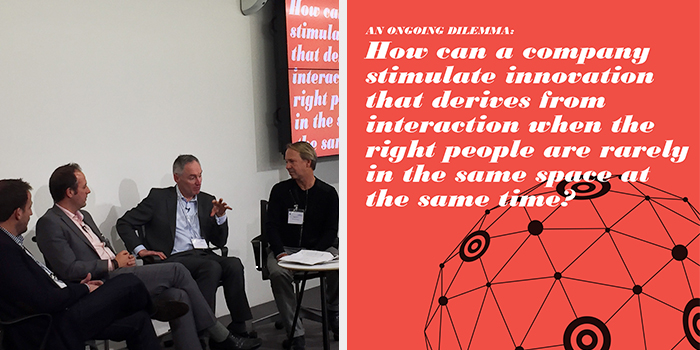 Derek Bock, Andrew O'Donnell, Chris Kane and Tracy Wymer spoke at WorkTech '15 in London on November 17.
November 17, 2015 — Tracy Wymer, Vice President Workplace, Knoll, joined Andrew O'Donnell, Ernst & Young LLP, Chris Kane, formerly of the BBC, and Derek Bock, eBay, on a panel debate at WorkTech '15 in London. The panel, which Wymer moderated, discussed ways in which companies can stimulate innovation by bringing the right people together. The panel also addressed how workplaces that take design and programming cues from the world of hospitality can enhance the overall work experience.
The discussion centered around the role physical place plays for organizations and today's digitally connected workforce. Kane, former CEO of BBC Commercial Projects and former Head of BBC Workplace, put it this way: "How do we justify the best designed spaces in an increasingly digital world?"
With work that is less and less tethered from the traditional office, its spatial delineations and hierarchies, organizations nonetheless recognize the value of gathering the right people in the right place at the right time. And people are also recognizing the importance of their workplaces for social and creative needs—a shift that Knoll and Unwired tracked in their recent study, the workplace net.work.
O'Donnell, who is Ernst & Young's Real Estate Leader in the United Kingdom and Ireland, spoke about the people-oriented focus of his business. "Our challenge is to turn buildings into social networks," he commented. "People strategy drives our real estate strategy."
Bock, eBay, emphasized removing friction and obstacles to an intuitive use of the workplace. "Have intuitive spaces connecting the overall space to the brand," he advised. "Any time you empower people to work where they need to be, the stronger connection to brand."
The panelists were participants in the Unwired and Knoll research study the workplace net.work, released earlier this year. That study examined lessons from organizations around the world and projected workplace trends at the productive intersections of physical real estate, social networks and technology.