Ibiza Farmhouse Modern
A renovation by Martínez Lapeña-Torres Arquitectos
Located in a quiet corner of the island of Ibiza, Spain, this country house was built by a peasant farmer 150 years ago. In more recent history, it stood empty—until the current owners, a celebrated rug designer and photographer, purchased it as a holiday home. The house is in the vernacular style of flat-roofed, detached buildings, and claims heritage status, which means that any renovation must adhere to strict code. In any case, in this rural setting, a light touch seemed most appropriate. The buildings nestle in a landscape of low brush and old orchard growth; shrubs and pine thickets mingle with fig, carob and almond trees in the ancient terraces that overlook the Mediterrean sea.
And so the Barcelona-based Martínez Lapeña-Torres Arquitectos set out to complete a sensitive renovation using traditional, native materials and methods, while accomodating the couple's contemporary needs. The injection of new into old produces the unexpected: a minimal unison that can only be described as timeless.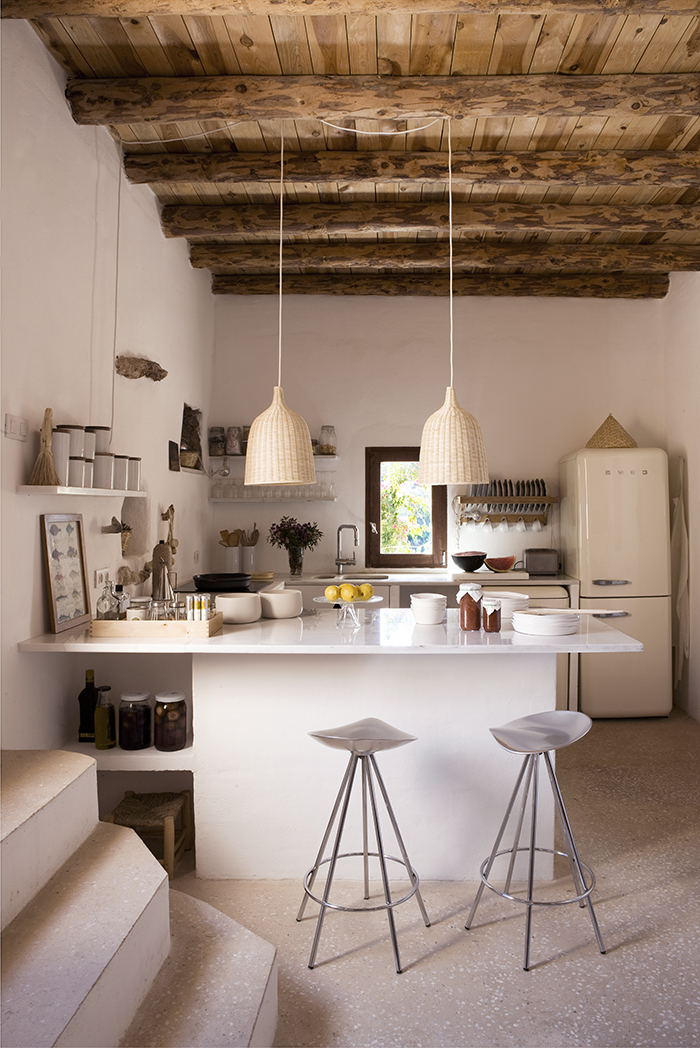 Photograph by Albert Font
For an example, just look to the kitchen, where the mixture of natural wood and plaster white is faithful to history while feeling relaxed and modern. Here, the essential components of the ceiling, walls and floor have been retained. Elías Torres, partner at Martínez Lapeña-Torres Arquitectos, describes the work best:
"The pine wood ceiling is new, but following proportions of the old deteriorated one. The walls have been cleaned and plastered again with a more solid lime mortar, and the floor replaced by a continuous mixture of lime, sand and local beige gravel. The same material covers a set of new steps that connect the kitchen with an elevated exterior terrace. On the left wall we have kept the original wooden hooks, a niche carved in the wall, and the small arched opening to the oven, which emerges on the facade as a little half-vaulted temple."
The architects have used thin Spanish marble slabs called Macael for the horizontal kitchen surfaces and wall shelves. The retro round-edged oven, dishwasher and refrigerator (by Smeg) complement the house's "imprecise perfection," as Torres puts it. The two Jamaica Barstools, designed by the Spanish designer Pepe Cortés for Knoll, work in a similar way: "They appear to be dancing free, like a duet around the kitchen table." We might do the same.