Features
The New York Times Includes Platner Easy Chair in Lounge Chair Guide
Knoll in the News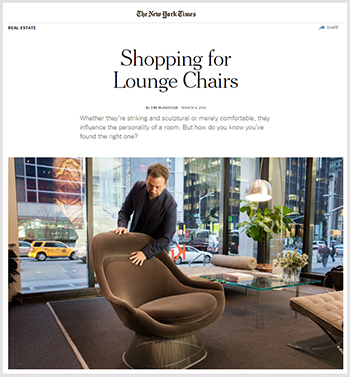 The New York Times included the Platner Easy Chair in the Real Estate section as part of a shopping guide with the celebrated New York designer Joe Nahem. The piece, which appeared in the print edition of the Sunday Times on March 6, 2016, highlights five selections that meet Nahem's criteria for a lounge chair that does "something special."
"I've been using this chair since before it was retro, and it still holds its own today," said Nahem of the Platner Easy Chair, quoted in the piece. "It is one of the few pieces that has a great sculptural quality, but is comfortable enough to watch the Super Bowl in."
Another criteria for inclusion: Knoll's wide selection of textiles makes the chair easy to customize, the Times wrote.
Also published on Sunday, T, The New York Times Style Magazine, featured the Platner Stool in Gold. The issue was dedicated to men's fashion.