Features
T Magazine Features Washington Skeleton™ Chair by David Adjaye
Knoll in the News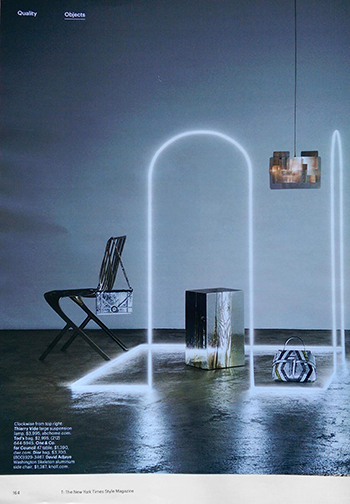 T: The New York Times Style Magazine included The Washington Skeleton™ Aluminum Side Chair in a fashion spread in the February 14, 2015, issue. The silver-themed spread spotlighted the chair, designed by David Adjaye for Knoll, in its nickel finish, draped in a metallic bag by Dior.
Knoll launched The Washington Skeleton Aluminum Side Chair in 2013 as part of The Washington Collection, David Adjaye's first design collaboration with the furniture company, and his first furniture collection. The acclaimed collection demonstrates Adjaye's ongoing investigations into geometry, material, and the play of light.
In a conversation with Knoll Inspiration in 2013, when the architect was in the midst of designing the Smithsonian Museum of African American History and Culture, Adjaye described some of the thinking behind The Washington Collection.
"For me," he told Inspiration, "the context was the work I am currently doing in Washington [D.C.]—the connections are not linear—but there is a narrative about skin, form and structure that is manifested in the collection. It has been very important to respond faithfully to this moment, this current focus in my career. I strongly believe that architecture or design should have integrity within the context of its own time. This is what gives it an enduring relevance. I delight in the idea that once the collection is in production, it will re-emerge in many different contexts and take on a whole new language."