The Fiber Family
Designed by Iskos-Berlin for Muuto
The Fiber family is a new interpretation of the iconic shell chair, adding a new perspective to the form with its shell made in an innovative composite of plastic and wood fibers, giving the Fiber family a uniquely deep surface and soft, matte touch. Though invisible to the eye when viewed from afar, the natural details of the wood fibers are revealed when viewing the design up-close.

Combined with its unique touch and material, the Fiber family is designed in a simple and sculptural form language for a chair that is slender on the outside—taking up little space in the room—while having a spacious inner, created for maximum comfort.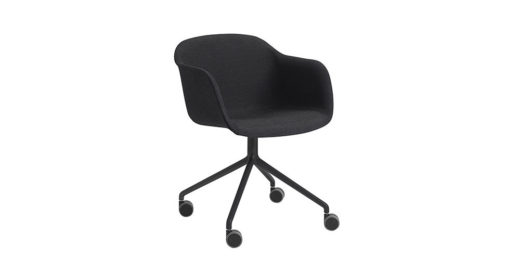 Fiber Lounge Chair
With its slim and lightly hovering appearance, the Fiber Lounge Chair invites the user in for a relaxed and comfortable seat. The design features soft and embracing curves for a welcoming look, paired with the tactile look and soft feel of the Fiber shell, made from a wood plastic composite with up to 25% wood fibers. Available in various shell or upholstered versions and two different bases.