k. Bench
k. bench is a straightforward height-adjustable benching system. A small, yet adaptable kit of parts allows for the integration of two height ranges in the same cluster, and the continuous power channel offers the flexibility to add or subtract desks in the field.
The simplified and integrated cable management system anticipates the long-term needs of cable management upkeep—meaning no visible cables, ever. Slim upholstered screens provide visual privacy and tactile warmth to the open plan.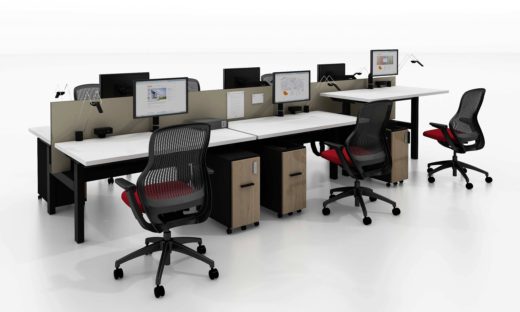 Notable at Design Days
Covered Power Channel
The central spine of k. bench features an inverted-U cable trough with dedicated locations for data and electrical and an open bottom for IT access.
High Cover and Power Strip
Create an all-in-one cable manager to power devices at the desktop, contain cable slack, and conceal it all under the worksurface. Cover hinges for easy access; a series of clips and slots provides a dedicated zone for each bundle.
Linking Bridge and Connector Shroud
Easily reconfigure or grow teams with built in connectors. Supports continuous cable distribution with no visible cables from station to station.
Switch Options
Digital Control Switch features basic up and down buttons, programmable quick sit and stand buttons, and a digital read-out of table height. Intuitive Toggle Switch offers light-touch responsiveness.
Felt Cable Sleeve
Quickly zip and contain cables to clean up the space between the desktop and power channel.