Design Pulse
---
Design Deconstructed: The Toledo Chair
The undisputed outdoor café chair of Spain, the Toledo Chair by Jorge Pensi is a captivating synthesis of the artist's hand and modern machinery. Designed in 1988, this year the Toledo Chair celebrates thirty years of outdoor elegance. In honor of the Toledo Chair's anniversary, we look back at the design behind the iconic piece and how it came to be a staple of public spaces worldwide.
Born in Buenos Aires, Argentina, Jorge Pensi studied architecture at the local university in his home city. Dreaming of new horizons and eager to take his studies further, Pensi left Argentina in 1975 and moved to Barcelona where he became a Spanish citizen. In 1977, Pensi began working with fellow Argentine and architect Alberto Lievore. For the two, industrial design, particularly furniture design, became the principle interest. Just shy of ten years later in 1984, Pensi set up his own studio, Jorge Pensi Design Studio, in Barcelona's Gothic quarter and worked primarily on furniture and lighting design.
Pensi set out to design timeless objects. He strived to strike a balance between poetry and pragmatism, material and space, and abstraction and emotion. Jorge Pensi Design Studio continues to create as many design sensations as possible with as few resources as possible – a philosophy that aptly describes the iconic Toledo Chair.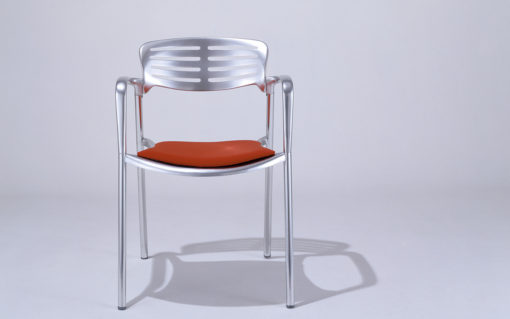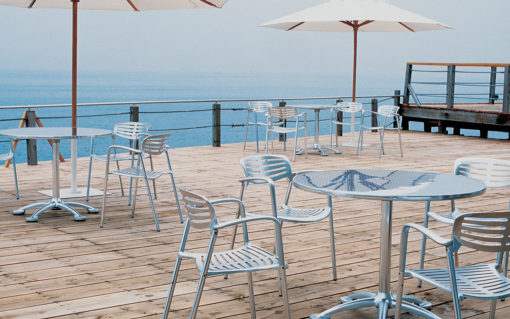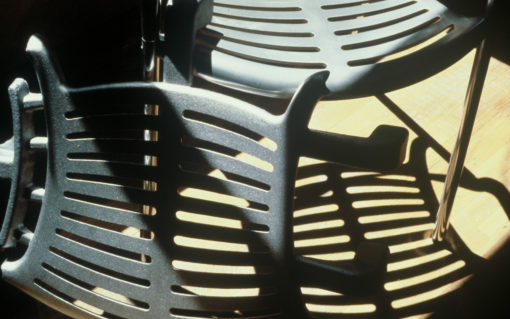 Approached by Knoll to make an outdoor patio chair, Jorge Pensi Design Studio jumped at the opportunity to create something truly unique. Pensi sought to upend the monotony of outdoor furniture design. At the time, (c. 1986), much of the outdoor furniture he saw around him consisted of tubular aluminum frames with slats of varying materials for the seat and back. Several months into the project, Pensi came to the realization that the construction of the traditional outdoor furniture had to change - no more straight tubular metal with slats. From this point in 1986, the first sketches for the Toledo Chair began to appear.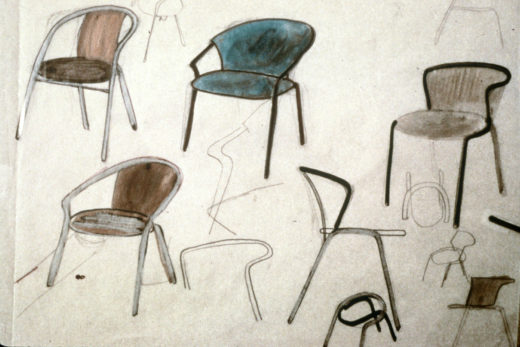 The industrial process defines design; there is an interaction – a give and take – where one has to modify what is desired for what can be done.
For Pensi, the moment he realized the traditional approach to outdoor furniture had to change came on a visit to the local deli. "In a place where they sold ham and such," he recounted, "I saw a cold meat-cutting machine and a guy slicing back and forth, and I said to myself: 'That machine is made out of aluminum, we could make an aluminum chair the same way!'"
The complex curves and assembly of the meat-slicer convinced Pensi that his chair could achieve an organic and streamlined shape from cast aluminum, not a series of aluminum tubes and slats. Although he wasn't the first to leverage casting over extrusion techniques, Richard Schultz had done so with his 1966 Collection, Pensi did see a major opportunity with casting to create an outdoor chair that was visually lighter without compromising durability and strength.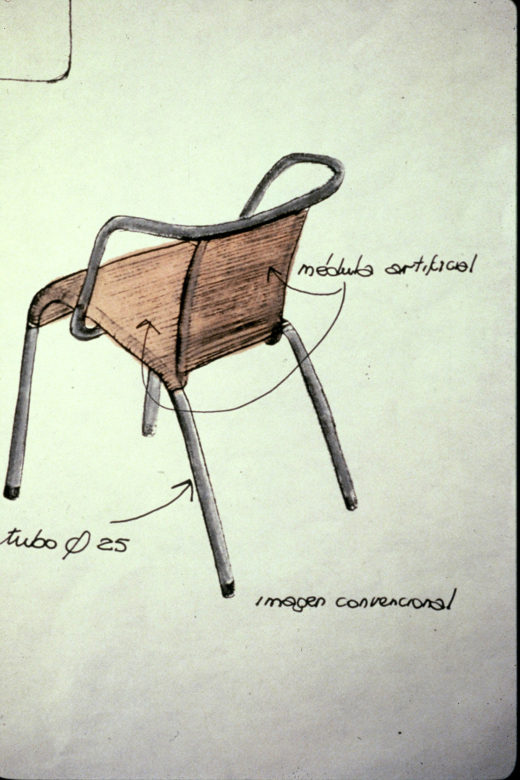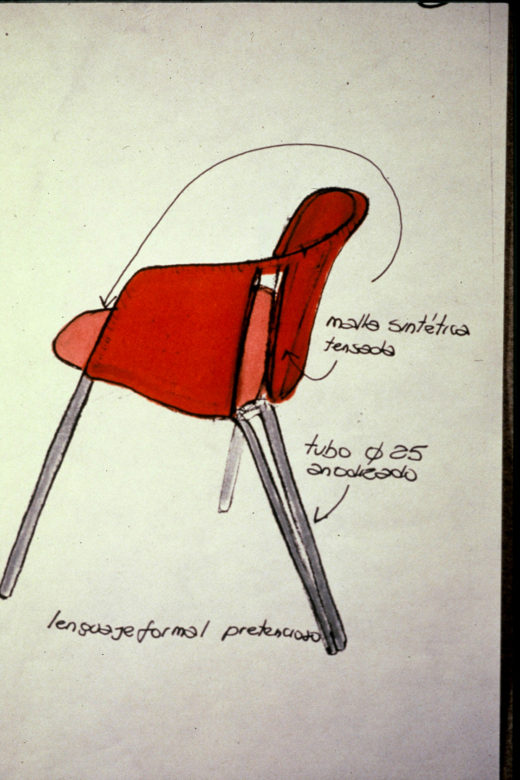 Pensi and Knoll got to work, studying his latest drawings and stress testing the capabilities of various aluminum molds. Pensi commented that part of the chair's success is grounded in the singular relationship between designer and manufacturer. "The industrial process defines design; there is an interaction – a give and take – where one has to modify what is desired for what can be done." Toledo is a beautiful product of that give and take, of the confrontation between man and machine.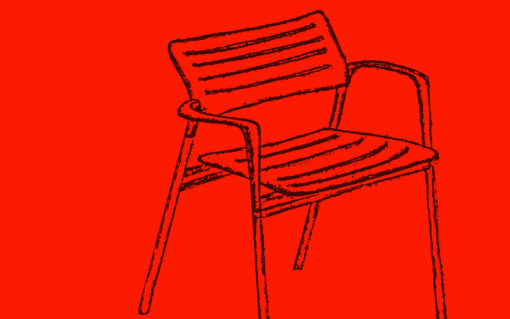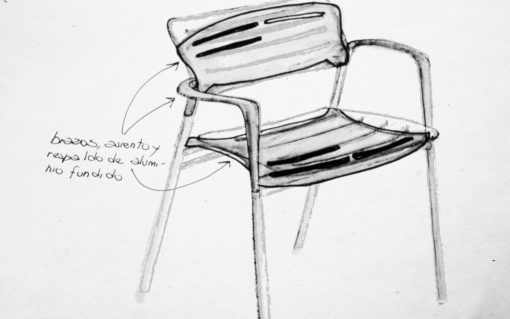 Original designs for Toledo were less curved and more rectilinear. The chair was, stylistically, more in tune with other outdoor designs that employed square shapes for maximum stability and durability. However, the first calculation of Toledo's overall weight changed everything. When using cast aluminum, little, if any, part of the cast is hollow resulting in an overall heavier piece. The weight had to come down as this chair was destined to be shuffled around by the user.
Pensi and his team began to remove material on the side of the seat and below the back, leaving behind those elegant and dynamic curves. In line with his design philosophy, Pensi welcomed the dialogue between designs for Toledo and the machine's upper boundaries. For him, the limitation of weight did not constitute a detriment to his design, but rather a catalyst to the creation of the chair's main identity – its striking, curved profile.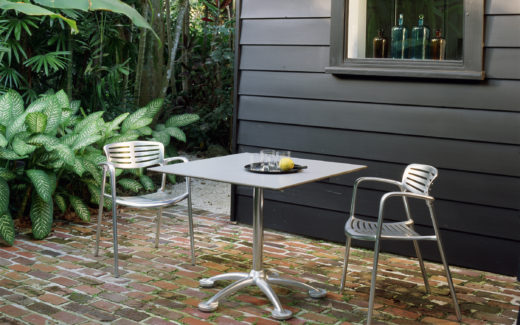 A turning point in Pensi's design career, the Toledo Chair looked unlike any other outdoor chair at the time of its release. The lightweight piece of cast aluminum also held its ground, rain or shine. "In its early years, it was a thrill to find the chair in major cosmopolitan centers like New York and Sydney," described Pensi. Today, the Toledo Chair is seen across the world's outdoor cafés - a true testament to Pensi's innovative and lasting design.