Features
Remembering Richard Schultz
Schultz upheld the conviction that outdoor furniture should be enhanced by the elements, creating imaginative, functional designs along the way
Richard "Dick" Schultz, the jovial and quick-witted designer who created the first truly Modern outdoor furniture, passed away at the age of 95 years old. Schultz was an integral part of the Knoll story during its formative years—and his immeasurable impact on our brand legacy is still felt today.
Schultz studied mechanical engineering and industrial design at Iowa State University and Illinois Institute of Technology. However, it wasn't until after he joined Knoll in 1951 that he found his true passion: furniture. "That whole period in my life was so exciting because, up until then, I had gone in the completely wrong direction," he once remarked. His first assignment was in the Knoll Planning Unit, the pioneering interior planning department led by Florence Knoll, where he would meet his wife-to-be, Trudy.
Of his time with the Planning Unit, Richard remarked that he "found it very difficult to stay at a desk". He was next assigned to assist Harry Bertoia in developing furniture constructed from steel wire. Alongside fellow Knoll designers Don Petit and Bob Savage, Schultz helped create the jigs and ancillary production equipment that shaped the first editions of the Bertoia Collection. His time in Bertoia's studio proved formative to the young designer. "Those years were more valuable than any other schooling I've had," he later remarked.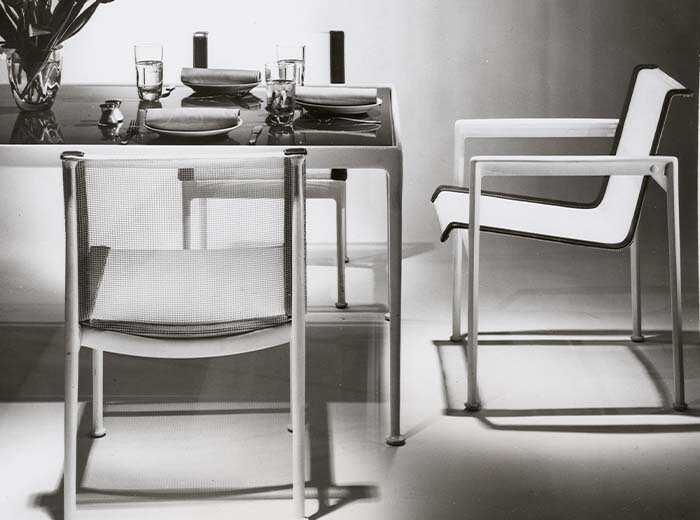 After the Bertoia Collection was completed, Schultz was still developing a designer's self-assurance and submitted his resignation. He didn't imagine ever being part of something as interesting again. Recognizing the young designer's potential, Hans Knoll pulled him back into the company's fold, assigning him the task of establishing and overseeing production of Bertoia's designs in Europe. He later joined the Knoll Design and Development Group headquartered in East Greenville, Pennsylvania once he returned from Europe.
Schultz is perhaps best known for his pioneering outdoor furniture. In 1958, after Florence Knoll retired to Florida, he received an envelope from her with rusted bolts and a note that read, "Why can't we make a chair that actually works?" The rest is design history.
In response to her blunt request, Richard created the very first outdoor furniture that adhered to Modernist principles and withstood the natural elements. "Most outdoor furniture was designed to look as if it were designed before the French Revolution," he remarked. He introduced the graceful, imaginative Petal Tables—a Modernist interpretation of Queen Anne's lace—and the steel-wire 715 Outdoor Chaise as a complement to the Bertoia Collection in 1960. Both designs were selected by the Museum of Modern Art for its permanent collection in 1963.
Originally named the Leisure Collection, the iconic 1966 Collection came to life with countless iterations and performance testing. "It took me a long time to develop the collection. There wasn't an entire team to help me. The details were carefully considered," he recalled. "That's why it still looks fresh." Schultz opted for a seamless aluminum frame and, for the chairs, fabric that was cool-to-the-touch, quick-drying and porous. With little in the way of extraneous style, Schultz added a brown or white vinyl strip along the chair edge.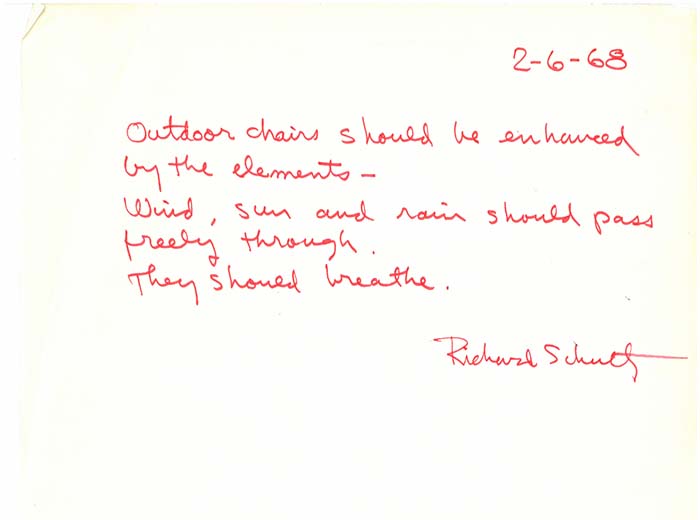 With its clean lines, elegant proportions and nuanced attention-to-detail, the collection was, quite literally, a breath of fresh air for modern design lovers everywhere. Schultz had successfully upended the paradigm for patio furniture by positing that rather than weather the elements, "outdoor chairs should be enhanced by [them]—wind, sun and rain should pass freely through. They should breathe." And breathe they do, over fifty years later.
Reflecting on his relationship with Knoll, his son, Peter Schultz, stated that, "Knoll was such a force in his life. He dearly loved that company."