PEOPLE & SPACES
The creative energy of the Brick Weave House
Tereasa Surratt and David Hernandez are creative executives raising a daughter and a dog in Chicago. We met Tereasa at their home, the Brick Weave House by Studio Gang.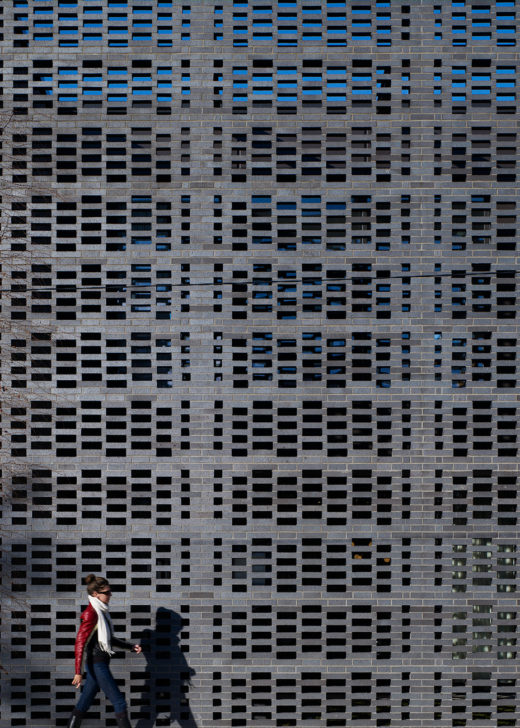 Your house has a fascinating story. Where did it begin?
It was an 1880s horse stable when we started. My husband David and I wanted to turn it into a house. We were just a couple of kids. Colleagues who had worked with the architect Jeanne Gang referred us to her firm. We knew that to get someone of her caliber we had to be great creative partners—she was less well-known then, but no less genius. So we approached her with humility and our very tiny budget and offered total creative freedom.
What does great creative partnership look like?
Creative collaboration is like a dance. When you find someone who you believe in, you not only want to get out of their way, you want to clear any obstacles that might hinder their vision. If you can do that, you build immediate trust.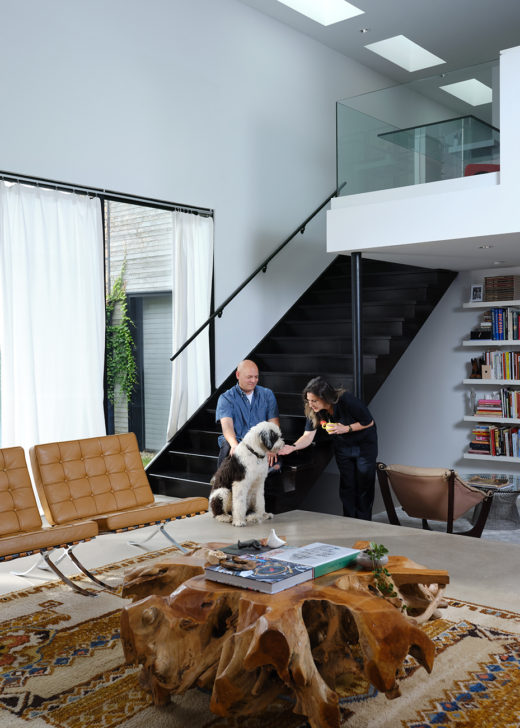 "I truly believe everything worth doing involves community and the collective energy of others. This house serves as a great vessel for that."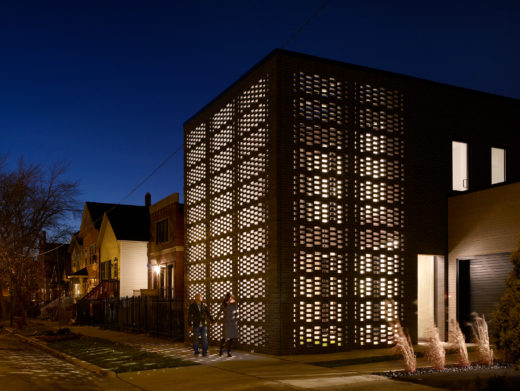 Was it blind trust with Studio Gang, or did you have a brief?
We were totally different people at the time. We wanted a place for parties and entertaining, and somewhere to park our cars and motorcycles. We never thought we'd have kids. Our brief was that we wanted to have fun.
Jeanne was so respectful and responsible, even though she didn't have to be. She really studied how we lived and embraced it. The house she created was innovative. The brick weave façade, the courtyard, the flow—it felt communal and inspiring. Instead of a typical garage, she gave us a gallery for our vehicles.
She's literal genius as an architect. We are so grateful to be recipients of it.

What's the next chapter in the story of this house?
I think we are here now to celebrate our creative friends and community. We've been thinking, what happens if we open up and activate the house? I'm really into the idea of bringing creative people together to showcase their work—artists, musicians, poets—like a modern salon series. I truly believe that everything worth doing involves community and the collective energy of others. This house serves as a great vessel for that. I get excited about the experience that people have when they're here.
What drives your love for creating experiences?
When we started work on the house, we had just bought Camp Wandawega. It's a 100-year-old place that has been everything from a brothel to an art camp, and I wanted to create the experience of being a Girl Scout in the 1920s. But really, Wandawega is a catalyst to work with creatives. That's why it exists. I want our house in Chicago to behave in a similar way, only on the other end of the design spectrum.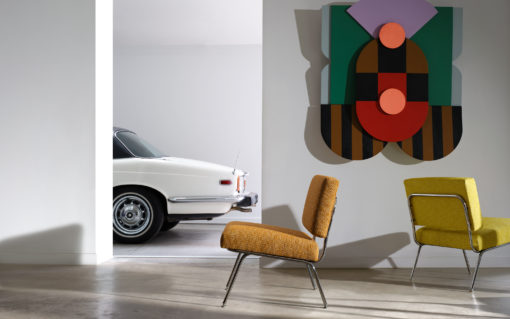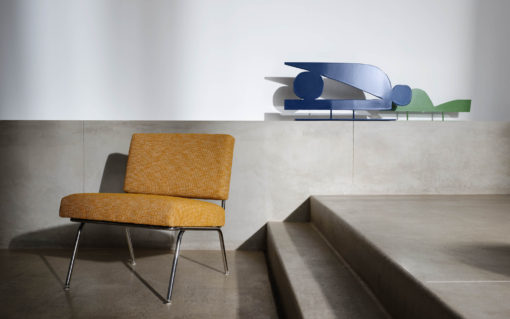 What draws you to the things you collect?
It's all about the story. It really is. There's nothing in our house that doesn't have a backstory.
Like Cody Hudson's sculptures—he created those in Sugar Creek, Wisconsin. David and I have been friends of his forever. And Angela Finney—that piece in the dining room is from her 2022 Materialized series. She helped design the treehouse at our camp.
We're not in the business of collecting art. These are very personal pieces from friends in our lives who we want to keep close.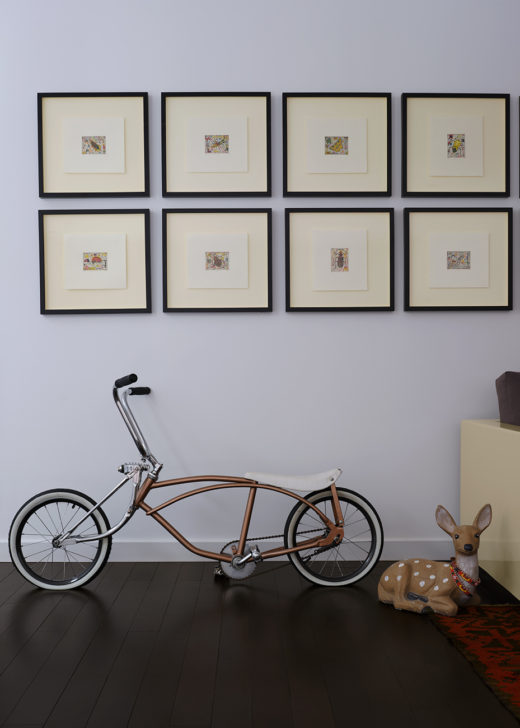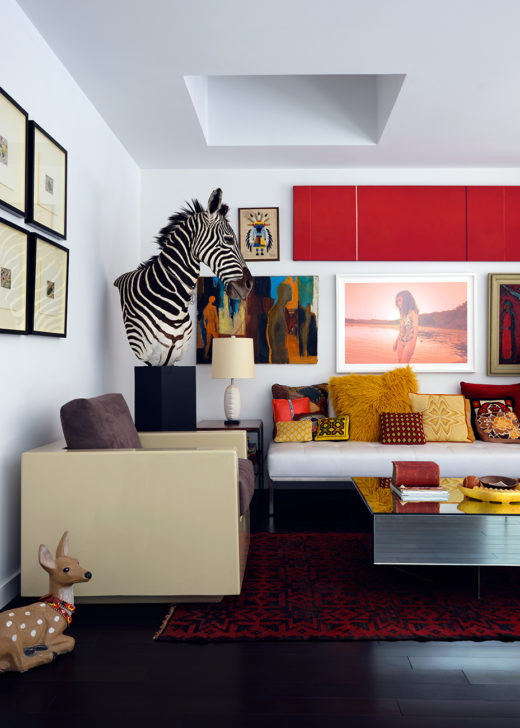 What is your approach to styling?
Sometimes people will design a room and then it never changes. But I think it's more exciting when a space evolves. Change lets us see new things and puts old things in a new perspective.
We're most drawn to the homes of people who are 70+ years old. They're not interior designers, but they're travelers and they're creative. Their stories are told through the layers of the how they decorate. (I don't love that word, 'decorate.' 
It seems superficial.*)
You have a few beautiful Knoll pieces. What's their story?
The Platner coffee table is vintage. David and I are very thrifty and this was a find. We love how the base refracts light and throws patterns across the floor, similar to how the brick weave façade behaves.
The Barcelona chairs were a gift from our friend Nate Berkus many years ago, back when he was doing makeovers on Oprah. I'm so glad he chose this leather. The color is both timely and timeless.
You really can't go wrong with pieces like these. The way they're crafted will never go out of style. They're going to stay with us until I'm 100.
Maybe one day they'll live in Charlie's home.
I hope so!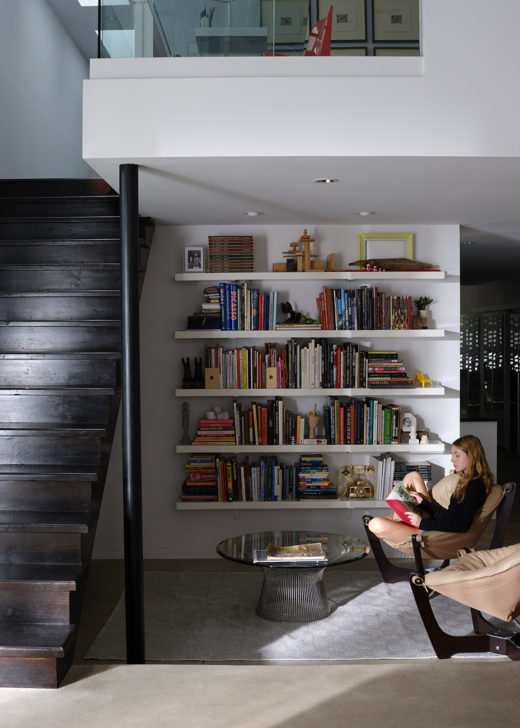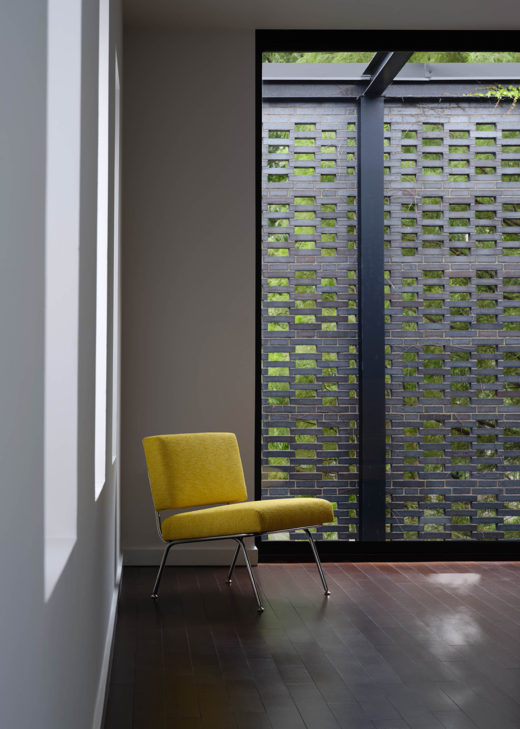 What do you see when you look back on life in this house?
Here we are, 19 years later! Our lives are very different now—our careers have evolved, we have a kid and a dog—and this house still serves everything we could ever hope for.
Jeanne was willing to take us on when we didn't have two nickels to rub together, and in return we built a friendship. She still brings her team to our camp for retreats. Even with her meteoric rise in the architecture world, she still has that midwestern humility. I love her for it.
We're never going to live in another house. This one has so many more stories to tell.
*Florence Knoll would agree. "I am not a decorator," she clarified. She then went on to design some of the company's most revered furniture and redefined the American workplace as head of the Knoll Planning Unit.

Photography by Jennifer Hughes