This year, Knoll celebrates eight decades of innovative Modern design.
Founded in 1938, Knoll leads with thinking about how people interact with their environments, and how their environments impact what they do.
With a tradition of collaborating with master designers and a dedication to thoughtful workplace planning, Knoll looks to its past to inspire the next 80 years of exceptional design.
Masters of Material
The exploration and manipulation of materials – beginning with the Bauhaus and into the present – is a fundamental part of the Knoll heritage. The study and innovation of materials is a principal element of forward-thinking, Modern design.
Founded in 1919 by Walter Gropius, the Deutscher Werkbund alumnus conceived the Bauhaus as an institution to marry the fields of art, design and industry in post-war Germany. An acquaintance of Gropius, Hans Knoll would soon after take the design principles from the Bauhaus to America and launch a new furniture company: H.G. Knoll Associates.
The Bauhaus in Dessau, Germany.
The Bauhausian goal of uniting art and industry, backed by a creative openness, encouraged a number of students and faculty members to explore materiality in their work. Marcel Breuer, a protege of Gropius and student at the Bauhaus, revolutionized furniture design with his experimentation in tubular steel. Inspired by the construction of his own bicycle, Breuer incorporated tubular steel into his furniture designs. The result: the 1925 Wassily Chair, a lightweight – both physically and visually – tubular steel composition that epitomized rationalism in design.
Across the Atlantic in Bloomfield Hills, Michigan, there existed the same spirit of experimentation and exploration. Founded in 1932, the Cranbrook Academy of Art offered an extensive curriculum in a multitude of art forms, ranging from sculpture to architecture. Faculty members at Cranbrook in 1936, Eero Saarinen and Charles Eames explored the possibilities of bent plywood furniture, making some of the most important strides in industrial design in the Twentieth Century.

Contemporary seating design traces its style to [the 1941 Organic Design in Home Furnishings Competition], the current approach to comfort and ergonomics drawn largely from the pioneering work in design and form done for these chairs.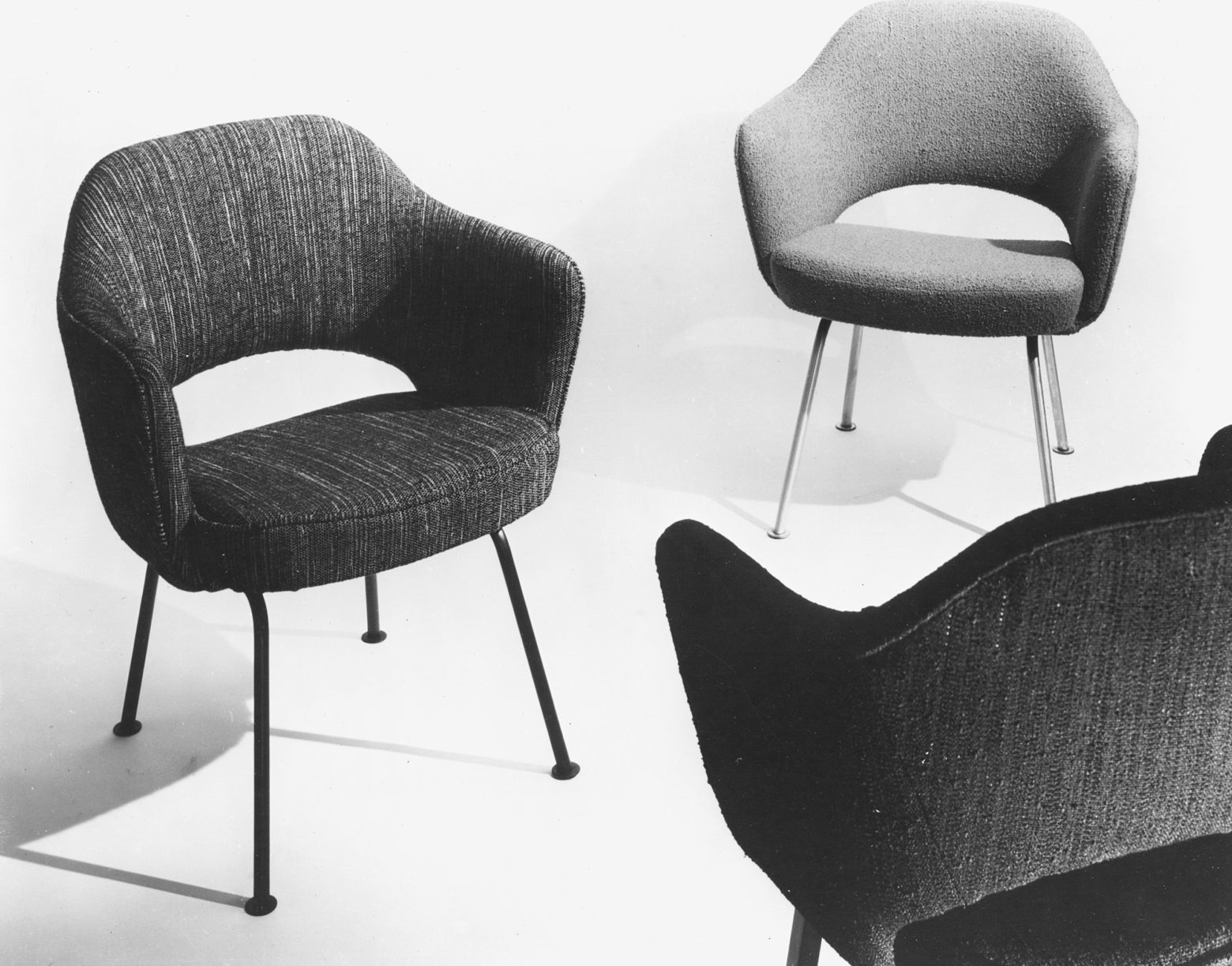 The Model 71 Chair designed by Eero Saarinen for Knoll in 1950.
Eames and Saarinen's breakthrough efforts at Cranbrook led to various prototypes of compound-molded plywood shell chairs, one of which earned them a first-place award in the 1941 Organic Design in Home Furnishings Competition held by MoMA. Saarinen's marvelous use of bent plywood during this period would later inform the shape and construction of his furniture collection for Knoll.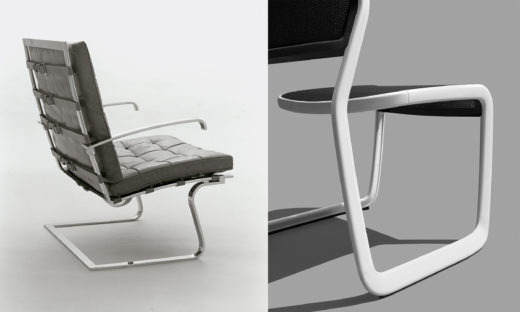 Today, designers who work with Knoll honor the rich groundwork of their predecessors. In its eightieth year, Knoll introduced the Newson Aluminum Chair by industrial designer Marc Newson. Taking cue from Mies van der Rohe's 1928 Tugendhat Chair, Newson reimagined the chair's masterful steel construction. Made of cast aluminum - allowing for a more dynamic and futuristic form - the Newson Aluminum Chair employs a reverse cantilever and evokes a visual weightlessness inherent to the Modernist tradition.
A Heritage of Collaboration
We have cultivated a range of collaborations across the realms of architecture, art and industrial design. The spirit of collaborative design begins with Hans, Florence and the Cranbrook Academy of Art.
Orphaned at the age of twelve, Florence Schust demonstrated an early interest in architecture, capturing the attention of Cranbrook Director Eliel Saarinen. Saarinen invited Schust to enroll at the Cranbrook Academy of Art where she studied and created with like-minded students. Her natural disposition to work with others at Cranbrook would later inform the collaborative spirit she brought to Knoll. While at Cranbrook, Florence made a lifelong friend in Eero Saarinen, Eliel's son, who she would later call on to create a groundbreaking collection of furniture for Knoll.
My first encounter with Shu was at Cranbrook. It occurred at Eliel Saarinen's home. My meeting with Shu was kind of marvelous. When I entered the home, she was reclining on a big, beautifully designed Saarinen sofa. That was my first contact with what later became Knoll.
After graduating from Cranbrook, Florence went on to study under Walter Gropius, Marcel Breuer and Ludwig Mies van der Rohe. She then moved to New York City and met Hans Knoll in 1941. Hans and Florence, "shared an idealism fueled by their youthful ambition" and had a complimentary set of skills: "he was determined to build a company that furnished America with modernist furniture, and she was the sure hand of the modernist aesthetic," writes Knoll historian Brian Lutz.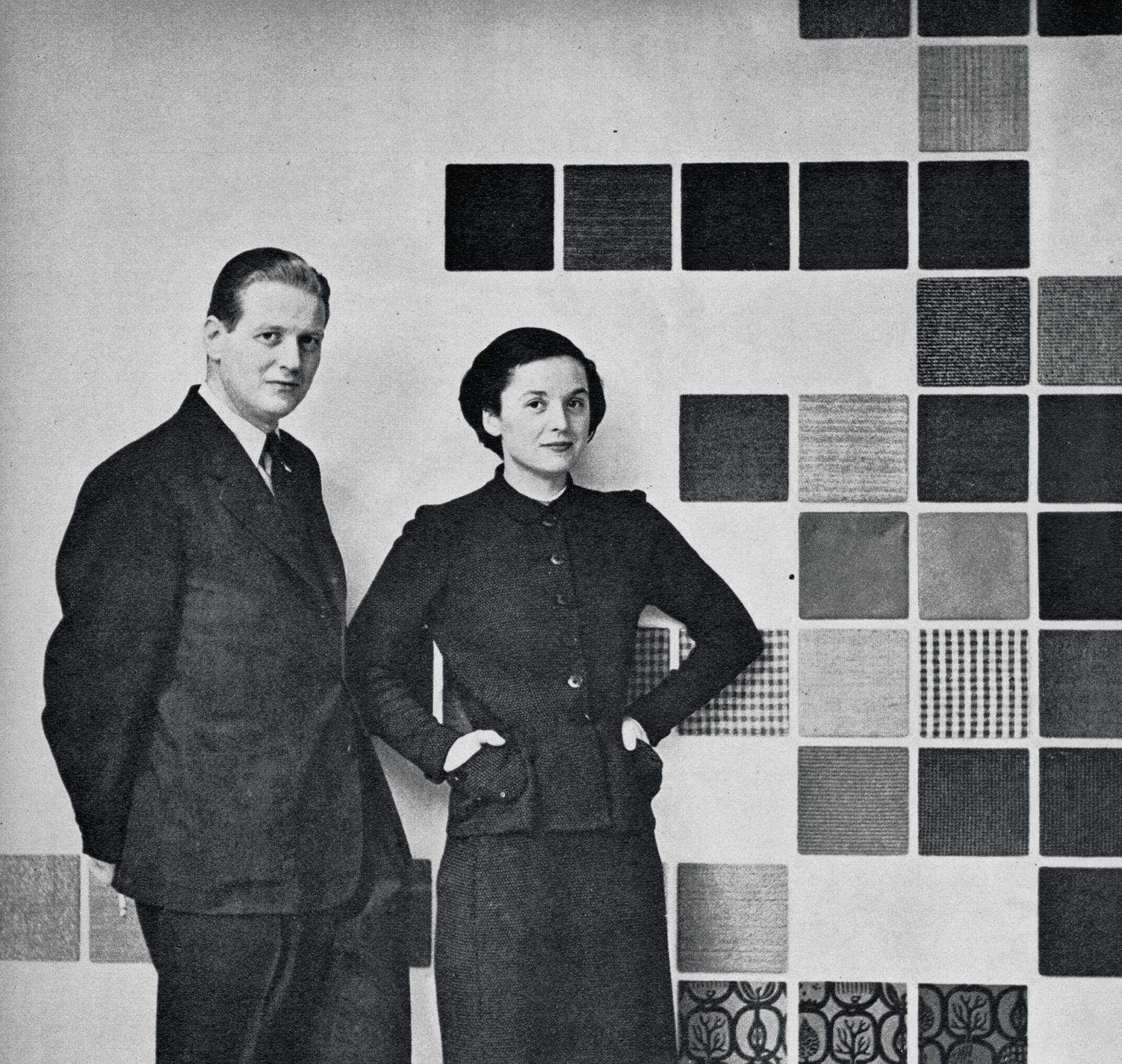 Hans and Florence Knoll at the Knoll Madison Avenue Showroom.
Hans, Florence and the abundance of talent they brought to Knoll – from architects to graphic designers – laid the groundwork for a tradition of collaboration. To this day, Knoll continues to create with designers that are dedicated to the principles of Modernism, such as Edward Barber and Jay Osgerby, David Adjaye, Sigi Moeslinger and Masamichi Udagawa of Antenna Design, Glen Oliver Loew and David Rockwell.
In 2013, Knoll debuted the Washington Collection by architect David Adjaye - a sculptural expression of functionality that conveys instrumentality through lightweight construction. Two years later, Adjaye expanded his collection with the Prism Lounge Chair and Ottoman, in addition to a collection of textiles.

I strongly believe that architecture or design should have integrity within the context of its own time. This is what gives it an enduring relevance.
Knoll and David Rockwell launched Rockwell Unscripted in 2017 - a new workplace collection made up over thirty products across six categories that adapt to the spontaneous choreography of the work day. From Antenna Workspaces to Horsepower and Interpole, Knoll and Antenna Design sustain a collaborative relationship to bridge the gap between social interaction and technology in the workplace.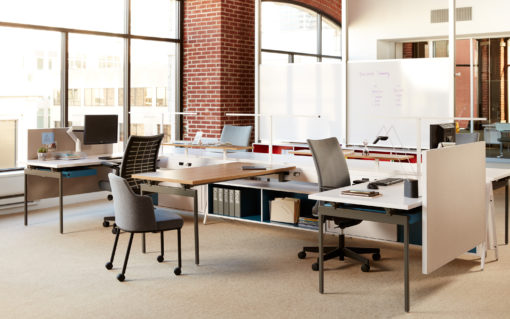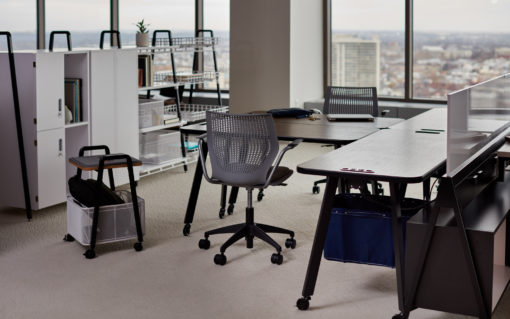 From the Bauhausian pioneers to the contemporary masters, today the collaborative spirit set forth by Florence in the company's formative years is alive and well.
Inspired Modern Interiors
Since the founding of the Planning Unit in 1948, Knoll remains committed to the design of complete and functional spaces – those that adapt to the increasingly blurred boundary between living and working.
It is our business to monitor the cultural shifts that impact workplace environments and to create flexible products and solutions that address current conditions, promote well-being and anticipate inevitable change.
"Trained as an architect, Florence Knoll saw herself as a creator, not a decorator, of space," writes Knoll historian Brian Lutz, "Clients who hired the Knoll Planning Unit underwent an aesthetic and functional refinement. A Florence Knoll interior was a comprehensive design solution, a perfect interpretation of the client's operations, remapped with precision and executed in Florence Knoll's exquisite style."
The Knoll Planning Unit and its approach validated interior planning as a requisite element of the built environment, elevating thinking about the design of interiors to a level formerly given only to a building's architecture.
Referred to by Florence as the "heart and soul" of the company, the Knoll Planning Unit gained widespread praise and notoriety for its work in high profile corporate and private institutions. Some of the most notable projects by the Planning Unit include Connecticut General, Cowles Publications and General Motors. In 1965, Florence completed the interiors for Eero Saarinen's newly completed CBS building in New York City – her final and arguably most notable project with Knoll and the Planning Unit.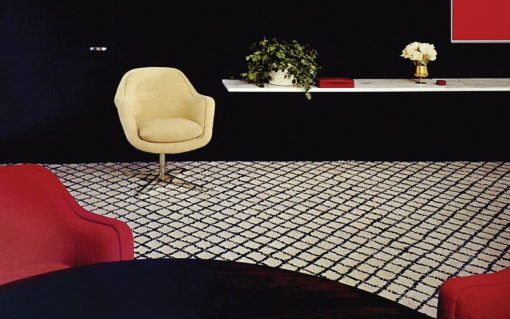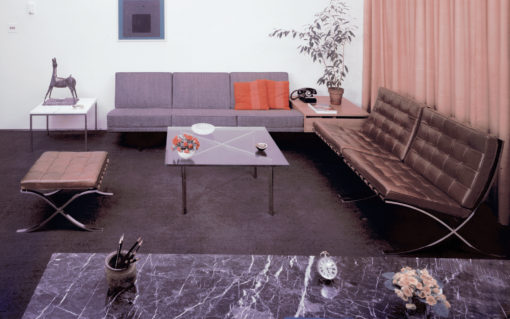 Since Florence's retirement, Knoll has remained on the forefront of workplace planning. Developed in conjunction with the design of the Weyerhauser headquarters, Knoll introduced its first panel-based system in 1971: the Stephens System. Made from wood, the Stephens System was considered, "a project of such exceptional elegance that it was possible to plan offices using systems furniture for even the highest level of organization," writes Lutz, "The Stephens System provided an architectural approach to managing space, rather than an industrial one."
The quality and ability to function are what makes it possible for people to work, which is what Knoll is capable of concretely providing.
From the Stephens System came the Zapf System in 1976, then the Morrison System in 1986 and Currents in 1998. At the turn of the Twentieth Century, Knoll introduced AutoStrada in 2004, and then followed Antenna Workspaces in 2010 and Rockwell Unscripted in 2017.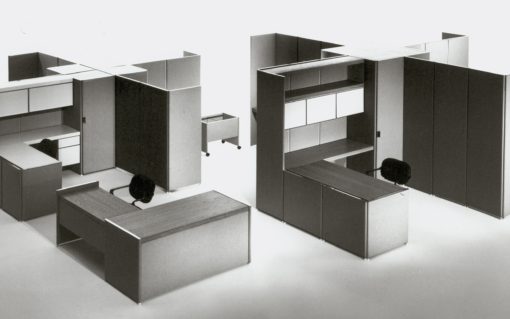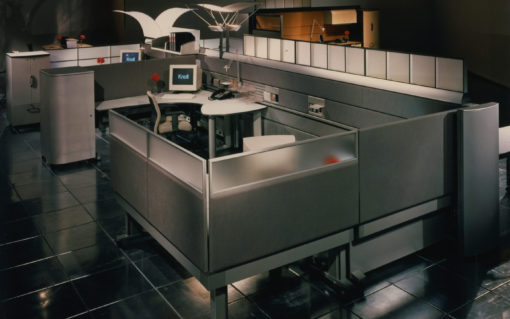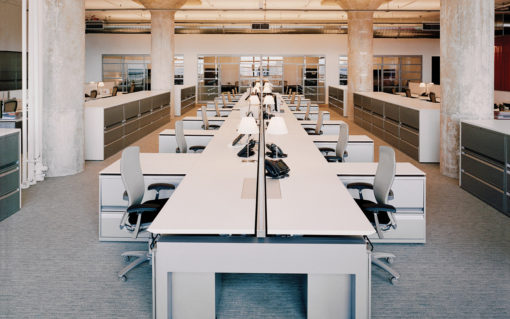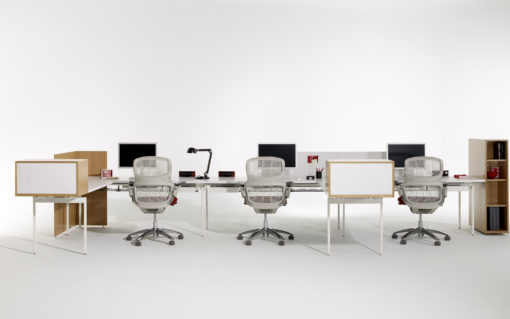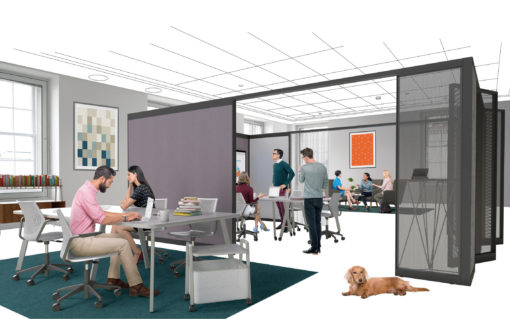 Our extensive portfolio of systems illustrates a leading ability to respond to a constantly shifting workplace. Today, the boundaries between living and working are increasingly blurred, presenting new and challenging opportunities to create spaces that are simultaneously flexible, non-prescriptive and facilitate productivity and efficiency.
A Spirit of Innovation
Design that is truly Modern must be two things at once: forward-looking and timeless. Knoll design innovates for the future, anticipating change and rejecting short-term trends.
At Cranbrook, Florence adopted the culture of innovation and brought to Knoll a plethora of design talent, including none other than her dear friend Eero Saarinen. One of the leading Modernists of the Twentieth Century, Saarinen's use of form and treatment of material pushed boundaries and defied conventions.
The undercarriage of chairs and tables in a typical interior makes an ugly, confusing, unrestful world. I wanted to clear up the slum of legs.
The organic vocabulary of Saarinen's work in the fields of architecture and furniture design reflect the innovative spirit for which he became known. In 1957, Saarinen designed the Pedestal Collection for Knoll, distinguished for its radical, visually streamlined form that isolated the object's weight to a single leg. The Pedestal Collection synthesized sculpture, an ancient craft, and technology, a new frontier of the Industrial Age, all in a singular expression of Modern design.

A culture of innovation runs deeply through the course of Knoll's history, from product innovation to typographical design to the Knoll identity. Such culture has resulted in breakthrough advances in ergonomic design and cutting-edge workplace solutions. Currents revolutionized cable management in 1998, offering a clean storage solution to the exponential increase of wires and cables.
The Currents System, designed by Robert Reuter and Charles Rozier for Knoll in 1998.
In 2009, Knoll and New Zealand-based Formway Design debuted the Generation Chair, a work chair that challenges the conventional norm that humans only sit upright and face forward. With its human-centric design and elastic construction that encourages natural movement, Generation marries form and function in the Modernist tradition.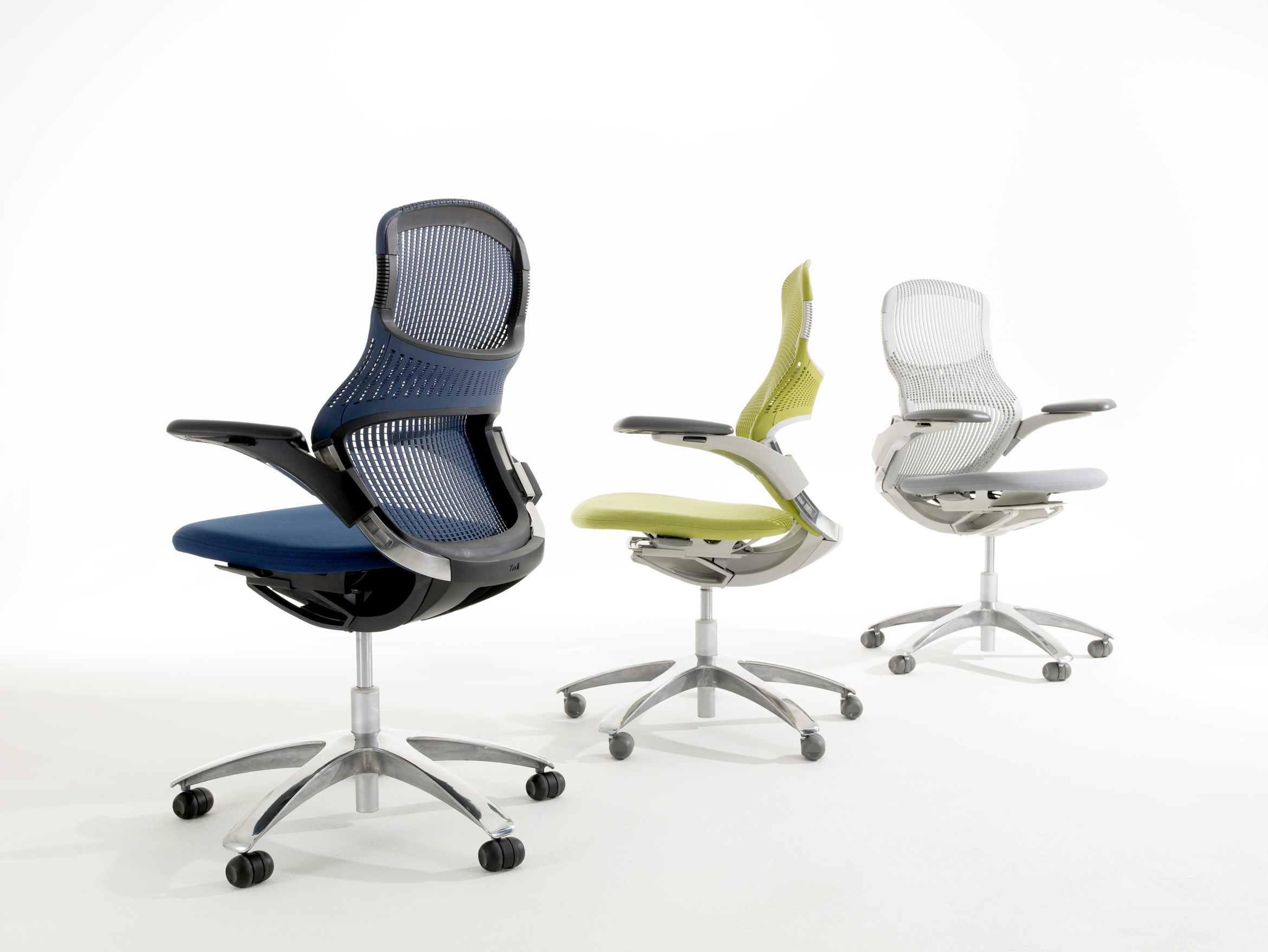 The Generation Chair, designed by Formway Design for Knoll in 2009.
Design That Endures
Knoll has acted on a commitment to sustainability in the design and manufacturing of products, practicing clean manufacturing and minimizing environmental impact by conserving natural resources and reducing waste.
At Knoll, we place a high value on the reduction of carbon dioxide and water waste in facilities and on the environmental certification of products. In 2004, the Lubin Building, our East Greenville assembly and shipping facility, received LEED Gold Certification.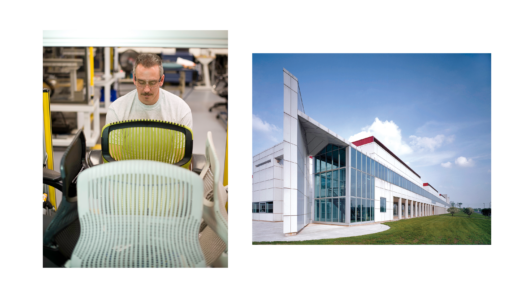 In 2006, Knoll implemented a Sustainable Wood Policy focused on protecting endangered forests and promoting the sustainable harvesting of wood. As a result, Knoll became the first furniture manufacturer to earn a certification from the Forest Stewardship Council.
FSC certified Reff Profiles wood in the Knoll Toronto Factory.
Our clean manufacturing practices minimize impact by conserving natural resources and reducing waste. But our most essential environmentalism is anti-obsolescence. Our products are designed to endure, both physically and stylistically. Things that work are things you keep.

"Florence Knoll had a certain type of client, one who thought about content and not just function, and one who was immune to passing fashions," states President of Knoll International Demetrio Apolloni. The Modernist ideals and aesthetic imbued into the Knoll portfolio, from individual object furniture to systems, have proven to stand the test of time.

Modern Always®
For eight decades, Knoll has grounded itself in the principles of Modernism: design that pushes limitations, anticipates change and employs technology to the highest pedigree. Knoll is Modern Always because modern always works. 
Above all, the Modernist vision that Hans and Florence established remains firmly embedded in the Knoll code. Knoll furniture is designed with timelessness in mind, from the Modernist pioneers to the cutting-edge contemporary talent we work with today.
As we draw upon eight decades of Knoll design, Andrew Cogan, Knoll President, Chairman and CEO; Benjamin Pardo, Knoll Design Director; and Demetrio Apolloni, President of Knoll Europe consider what 'modern' truly means today.
Andrew Cogan: It has been over 50 years since there has been a "Knoll" at Knoll. The DNA that Hans and Florence left us with has been strong and enduring. There has always been this great mix of celebrating the remarkable "salesmanship" from Hans' background with a commitment to the best in design from Florence, which has been at the core of our success. Our company is strong, which allows us to say "Knoll is Modern always because modern always works." These are the modern principles upon which we were founded: the commitment to enduring quality and design, a belief that design is, as Florence said, about understanding a client's needs and solving a problem, with integrity and clarity. Such design will always be modern.
These are the modern principles upon which we were founded: the commitment to enduring quality and design, a belief that design is, as Florence said, about understanding a client's needs and solving a problem, with integrity and clarity. Such design will always be modern.
Benjamin Pardo: Today we are seeing a generation of grandchildren, who are going back to the modernist culture of their grandparents. They are often proud of having historic Knoll pieces in their homes, possibly mixed with something more traditional and with a number of contemporary pieces. In this mixture, what stands out is truly the meaning of "Modern always," which is not the Modern of the 1950s, 1970s, or the present: it really is what is constantly modern.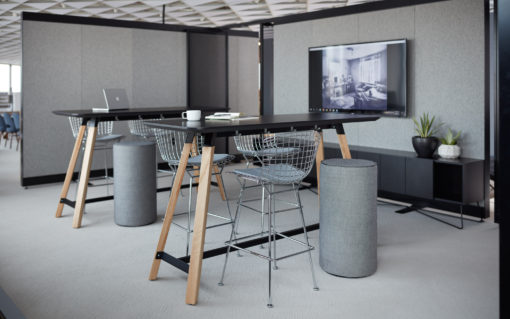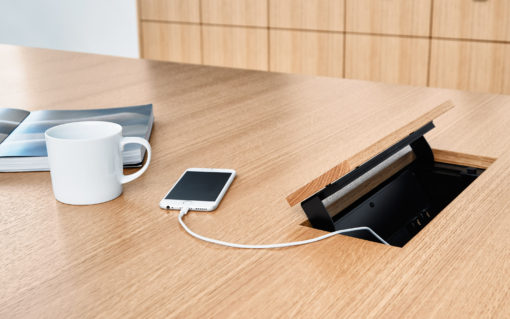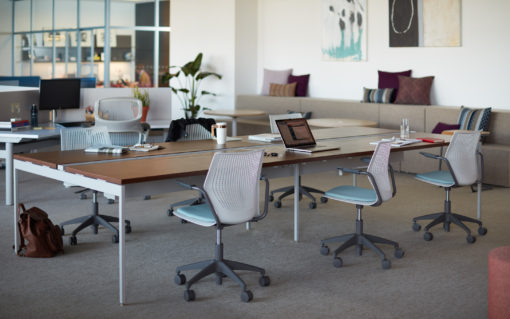 Demetrio Apolloni: In my view, modern means respect for the quality of the work of others. In no context – and certainly not in this company that produces the creations of giants of design – is it possible to not consider, to not respect the work of those who came before us. That is why I like to work on new projects with designers who clearly understand this sense of respect, without being inhibited by it, but with the happiness of becoming part of this great history of timeless modernity.