Palettes
---
A Modernist Reinterpretation
In need of some restoration, this home sitting atop a hill in Arvada, Colorado, went from being unoccupied to replete with modern designs and rich colors. From Womb chairs to Toledo Stacking Chairs to Gehry Hat Trick Chairs, this home boasts a series of balanced oppositions: hard versus soft, organic versus man-made, dark versus light, and new versus old.
Renovation can make for major design challenges like matching contemporary materials with the pre-established style of a home, but this 1961 house in Colorado by Albert Phibbs beautifully marries form and function. The home, redone by Greg Comstock of Comstock Design, features elegant lines, new finishings, and a state of the art brushed stainless steel fireplace. Th re-design effortlessly combines tradition and innovation, reviving the homes' modernist heart and soul.

The central hearth in the living room provides a sense of coziness and intimacy, while its' volcanic stone facade lends fortitude and security. With a keen eye for detail, the designer positioned a Womb Chair and ottoman in black volo leather and a Saarinen side table by the main staircase, echoing the organic shape of the fireplace's stones. The corner arrangement evokes a sense of personal comfort in an otherwise open and permeable space. The wooden ceiling of the home extends throughout the first floor, knitting together the separate eating and living areas.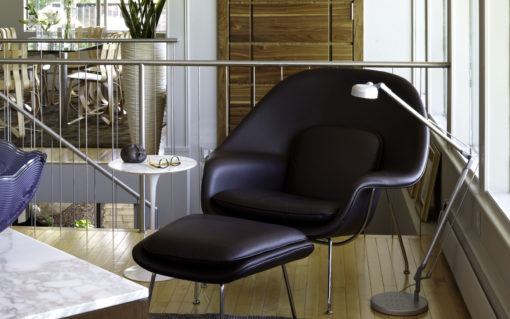 A minimalist light fixture in the dining room leaves the view unobstructed and contributes to the floor plan's expansive site-lines. In the same room, the gently curved ribbons of Frank Gehry's Hat Trick dining chairs mirror the curved fireplace and complement the vertical steel of both the railing and dining table. Here, organic complexity harmonizes with human-made material strength.

The sensitivity to materials carries on into the color-filled study. Earthy toned tiles succumb to the textured rug, which highlights the graceful silhouette of Eero Saarinen's table, accompanied by a Life Chair. The Tom Dickson light fixture that hangs above mimics the signature shape of the table's base below, while the vertical element of the space is dominated by the wooden ipe column.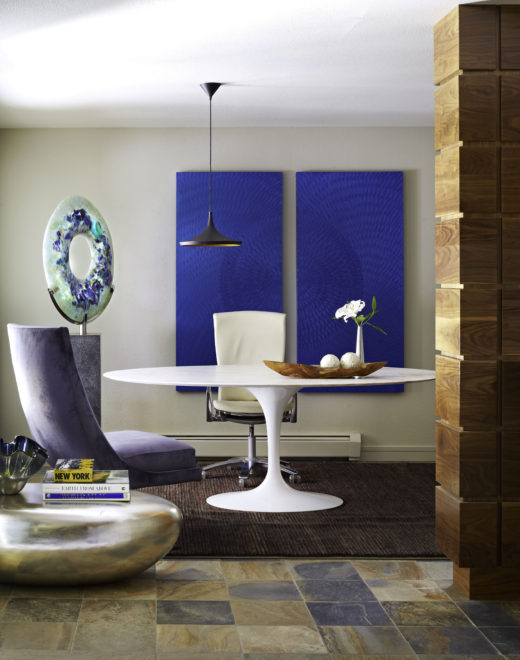 Pops of ultramarine and cerulean, found in the surrounding artwork, stand out against the neutral toned furniture. The contrast forms a juxtaposition that mimics the material contrast between soft and hard that dominates the home. Shades of blue form a visual path to the exterior deck which holds Toledo Stacking Chairs around a Pensi Table. On the deck, we are reminded of the contrast between human-made material strength and nature's very own organic complexity.
Keeping the original maple floors and fireplace while combining contemporary furnishings and colors makes this renovation a welcoming and elegant success.