Palettes
---
Brooklyn Brownstone Full of Life
In a Fort Greene brownstone gifted with resplendent natural sunlight, Elizabeth Roberts creates a space that not only enhances its inherent natural elements, but also brings this historic home into modernity with the upmost amount of grace.
Amid the urban landscape for which New York is known lies Fort Greene, a historic and intimate neighborhood defined by its leafy green, tree-lined blocks of brownstones and namesake park. With its rich history, the stately and beautiful original architecture poses an interesting challenge to any incoming designer. On Cumberland Street, Elizabeth Roberts Architecture & Design creates a contemporary space that proves up to the task: a home that employs a spaciously open design, natural light and modern furniture pieces to both enhance the original architectural elements and elegantly bring the historic brownstone into modernity.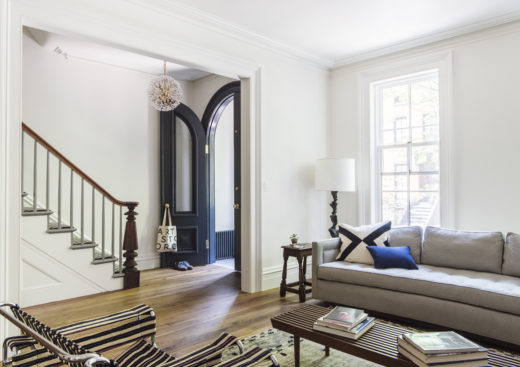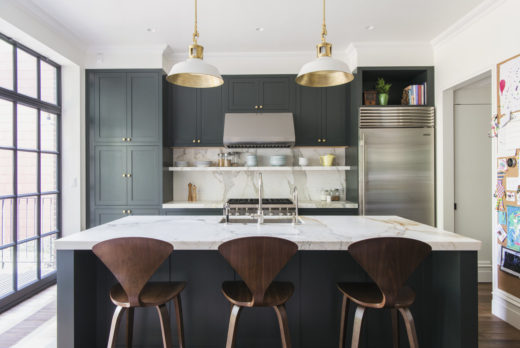 With the residence's open floor plan, the living and dining rooms work in tandem with one another to cultivate a space that is both hospitable and full of life. Floor-to-ceiling windows drench the home with natural light, and eclectic greenery fills the space with a sense of optimism. The vast and intermingling rooms exude an overall atmosphere of openness: a truly livable space for its residents and a welcome environment for guests.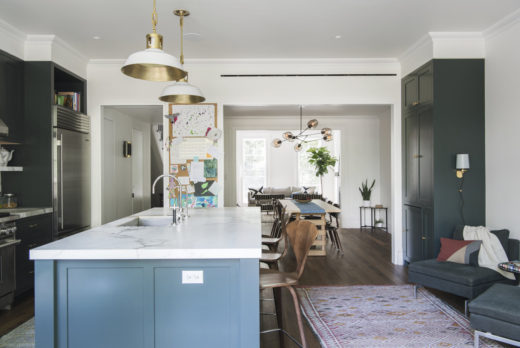 A complete gut renovation, the Cumberland Street brownstone was reimagined from the inside out. Simple in its inherited beauty, the original architectural elements of the historic residence exist in a near perfect harmony with the contemporary updates. A finely carved marble fireplace unique to the original home sits in concord with a pair of Marcel Breuer Wassily Chairs. The iconic lounge chairs received their own contemporary interpretation, reupholstered in a sophisticated yet approachable striped textile.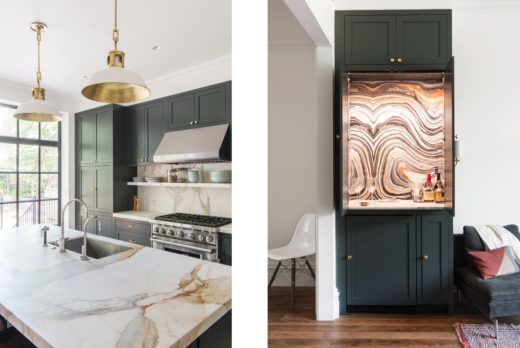 The hospitable and optimistic atmosphere flows through to the kitchen at the home's rear, where custom-designed steel windows bring in additional natural light and an overlooking view of the backyard garden. A generously sized kitchen island and lounge chairs sitting underneath a bohemian rug reinforce the notion that the residence is an authentically livable home for its residents and a neighborly space for guests.
The vast and intermingling rooms exude an overall atmosphere of openness: a truly livable space for its residents and a welcome environment for guests.
Added during the renovation, the rear of the brownstone is a testament to the historic space being brought into modernity. The midnight-colored cabinetry that dominates the tone of the room is contemporary, not moody, and the matte brass hardware as well as the pendant lighting has a pared down gilded effect. Peach tones within the veins of the marbled countertops contrast the deep hues that surround them.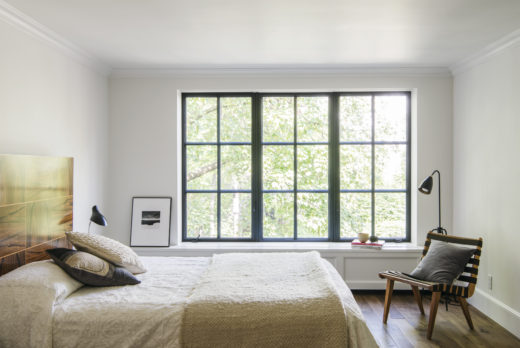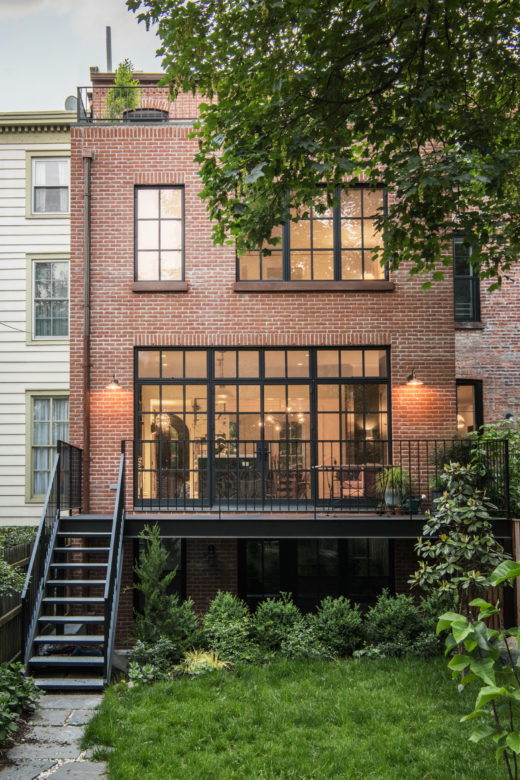 A new addition to the home, the rear bedroom in the Cumberland Street brownstone juxtaposes its contemporary aesthetic with Modernist references. Leaning towards a more contemporary minimalism, the space employs naturalistic color palette. A Jens Risom-inspired chair, with its undulating wood frame and horizontal webbed upholstery, completes a quiet reading nook overlooking the backyard garden.