Design Pulse
Designs in Pink
This year, Knoll once again joins the good fight, offering two iconic pieces — the Bertoia Side Chair and Florence Knoll Hairpin Table — in a unique, signature pink finish in honor of Breast Cancer Awareness Month.
Founded in 1982, the Susan G. Komen Breast Cancer Foundation is the world's largest nonprofit source of funding for the fight against breast cancer. This year, Knoll will donate all net proceeds from the sale of limited-edition classics to benefit Susan G. Komen® LA County and Susan G. Komen Greater New York City. The local chapters in New York and Los Angeles work to develop programming to support local community health outreach, advocacy and other programs.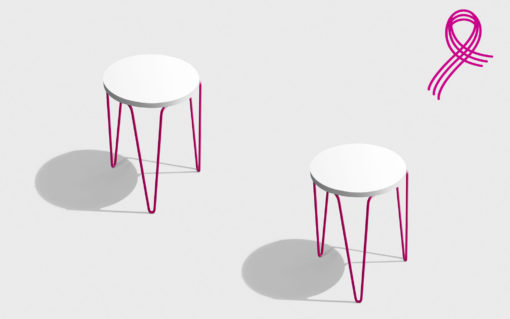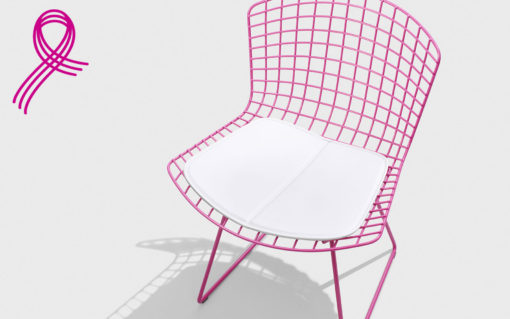 As breast cancer continues to be one of the leading health crises for women, the month of October has continuously struck a deep chord in people, not just those directly affected, but entire communities and organizations. City landmarks glow pink in the nighttime and major sports leagues wear only pink during game time. That seemingly small, ad lib pink ribbon has moved the masses, significantly increasing research funds, the volume of free mammograms, and early detection, not to mention sheer awareness.
For the entirety of October, Knoll is offering both the 1952 side chair by Harry Bertoia and the reintroduced 1947 Hairpin Stacking Table by Florence Knoll in a special, signature pink powder-coat finish. Sharing much in the way of materiality and craft, the two wire-form pieces strike an ideal balance between their prominence and their ability to shine pink.

These two signature pieces have delivered functionality, joy, and satisfaction over the course of many years. With their signature pink finish, they now deliver something new: hope and support

The Hairpin Table
First prototyped in the early 1940s, the Model 75 stacking stool was a popular addition to what was then still a small catalog of furnishings from Knoll Associates.The design remained in production until 1966 and was only briefly reproduced in 1981 for the Innovative Furniture in America exhibition at the Cooper Hewitt Museum in New York. 
Decades later the Model 75 is back as the Hairpin™ Stacking Table, the unofficial name the design came to be known by, inspired by the signature three-prong wire base.
The Bertoia Side Chair
In forging his first and only furniture collection for Knoll, Harry Bertoia brought together the two essential components behind any exceptional design: theory and practice. He opposed the separation of production from the design process, insisting on combining "the ability to think about design, meditate on form," with the skills required to "deliver it with his hands."
Shape, line, and contour, then, were born from Bertoia's handling of a material. Blurring the line between sculpture and design, Harry Bertoia's iconic collection of chairs introduced the world to an entirely new way of looking at steel furniture.