Design Pulse
---
Home Design Heads West
Principal architect, Mark Lee, talks design and inspiration behind the new Los Angeles Home Design Shop
Last week, Knoll opened the doors to the Los Angeles Home Design Shop, setting a new standard for local interior designers and design enthusiasts, prompting them reimagine modern living for residential interiors. Pioneered by Florence Knoll, the Shop captures the spirit of total design, celebrating furniture by mid-century masters - Mies van der Rohe, Eero Saarinen, Marcel Breuer, Harry Bertoia, Warren Platner - as well as work by contemporary architects, including David Adjaye, Joseph D'Urso and Frank Gehry.
In addition, the Shop showcases new and popular Knoll designs now available in the U.S. for the first time: Avio Sofas and Grasshopper Tables by Piero Lissoni and Tobia Scarpa's Bastiano Lounge Collection. To celebrate a new Home Design Shop, Knoll introduced a new palette of fabrics and finishes, opening the door to truly signature design schemes. These include metallic finishes, including rose gold; new marbles, including rosso rubino; and rich upholsteries, including cavallini hair hide leather and curly shearling. The new space is both evocative and elegant, pushing design enthusiasts of all kinds to reimagine modern living.
Such a bold vision required a space that would not only complement the customized furniture, but also frame the Modern pieces in an innovative yet timeless manner. Iconic designs such as the Wassily Chair and the Barcelona Chair date to 1925 and 1929 respectively. From 1925 to now, the L.A. Home Design Shop synthesizes over ninety years of Modern design in a vivid and contemporary fashion. The architecture of the new space had to visually reflect such compression of time. To tackle the project, Knoll called on LA-based architecture firm Johnston Marklee to work in collaboration with Knoll design director Benjamin Pardo and NinetyNine Group interior designer Barbara Reimelt.

Upon completion of the Home Design Shop, we sat down with the principal architect, Mark Lee, pictured right. We discussed his inspiration for the space, his priorities, and his general architecture practice.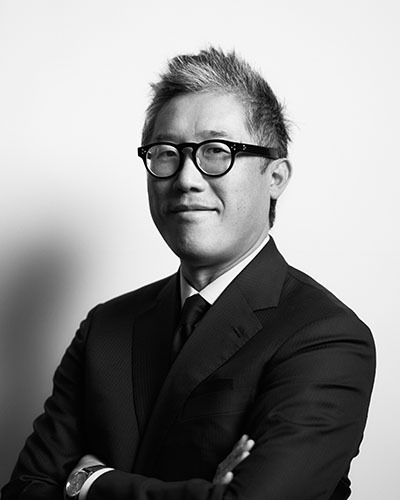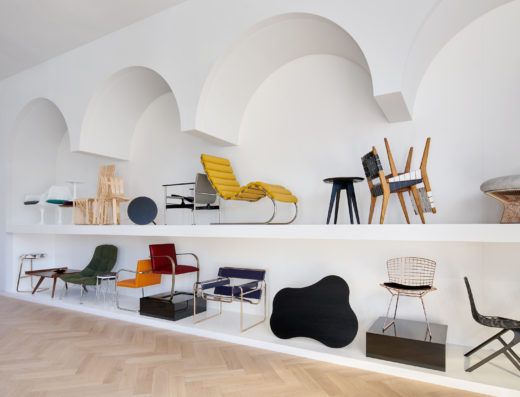 How and when did you become interested in architecture and design?
I have been wanting to be an architect since I was eight years old, when I was growing up in Hong Kong.
Lee is a graduate of the University of Southern California where he earned a B.A. in Architecture. He earned his second architectural degree [M. Arch II] at the Harvard Graduate School of Design (GSD). Lee has written and lectured widely on his research regarding culture-specific landscapes and new strategies in material form and technology.
Did you ever favor or strive to emulate a particular style during your architectural studies?

I was trained in the 80's, when Post Modernism was waning and a renewed interest of Modernism that is less abstract and more humanistic was blossoming. In many ways this was an ethos that I embedded during my studies.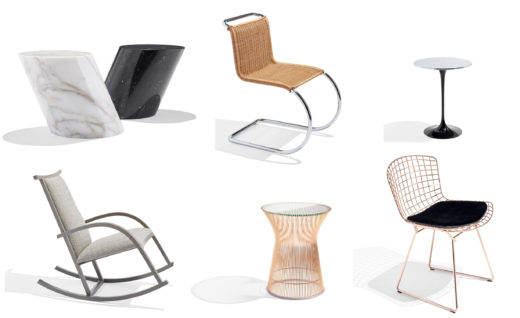 When beginning the Home Design Shop for Knoll, where did you start and what were your primary considerations?
Besides studying the history of Knoll from the perspective of their product and architecture, the images of Yves Vidal's castle in Tangier were a rich source of inspiration. We loved how many classic pieces of Knoll furniture work so beautifully and unexpectedly within the domestic context of this Moroccan castle. In addition to Vidal's York Castle, the historic legacy of spaces for Knoll played an important role in treating the project as a chance to add to that history. The store is organized around a rich material palette reminiscent of Northern Italian architecture of the 1950's and 60's.
Describe your love for the arch/vault. It's an architectural motif in much of your work, including the interior of the L.A. Home Design Shop, and it feels like one of the many defining elements of your designs.
We have indeed use the vault before in our work, but we see it less as a motif than a continuation of an element in architecture that has been around for thousands of years. For the Home Design Shop the vault serves to frame the individual pieces or ensembles as well as mediate between the lofty scale of the space and the furniture. Mimicking the vault shape, a simple modulated system of draped felt panels from FilzFelt clads the ceiling and integrates lighting tracks and other infrastructure, echoing the simple fabric canopies of traditional Italian festivals and park pavilions.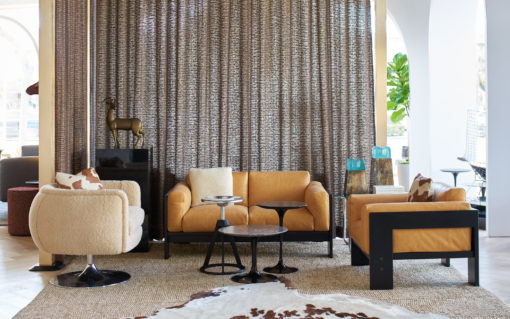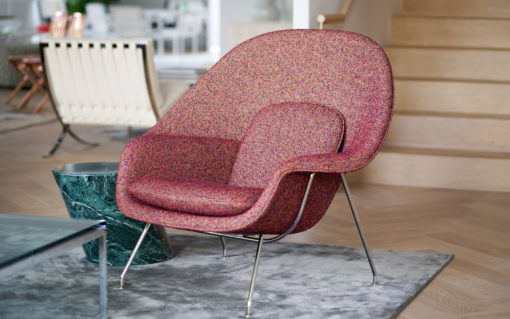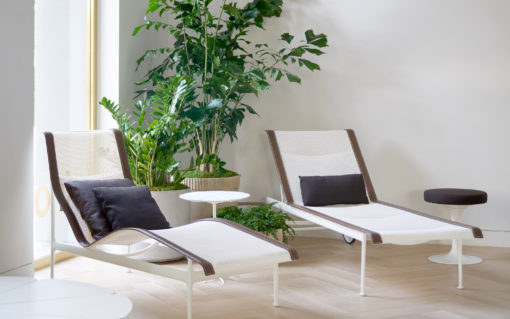 How did you incorporate the core of what Knoll stands for into the design of the space?
We always associate Knoll with the Modern, which entails being innovative while designing for the present. Through the juxtaposition of materials and forms - from felt to brass, from vaults to ovals, we are trying to evoke the atmosphere that exists somewhere between the past and the future.
Can you speak to how the architecture is intended to serve as a backdrop and/or complement the sales process?

We tried to create an environment that emulates a domestic quality to provide a backdrop that is more intimate and relatable than the showroom for the pieces. While providing flexibility for different setting and groupings of furniture, it is important that the space has character. It is not a neutral backdrop but an active one that interacts and establishes a dialog with the pieces.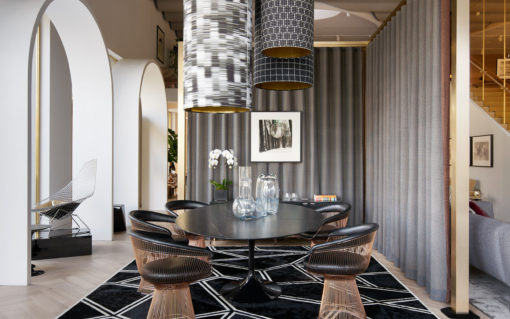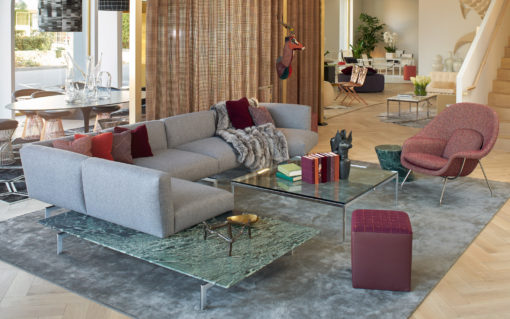 Another thing I noticed about your work is your ability to precisely direct natural light, either to illuminate a space or call attention to a negative space. Los Angeles being a city that offers copious amounts of natural light, how did you shape the path of that light within the Home Design Shop?
The use of natural and artificial light is very important for the Shop. Through the use of skylights and reflective mirrors, we tried to direct light into the areas that are naturally darker in the existing space to create a more harmoniously lit shop. Natural light is also used to draw people up to the mezzanine.

Altogether the Los Angeles Home Design Shop presents a new, bold vision that prompts visitors and the general design community to reimagine modern living. From the architecture to the rich material palette, the company's iconic pieces have been exuberantly recast in a contemporary manner, pushing the design boundary even further.
For more information, please visit the L.A. Home Design Shop page. To read the latest reactions and what the design press had to say about the shop, click here.