Office Design 101: How to Shop for Office Furniture
​Know your spaces, consider your team.​
Keep these ideas in mind.
Office
Design 101
A few considerations to help you create spaces that are functional, flexible and inspiring.
Know your spaces,
consider your team.
Workplace planning isn't a one-size-fits all job, nor is there one "office of the future." We encourage you to create an environment that is suited to your specific needs. Consider your goals and your employees' workstyles to find the right blend of furniture that works for you and your team.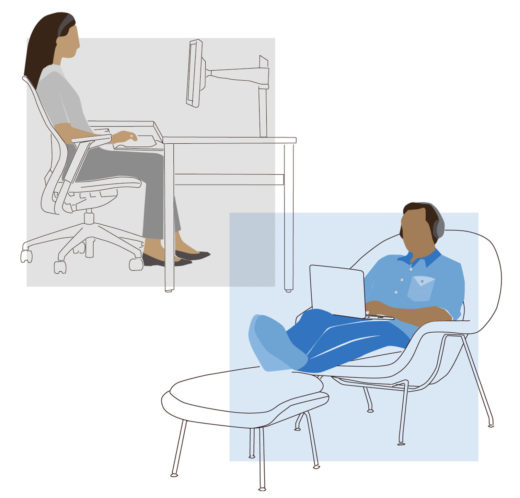 ---
Stay Focused...
These days, focused work can happen anywhere–in assigned areas for individuals, or in shared spaces that encourage continuous reconfiguration. The types of spaces you plan for focused work depend on the preferences and tendencies of your team.

Does your business require heads-down, computer-oriented work? Designated desks (consider height-adjustable) with monitor supports, task lighting and an ergonomic desk chair may make the most sense for their needs.
Or are you supporting a team that uses laptops, relocates throughout the day, and collaborates frequently? Consider open tables with light task chairs and nearby lounge enclaves and refuges, allowing people to work wherever they feel comfortable.
Need private offices? Explore our collection of table desks, credenzas and accessories and find a look that's right for you. Efficient or classic, ergonomic or iconic, we can help you create private offices that reflect the values of your business.
---
Get Collaborative...
From scheduled meetings in designated spaces, to spontaneous conversations in in-between spaces, a productive office must support the many ways we work together.
Does your team come together frequently for lengthy meetings? Consider a large table, comfortable seating, and, of course, don't forget power and technology support.
Do you need to foster project-driven teams? Mobile tables and storage, lightweight seating and adjacent lounge areas make sense for teams that come together and break apart throughout the day.
Looking for something casual and comfortable? A sofa or lounge chair may fit the bill. Understand your team, and the team you're trying to attract, and plan accordingly.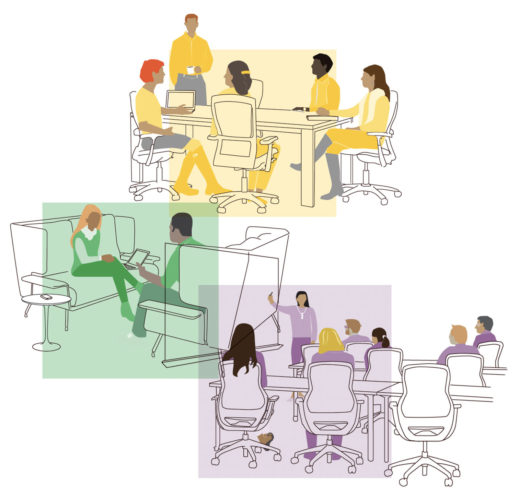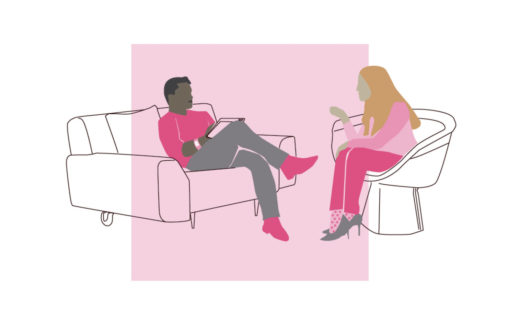 ---
Define Yourself
Everyone loves being in a beautiful, well-designed space. Clients and employees alike are drawn to spaces that are welcoming and hospitable. Make sure your plan celebrates entry areas, cafés and lounge spaces in addition to the more traditional work areas.
Keep these ideas in mind.
The most successful offices address four key themes that support people at work, even if how they do it adjusts to fit each unique context, culture and set of strategic goals. Please consider these ideas as your design your space.
Well-being
We all want to spend time where we feel good, enjoy natural light and fresh air, and can control our own comfort. Investing in well-bein makes people more engaged at work and more productive.
Individuals and Teams
People need to work differently at different times, but not every workplace supports this. Thoughtful planning offers an optimal mix of spaces to support individuals and teams.
Flexibility
It's universal. No matter the industry, people are asking for spaces that accommodate flexing needs and programs, whether hour-to-hour, day-to-day, or year-to-year. A variety of adaptable settings and furnishings helps support the work at hand.
Hospitality
Celebrate the workplace experience. Blur the lines between work and play. When we take cues from a good hotel or coffee shop, we're creating spaces where people want to gather, connect, and participate.
The collection of products below–the basic building blocks of successful office planning–has been specially chosen to inspire small and medium businesses to take great ideas to work.
Thinking Bigger?
Knoll is here to help you imagine and plan your workplace. Tell us about yourself and a Knoll workplace specialist will be in touch to get you started.