Palettes
---
An Urban Retreat
High above the Puget Sound in Seattle, Washington, Lindsey Runyon Design created an urban oasis that offers a harmonious blend of warmth and Modernity. The contemporary look of exposed i-beams with floor-to-ceiling glass windows sets the stage for a Modernist interior.
This Los Angeles-based couple embraced a minimalist yet earthy feel for their loft in Seattle's Belltown neighborhood. The two-story penthouse optimizes space and accentuates the view of Puget Sound, while simultaneously showcasing unique design pieces. The blend of distinct textiles and Mid-century modern classics create a space that is as inviting as it is impressive.
Structural elements take precedence throughout the home; huge windows and minimal walls accentuate the architecture of the space. The layout of the living area imparts a sophisticated yet cozy feel. The overstuffed sofa casts an inviting tone while the steel legs of a signature Knoll Womb Chair echoes the hardness of the vertical steel structural beams. A neighboring bench made from a live edge wood slab mirrors the organic lines of the womb chair and lends a softness to the metal side table.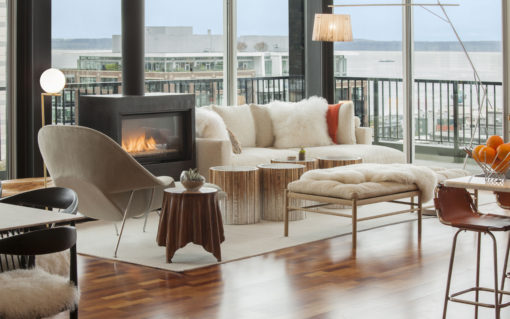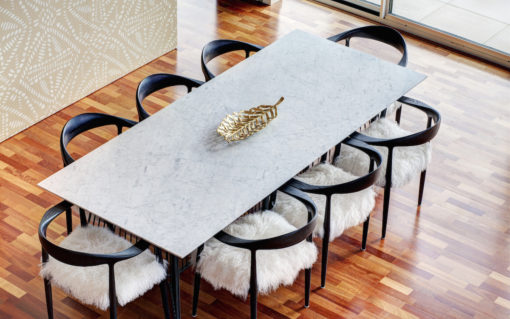 The unexpected jewel toned green and the geometric textured ceiling of the master bedroom offer a dynamic juxtaposition to the straight lines of the bed frame and side table. The neutral-toned Moroccan rug balances out the modernist room.
Modern vibes and rich textures were the name of the game, and enhanced the spirit of the industrial loft space.
Back downstairs, a large, rectangular slab of marble dominates the dining room. Paired nicely with the round-back, wooden dining chairs, the dining room is a balancing-act of hard and soft, light and dark. In the kitchen, the precise angles of the dining table break down to rounded edges and obtuse angles. The granite countertop next to the leather seats of the kitchen stools mimics that same balance between hard and soft.

From the modern chairs to the intricate light fixtures to the open floor plan, this home comes together as a waterside oasis elevated to the sublime by color choice, lighting and sumptuous seating choices. This loft truly belongs by the water and among the clouds.