Press Releases
Masters of Modern
Knoll exhibits classic and contemporary designs at the Toronto-Dominion Centre
EAST GREENVILLE, Pa., October 15, 2019 -- From October 15 to November 7, Toronto-Dominion Centre (TD Centre) in Toronto, Canada will host "Masters of Modern" a Knoll organized exhibition with support from DesignTO, Cadillac Fairview and Drechsel. Located in the Main Lobby and Linkway areas of the TD Centre, a classic Ludwig Mies van der Rohe architectural design, the exhibition is open to the public during regular hours 5:30am to 6:30pm Monday-Friday. Along with a display where the public can read and learn about Knoll, Mies and Bauhaus designers, the layout of furniture is open for visitors to sit and experience the designs for themselves.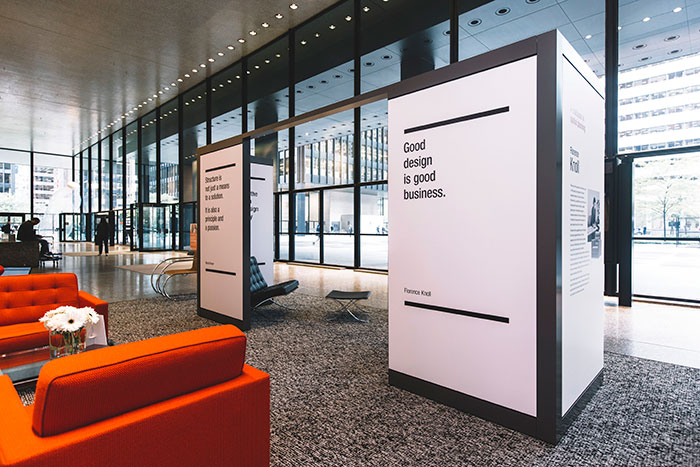 Rockwell Unscripted Creative Wall frames a pair of Florence Knoll Lounge Chairs—a design the epitomizes the architectural work of Mies van der Rohe. Photography by Jenna Wakani.
In honor of the Bauhaus Centennial, "Masters of Modern" will celebrate Mies van der Rohe and the Bauhaus alumni who profoundly influenced Florence Knoll, whose embrace of rationalism and total design helped lead the next generation of Modernists. Throughout her career, Florence Knoll translated the Bauhaus idea of the total work of art to the American public and corporate world of the 1950's and 1960's. She helped define American Modernism and set a precedent for design that is holistic rather than object-focused. A range of archival and iconic products will be on display including Marcel Breuer's Cesca and Wassily Chair; Florence Knoll's Lounge Chair and Coffee Table; Anni Albers' Eclat Weave textile; and Ludwig Mies van der Rohe's Barcelona Collection and MR Side Chairs.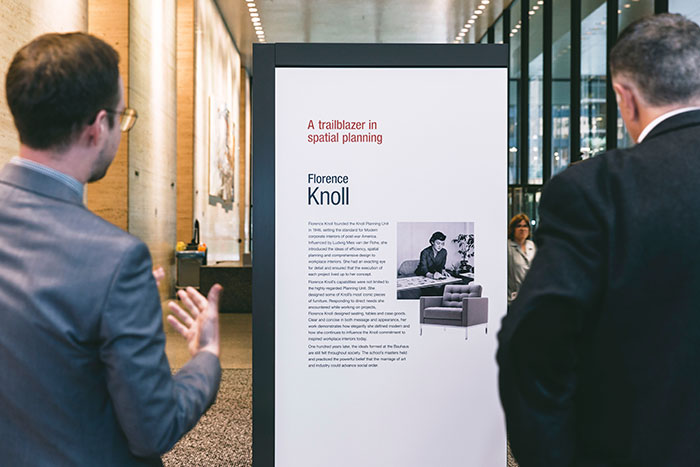 A pair of onlookers admire Florence Knoll and her lasting impact. Photography by Jenna Wakani.
Benjamin Pardo, Knoll Design Director, commented, "The exhibition at the TD Centre underscores the strong bond between Florence Knoll and the Modern Movement, all under the architectural umbrella of one her greatest influences, Ludwig Mies van der Rohe."
Designed by Mies van der Rohe and completed in 1969, the TD Centre office complex epitomizes the architect's interpretation of the International Style—an architectural style developed in the 20's and 30's rooted in the use of industrial materials, flat surfaces and modular forms all the while rejecting any sort of ornamentations and color. Like Mies' Seagram Building in New York City, the TD Centre is darkly colored, rigidly ordered with a calculated combination of steel and glass and set in a large open plaza. Three towers occupy the granite plaza, mathematically ordered to allow views to come in and out of focus as viewers traverse the plaza. Together, the three towers of the TD Centre uphold the very design principles Mies passed down to Florence Knoll, and so are a natural home for "Masters of Modern."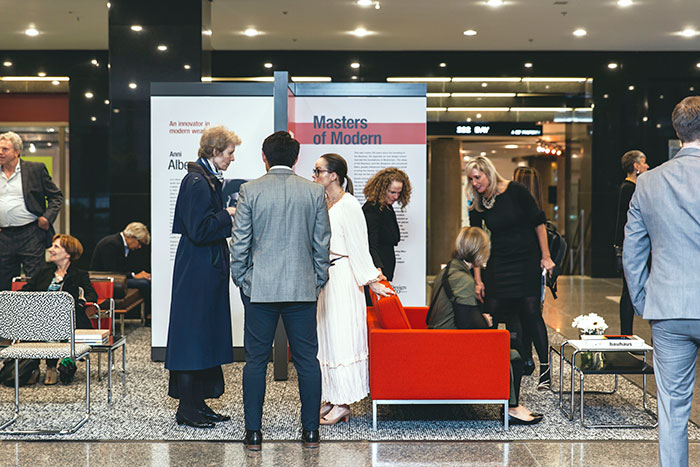 Opening night at Masters of Modern. Photography by Jenna Wakani.
About DesignTO
Celebrating 10 years, DesignTO is where art and design meet across the city, January 17-26, 2020. The Festival is the largest cultural celebration of design in Canada with over 100 exhibitions and events forming Toronto's design week.
Founded and led by a team of artists and designers, the non-profit organization transforms Toronto into a hub for creativity, taking art and design out of the studio and into the urban sphere. DesignTO brings people together to celebrate contemporary culture, provides opportunities for emerging talent, and engages the community with exceptional and accessible public programming. In 2019, the Festival was a showcase for the work of 600+ artists and designers, and welcomed 150K+ visitors.
About Drechsel
Since 1991, Drechsel has been one of Canada's largest full-service dealers for commercial office furnishings and furniture management services. Their goal is to deliver smart office solutions to meet client's changing workplace needs on time, on budget and without disrupting operations.
Drechsel provides an all-in-one approach to the delivery and installation of world-class furniture. They are experts in the management of complex, multi-phased and budget sensitive projects, delivering integrated furniture solutions for Fortune 500, public, institutional, and private sector clients.
About Cadillac Fairview
Cadillac Fairview is one of the largest owners, operators and developers of best-in-class office, retail and mixed-use properties in North America. The Cadillac Fairview portfolio is owned by the Ontario Teachers' Pension Plan, a diversified global investor which administers the pensions of more than 327,000 active and retired school teachers. The real estate portfolio also includes investments in retail, mixed-use and industrial real estate in Brazil, Colombia and Mexico.
Valued at around $31 billion, the Canadian portfolio includes over 37 million square feet of leasable space at 68 properties in Canada, including landmark developments, such as Toronto-Dominion Centre, CF Toronto Eaton Centre, CF Pacific Centre, CF Chinook Centre, Tour Deloitte and CF Carrefour Laval.
About Knoll
Knoll, Inc. is a constellation of design-driven brands and people, working together with our clients to create inspired modern interiors. Our internationally recognized portfolio includes furniture, textiles, leathers, lighting, accessories, and architectural and acoustical elements brands. These brands — Knoll Office, KnollStudio, KnollTextiles, KnollExtra, Spinneybeck | FilzFelt, Edelman Leather, HOLLY HUNT, DatesWeiser and Muuto — reflect our commitment to modern design that meets the diverse requirements of high-performance workplaces and luxury interiors. A recipient of the National Design Award for Corporate and Institutional Achievement from the Smithsonian`s Cooper-Hewitt, National Design Museum, Knoll, Inc. is aligned with the U.S. Green Building Council and the Canadian Green Building Council and can help organizations achieve the Leadership in Energy and Environmental Design (LEED) workplace certification. Knoll, Inc. is the founding sponsor of the World Monuments Fund Modernism at Risk program.
Contacts
David E. Bright
Knoll, Inc.
212 343-4135
dbright@knoll.com
Lucas Onetti
Knoll, Inc.
212 343-4130
lonetti@knoll.com