Knoll Essentials for Small Business
Essential Solutions for Essential Work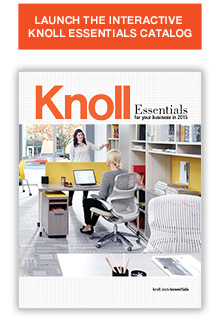 Whether you are furnishing an office for one or a workspace for many, our functional, user-friendly furniture and accessories offer the timelessness of good design with the enduring qualities of careful workmanship and practical materials.
Knoll open plan furniture, storage and seating reflect our depth of research and experience in solving the practical needs of offices worldwide. Discover how Knoll Essentials creates everything from highly personal places to think to spaces that foster talent and innovation.
To learn more about Knoll Essentials, click on the interactive catalog.