Knoll Designer Bios
Florence Knoll
b. Michigan, USA, 1917
Born to a baker, and orphaned at age twelve, Florence Schust grew up Saginaw, Michigan. Schust demonstrated an early interest in architecture and was enrolled at the Kingswood School for Girls, adjacent to the Cranbrook Academy of Art.
While at Kingswood, Florence befriended Eilel Saarinen, whom she would later study under at Cranbrook. Warmly embraced by the Saarinen family, Florence vacationed with them in Finland, enjoyed the company of their accomplished friends, and formed a very close relationship with Eliel's son, Eero. The connections she made and the skills she developed while at Cranbrook were the foundations of Florence Schust's incredible design education and pioneering career. With recommendations from Eliel Saarinen and Alvar Aalto, Florence went on to study under some of the greatest 20th century architects, including Walter Gropius and Marcel Breuer in Cambridge, Massachusetts and Ludwig Mies van der Rohe at the Illinois Institute of Technology.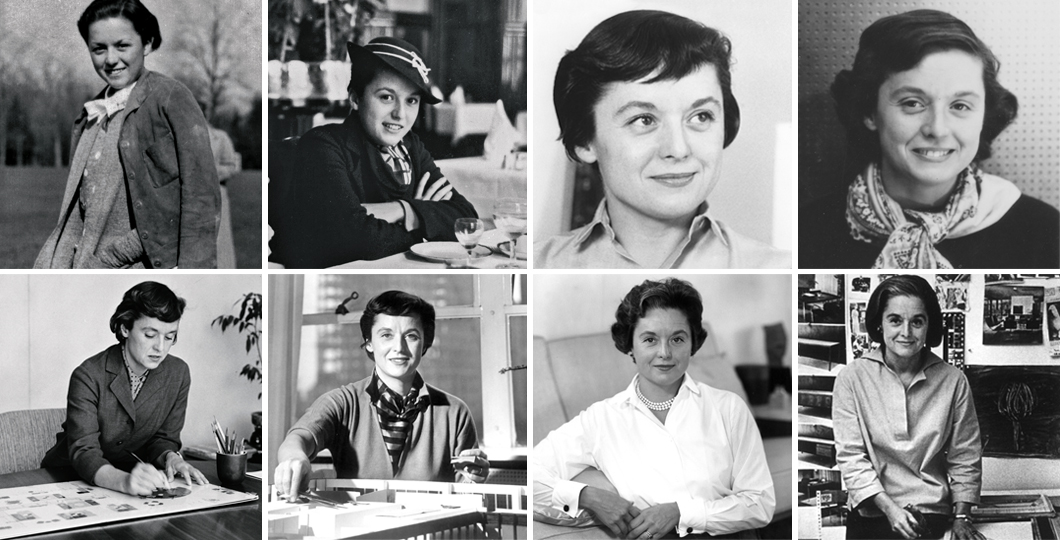 Portraits of Florence Knoll through the years. Images from the Knoll Archive.
In 1941 Florence moved to New York where she met Hans Knoll who was establishing his furniture company. With Florence's design skills and Hans' business acumen and salesmanship, the pair, who married in 1946, grew the nascent company into an international arbiter of style and design. Florence also seeded contributions with her friends Eero Saarinen, Harry Bertoia, and Mies van der Rohe.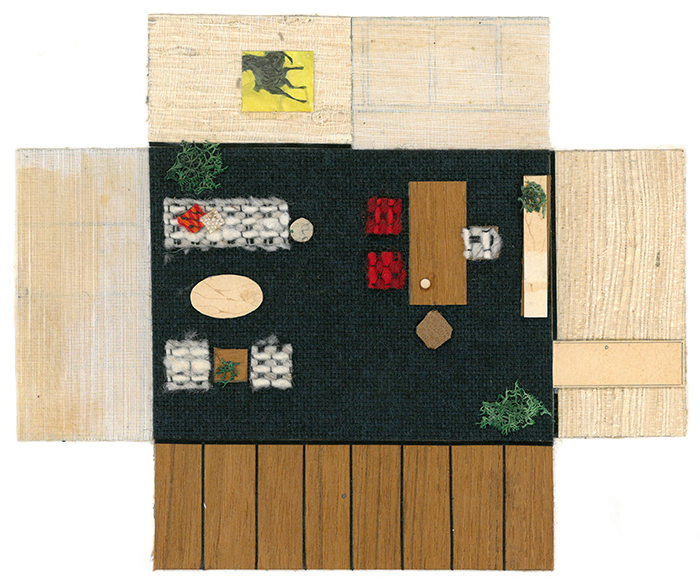 "She had that ability, to critique [something], to tear it apart and put it back together. She was something else."

—Bob Longwell
Florence Knoll paste-up for Cowles Publication. Image from the Knoll Archive.
In creating the revolutionary Knoll Planning Unit, Florence Knoll defined the standard for the modern corporate interiors of post-war America. Drawing on her background in architecture, she introduced modern notions of efficiency, space planning, and comprehensive design to office planning. Florence ardently maintained that she did not merely decorate space. She created it. The Planning Unit rigorously researched and surveyed each client — assessing their needs, defining patterns of use and understanding company hierarchies — before presenting a comprehensive design, informed by the principles of modernism and beautifully executed in signature Knoll style. Florence and the Planning Unit were responsible for the interiors of some of America's largest corporations, including IBM, GM and CBS.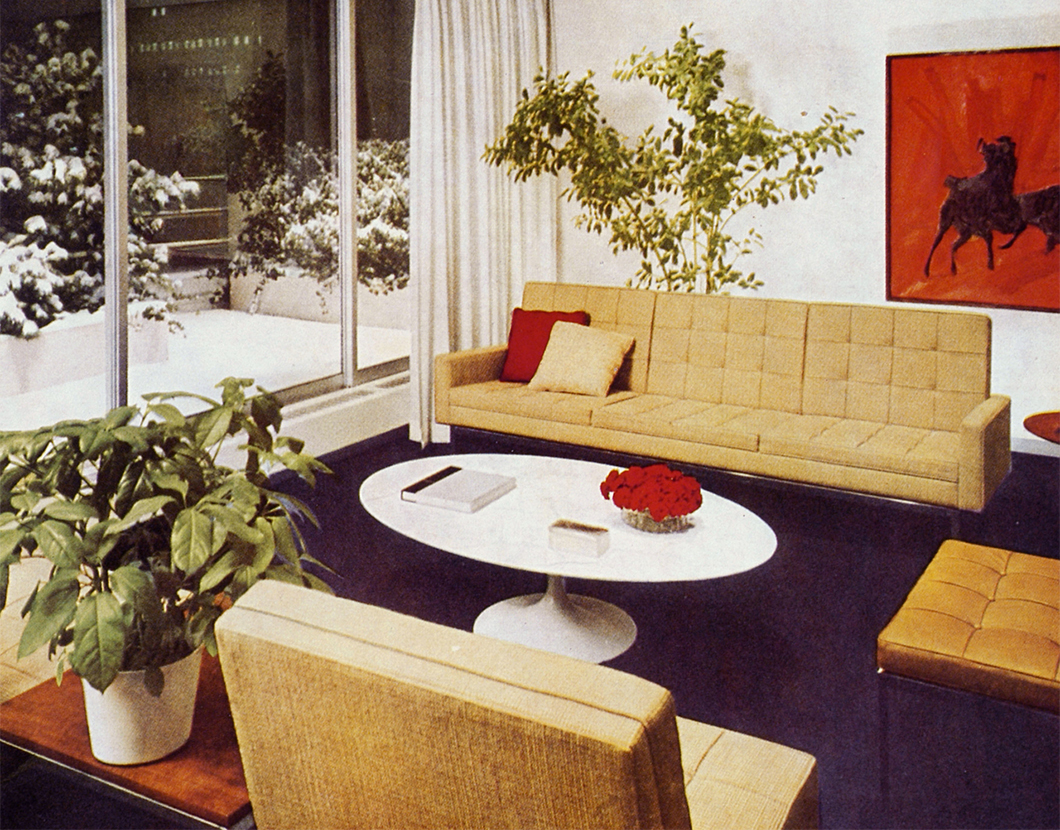 Cowles Publication interior, designed by Florence Knoll. Image from the Knoll Archive.
As part of her work with the Planning Unit, Florence frequently contributed furniture designs to the Knoll catalog. She humbly referred to her furniture designs as the "meat and potatoes," filler among the standout pieces of Bertoia, Mies, and Saarinen. However, with her attention to detail, eye for proportion, and command of the modern aesthetic, many of her designs have become as revered and celebrated as those of her colleagues.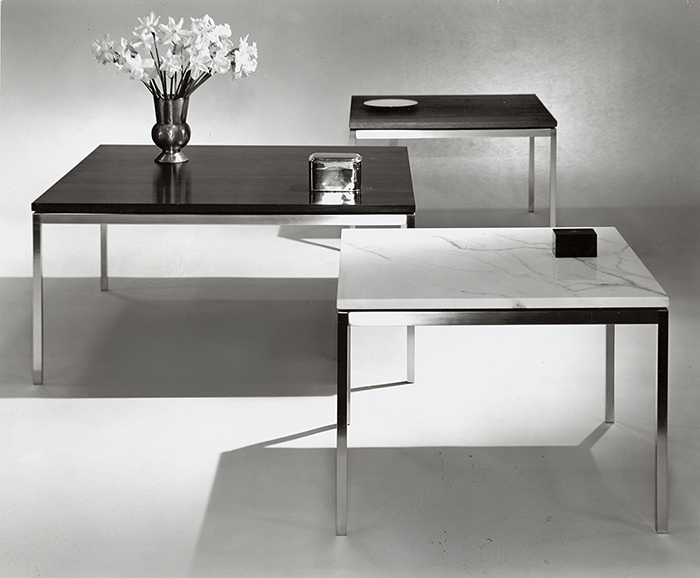 "I designed the architectural [elements] that were needed to make the room work, things like the walls, [tables] and sofas."

—Florence Knoll
Florence Knoll-designed Coffee and Side Tables. Image from the Knoll Archive.
After the tragic death of Hans Knoll in 1955, Florence Knoll led the company as president through uncertain times. In 1960 she resigned the presidency to focus on directing design and development and, in 1965 after pioneering an industry and defining the landscape and aesthetic of the corporate office, Florence Knoll Bassett (she remarried in 1957) retired from the company. Her contributions to Knoll, and to the rise of modernism in America, are immeasurable.