Knoll at NeoCon 2015:
The office network
Today's workplace is a reflection of an organization's brand, culture and people, enhanced and supported by ever-changing technology. At NeoCon 2015, Knoll presents a range of adaptable furniture solutions to support technology and its dynamic role in connecting people in and across workplaces.
The office network explores the relationship between social networks in the workplace and the spaces and technology that enable them, with special emphasis on uniting the social, physical and electrical power imperatives that influence design.
The Knoll 2015 NeoCon presentation builds on r/evolution workplace™, illustrating the freedom and opportunity organizations have to reimagine places of work. Knoll explores four distinct interior planning approaches—Perimeter, Core, Efficient and Adaptive—which each address real estate, technology and individuals' needs differently.
Learn More about r/evolution workplace
In addition to new products, the showroom features enhanced and expanded offerings in many of our most popular product platforms, including Antenna® Workspaces, Dividends Horizon®, Reff Profiles™, Anchor™ Storage and the Remix® family of seating.
VIEW NEOCON SHOWROOM PHOTOGRAPHY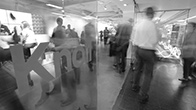 Knoll at NeoCon 2015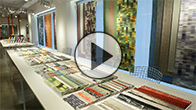 KnollTextiles at NeoCon 2015