Features
1stdibs' Introspective Highlights Mies van der Rohe Exhibition
Matthew Rachman Gallery in Chicago presents archival furniture and drawings by Mies.
As the Bauhaus centennial continues, the designers who pioneered Modernism at the celebrated school of art and design are honored in museums and galleries internationally. Matthew Rachman Gallery in Chicago is the latest to pay tribute with its exhibition Mies van der Rohe: Chicago Blues and Beyond. 1stdibs' Introspective magazine featured the new exhibition in its April 2019 edition, diving deep into the work of the legendary architect whose work defined the post-war landscape of the city he immigrated to in 1938 to teach at IIT. "From his academic perch, he profoundly influenced the course of architectural practice internationally," opines writer Thomas Connors, "And from his own drafting table, he changed the look of his adopted city."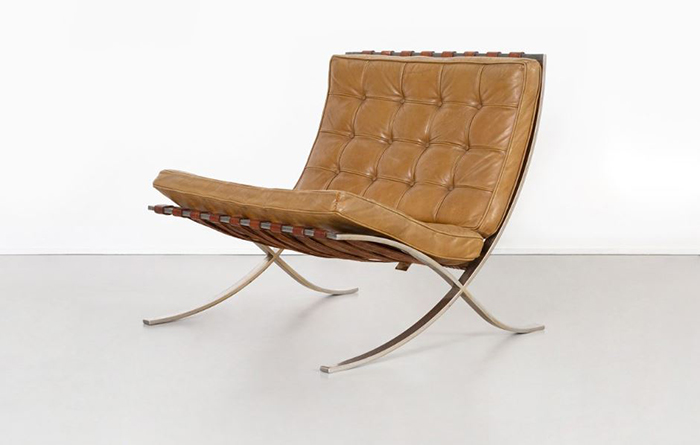 Barcelona Chair on display at Matthew Rachman Gallery in Chicago.
The exhibition is based around a collection of the designer's blueprints acquired by Matthew Rachman Gallery several years ago. The blueprints are working documents used by employees in Mies' office. "Rachman has taken a contextual approach to his installation of the blueprints on offer, interspersing the display with furniture and ephemera," writes Connors. Documents displayed from the collection include early plans to manufacture the Barcelona Chair – which Knoll began producing in 1948 – as well as architectural drawings for the Chicago Art Center and IIT's Crown Hall, "whose massive, column-free span epitomizes Mies' embrace of utterly adaptable, universal space," Connors states.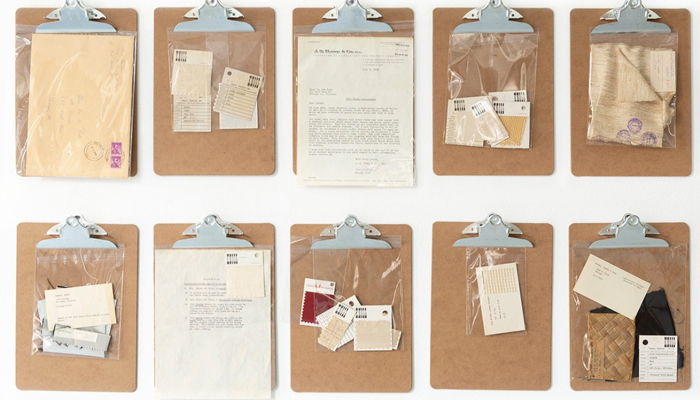 Clipboards at Matthew Rachman Gallery display documents, KnollTextiles swatches and correspondence from the office of Mies van der Rohe.
In addition, the exhibition presents several of Mies' iconic furniture designs: the Barcelona Chair and Couch as well as the MR Chaise and a rare bronze edition of the Brno Chair. Many of these pieces belong to T. Paul Young, who began working for Mies in his office at the age of seventeen. Young, who serves as the director of the Bauhaus Chicago Foundation, also donated fabric swatches from the Farnsworth House and the Arts Club of Chicago; construction documents; and early architectural photography of Mies' buildings.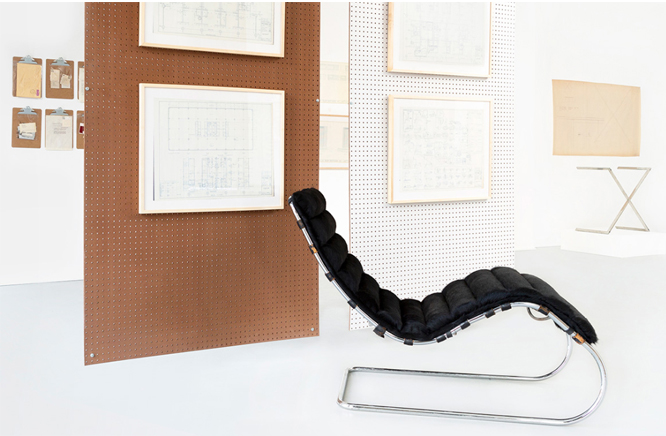 MR Chaise displayed at Matthew Rachman gallery.
Young emphasizes Mies' work in Chicago as emblematic of the Bauhaus ideals he brought to America. "In 1939, Mies gave a lecture to students in which he discussed designing a house," Young told Introspective, "He said that coming to the house, the front door was the most important thing to consider. And as he concluded, he said, 'The house is really the shell, and the life lived therein, is the bloom.' And that was true whether he was designing a home or an office building or Crown Hall. He was setting the stage for living."