Weitzman Halpern in Bridgehampton
Two-toned and vinyl-clad Saarinen Executive Chairs combine sophisticated appearances with suburban practicality
A graduate of Parson's School of Design, Amie Weitzman—a founding partner at Weitzman Halpern Interior Design—worked in fashion and textiles before ultimately finding her feet in the interior design industry. In developing her modern-classic style, Weitzman drew on her already deft color palette and eye for tastefully bold patterns, skills she developed in her former professions.
Her job, however, does not stop short of the homefront. A married mother of two, Weitzman found herself waging a minor aesthetic war after her family's relocation to five-story 1905 brownstone on the Upper West Side. Her children—Maya, 16, and Jonah, 18—and husband all privilege comfort over style, and mounted a vocal opposition to several of Weitzman's choice chairs. The experience, although frustrating at times, proved equally rewarding and edifying, helping to make her a skilled negotiator. Without pause, Weitzman counts her family among her best clients.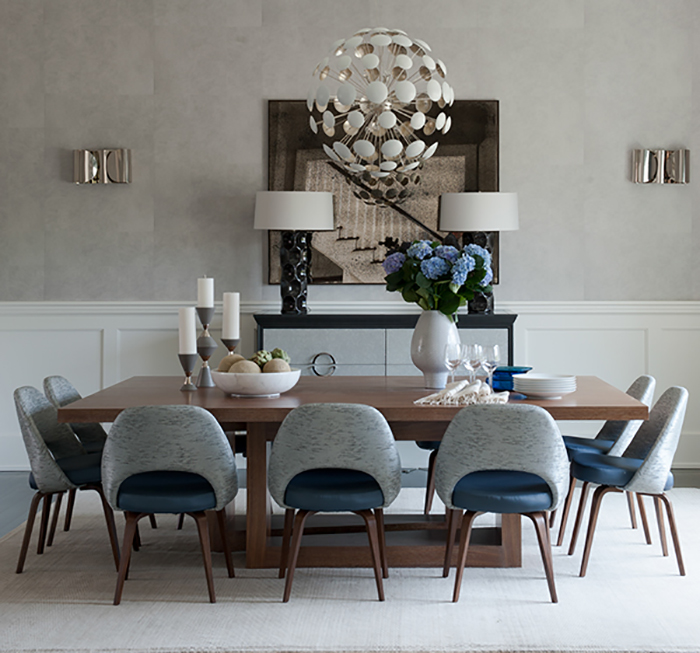 Photograph by John Gruen.
One of Weitzman's firms more recent projects in Bridgehampton is exemplary of a more subdued approach to interiors. A beautiful walnut dining table is the undisputed centerpiece and surrounded by two-toned Saarinen Executive Chairs which have been upholstered in a heather grey and azure blue fabric. Weitzman's color choice was born out of deference to the soft-grey walls, which set the tone for the space. Blue and violet are used as accent colors throughout the home, helping to warm the chill cast by the nearly all-grey interior. Occasional metallic surfaces provide an element of reflective glamour, while the rippling, textured surfaces of the sideboard lamps help make up for the lack of pattern. The dining room's décor was intended to create "a family-friendly environment [imbued] with a level of sophistication," Weitzman explains. Of the many design decisions that combine aesthetic grace with care-free practicality, Weitzman is apt to note that, "the Saarinen chairs, with their inherent classical gravitas, create intrigue from the moment of entry," even though they're upholstered in a stain-resistant vinyl.
Project Credits:
Design: Weitzman Halpern
Photography: John Gruen