Elegant Élan
Rock 'n' Roll jibes with Rococo in San Francisco
Named one of Architectural Digest's 2015 Ones to Watch, Catherine Kwong founded her namesake design firm in 2011. After graduating with degrees from Brown and Parsons, Kwong cut her teeth at Ralph Lauren—where she helped conceive the brand's retail environments—before moving on to work for notable interior designers William Sofield and Paul Wiseman. "I've had the privilege of working for some of the best designers in America," says Kwong of her formative years. With her own practice, Kwong has been able to develop her signature aesthetic: elegance with an edge. In her breakthrough project for the San Francisco Decorator Showcase, Kwong channeled Mick and Bianca Jagger's rock 'n' roll élan within a gilded, Rococo-style interior.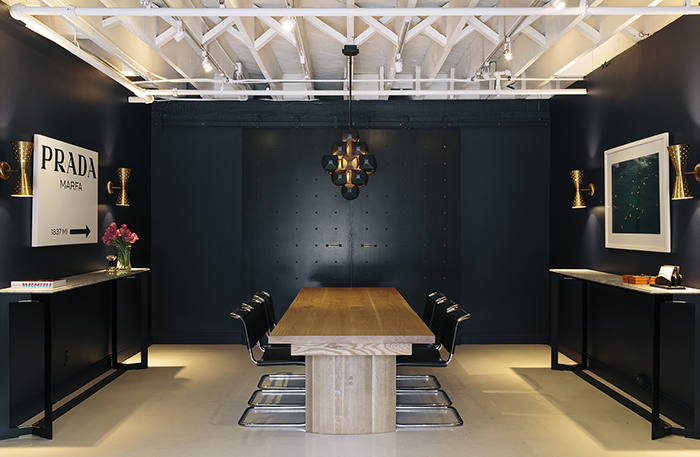 Photograph by Bess Friday.
In the home's contemporary dining room, Kwong's bold approach takes the form of an all-black interior. The brass fixtures were sourced for their aesthetic and reflective qualities and help lighten the space. A sign for the fake Prada store in Marfa, Texas—created by artists Elmgreen and Dragset—invokes a tongue-and-cheek notion of luxury. Underneath a custom light display by Gabriel Scott, the central dining table is surrounded by Ludwig Mies van der Rohe's MR Chairs, which anchor the room's claim to history. In spite of his modernist roots, Mies van der Rohe designed furniture whose final form was unapologetically regal, making his MR Chairs a fitting choice for the project. From the chandelier to the chairs, "every detail is examined, every gesture intentional," according to Kwong.
"Every detail is examined, every gesture intentional."

—Catherine Kwong
In the sitting room, the home's modern furnishings are upholstered with luxurious materials—leather, brass and marble–preserving the spirit, if not the style of French aristocracy. The calligraphic brush strokes on the floor are at once ancient and modern, inspired by the painter Cy Twombly's graffiti-like scripts and executed by Stancil Studios. The sliding industrial door, meanwhile, take cues from Valentino's studded couture and the punk sensibility of the 1980s. The end result balances royalty with rebellion.
Project Credits:
Design: Catherine Kwong
Photography: Bess Friday