Features
Knoll Classics Featured in Architectural Digest October Issue
The Barcelona Couch, Platner Arm Chair and Saarinen Dining Tables make their mark throughout
AD
's October issue.
Architectural Digest featured Knoll designs throughout their October issue, highlighting forward-looking perspectives in the world of design. Pieces by Ludwig Mies van der Rohe, Warren Platner and Eero Saarinen all prove to be exemplary of classic designs from the Modernist heritage that, despite their age, maintain a fresh point of view and integrate seamlessly into the contemporary interior.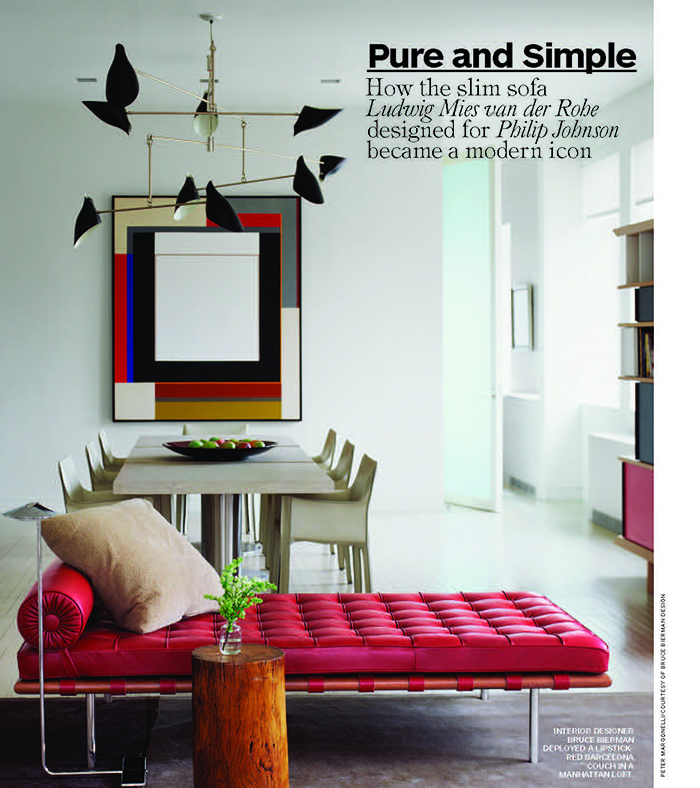 Editor Hannah Martin featured the Barcelona Couch as part of their "Object Lesson" feature which tells the story behind classic designs, accurately deeming the Barcelona Couch a pure and simple modern icon of furniture. Martin dug deep on the history of Mies' design, beginning with his completion of the Barcelona Pavilion and subsequent design of Philip Johnson's New York City apartment. The project marked the first furniture pieces by the German architect to land stateside, including both the Barcelona Chairs designed for the Pavilion and the new Couch. The Barcelona Couch later gained more widespread notoriety from Johnson's 1949 Glass House located in New Canaan, Connecticut.
In both Philip Johnson's New York apartment and the Glass House, the Barcelona Couch is noted for its sleek and seamless design. Paul Galloway, the Museum of Modern Art's collection specialist for architecture and design, praised the elegance and simplicity of the Barcelona Couch stating that, "It's an extremely simple way of delineating space. It could sit against the wall or by a window. And because it's low, it didn't block the space."
Knoll began production of Mies' famous designs, including the Barcelona Couch, in 1964. While the early editions of Mies' Barcelona Couch are sold at a large sum at auction, Galloway asserts that, "The Knoll ones are actually better made."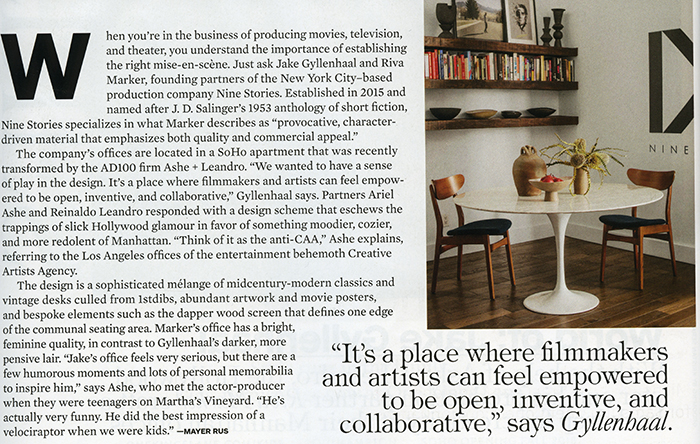 Eero Saarinen's infamous and enduring Pedestal Tables makes two appearances in Architectural Digest's October issue. In one, a Carrera marble-topped Saarinen Table creates a sense of collaboration and engagement in the design of production company Nine Stories' SoHo workplace. "We wanted to have a sense of play in the design," mused Nine Stories founder Jake Gyllenhaal, "It's a place where filmmakers and artists can feel empowered to be open, inventive and collaborative."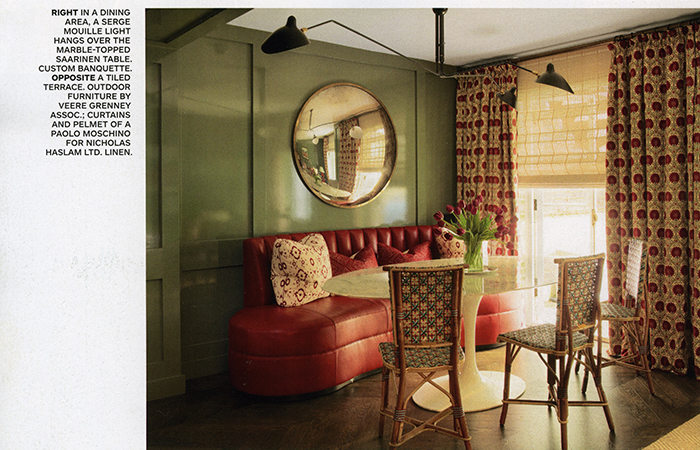 In the Saarinen Pedestal Table's second appearance, Creative Director of VistaJet Nina Flohr uses the iconic design in dining room her London townhome designed by Veere Greeney. The marble-topped table acts as a Modernist punch in an otherwise traditional interior. Of the space, Flohr reflected that she wanted to, "create a beautiful space that reflects my personal style and taste, an easy place to entertain, and a cozy nest to return after my travels."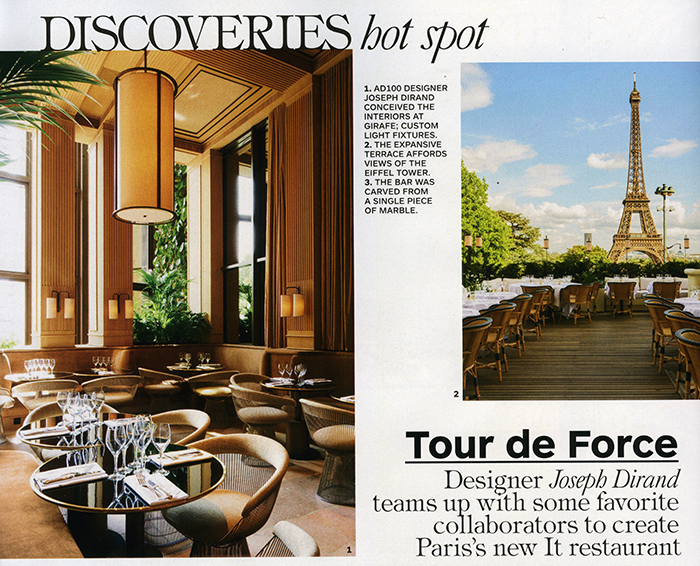 Finally, pieces by Warren Platner take center stage in the design of Girafe, deemed Paris' new "it restaurant" by Architectural Digest. Interior designer Joseph Dirand adorned Girafe's dining room with beige upholstered Platner Arm Chairs, adding elegance and warmth to the space.