Features
Knoll Outfits Colliers Booth at CoreNet Global Seattle 2017 Summit
The Colliers booth featured various pieces from Rockwell Unscripted
Colliers and Knoll, once again, collaborated on a thoughtful and engaging booth at this years' CoreNet Seattle Summit which occured from November 5 - 7. Collier supplied the booth while Knoll supplied a range of furniture including pieces from the company's latest workplace collection, Rockwell Unscripted. The booth, was an ideal location to meet clients and served as a convenient touchdown space. With an attendance of close to 3000, the Collier and Knoll booth was put to use.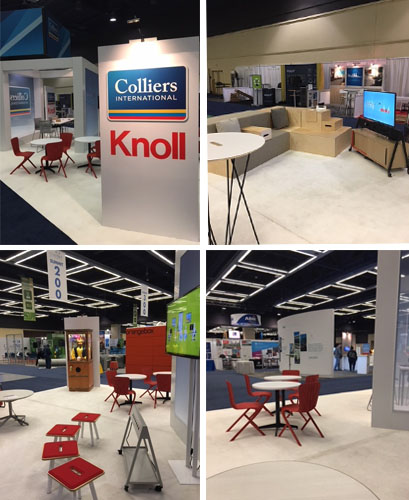 The Colliers booth featured various Rockwell Unscripted pieces such as Steps, Occasional Tables, and Easy Stools. Other Knoll furniture included Horsepower Mobile Carts, Washington Skin Nylon Chairs, and Dividends Horizon EQ tables. The booth offered places to lounge and places to gather around a table and talk.
This year's Seattle summit included a wide range of lectures, spanning the length of the three day. On November 7, Jenny West, Knoll business development manager, spoke on the future of space relative to work. The education session, titled Futureproofing: Are You Ready?, involved envisioning disruptive trends in space, occupancy, and the impact on future business opportunities. West was joined by Mark Gilbreath, founder and ceo, LiquidSpace; Mathew Hosking, enterprise sales lead, WeWork; and Chris Zlocki, head of innovation, Colliers International.
Colliers International Group Inc. is an industry leading global real estate services company with 15,000 skilled professionals operating in 68 countries. With an enterprising culture and significant employee ownership, Colliers professionals provide a full range of services to real estate occupiers, owners and investors worldwide. Services include strategic advice and execution for property sales, leasing and finance; global corporate solutions; property, facility and project management; workplace solutions; appraisal, valuation and tax consulting; customized research; and thought leadership consulting.
CoreNet Global, the worldwide organization, has over 7,000 members and hosts a wide variety of learning summits in major centers such as London, Atlanta and Mumbai. The organization is committed to advancing real estate knowledge, connecting people, and promoting personal excellence.
About Rockwell Unscripted
Rockwell Unscripted features a comprehensive, eclectic array of freestanding, architecturally grounded and movable elements that can be used to create a variety of experiences, from gathering spaces to quiet retreats. Creative Walls and Steps evoke the energy of performance, while the lounge elements conjure the atmosphere of a hotel lobby. Tables become a stage for work, conversation and celebration. Modular and mobile storage elements evoke the causal feeling of a workshop.