Features
Knoll Chairman and CEO Andrew Cogan Featured on Business of Home Podcast
BoH
probes Cogan on his experience at Knoll and positioning for Company resilience
Business of Home, the daily digital media outlet for the home and design industry, interviewed Andrew Cogan, Knoll Chairman and CEO, on its June 8 podcast. Cogan shared his experience at the storied furniture and design company with Dennis Scully, host of the BoH Podcast. "Andrew's history with the company stretches back thirty hears. He's been with Knoll through changes of ownership, recession and now a pandemic," says Scully.
Cogan walked Scully and listeners through his personal history with Knoll, commenting on his first summer job at the Company in 1978, taking the company public and leading it today. "I fell in love with the design aspect," Cogan tells BoH, adding, "The great thing about Knoll is, when it was founded in 1938 by Hans who ultimately brought Florence [into the business], it was about how you lived and how you worked. At the time, the designs they produced were meant to crossover. [They were] Modern designs that transcended how you lived and worked."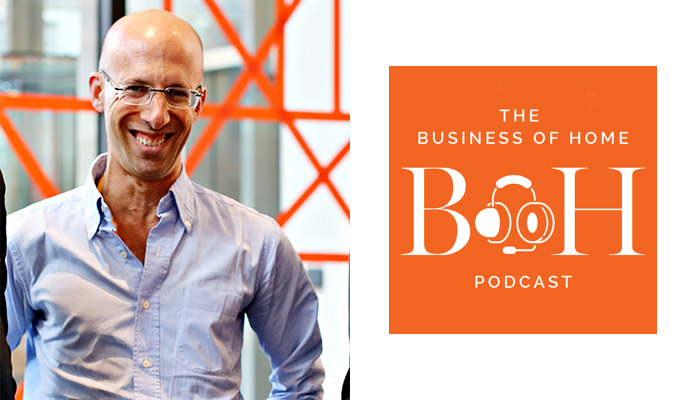 In addition, Cogan cites Knoll's additions to its constellation brands in both the residential and workplace categories—Holly Hunt, Spinneybeck | FilzFelt, Edelman, DatesWeiser, Muuto and Fully—positioned it to weather fluctuations in the marketplace. "That diversification is one of the proudest achievements I've looked back on, and something that has steered Knoll through the financial crisis and is serving Knoll well through the current pandemic. We have a brand that can flex," says Cogan.
He also notes that, despite commentary otherwise in response to shifting workstyles, the office will always be home base for workers. "The office endured; the office is going to endure today. It may be different, it may evolve, it may become over time more a place where you come to do the 'we' work as opposed to the 'me' work, but it's going to endure," he says. "Over the past five years, it's been all about the resimercialization of the workplace. Everyone wants to make their office feel like their home, and we developed a lot of products that could do that. … And now flash forward to today, and in my cases we're bringing the workplace into the home."