Features
Knoll Dealer, Elements, Gets a Fresh Makeover
A title sponsor of CRUSH WALLS, Elements freed up its exterior facade for artists Haas & Hahn
Every year CRUSH WALLS transforms the streets and alleys of Denver, CO into permanent, open-air galleries. One of those open-air galleries for this year is the facade of Knoll Dealer, Elements. With CRUSH, the dealer sought to further its commitment to engaging and contributing to the community through art, architecture and design.
CRUSH WALLS granted the exterior of Elements to Haas and Hahn, two artist known worldwide for their painted projects that transform urban communities. Their works range from painted favelas in Brazil to a large-scale transformation of an avenue in Philadelphia, PA. Jeroen Haas, one of the two partners, is also Rem Koolhaas' nephew. Rem Koolhaas designed Tools for Life for Knoll in 2013.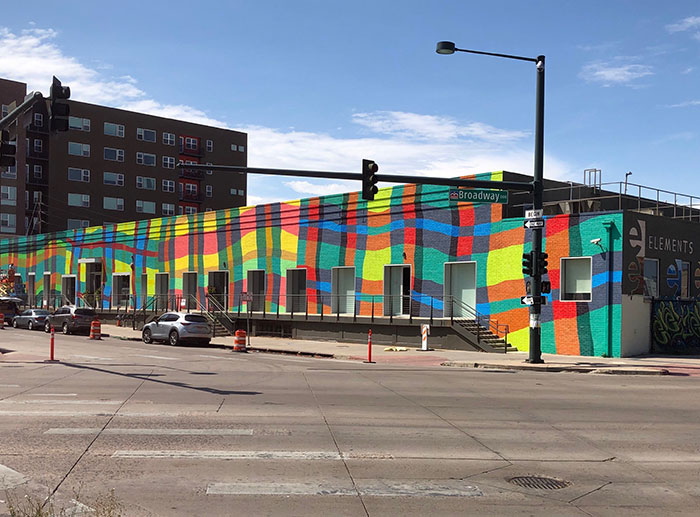 For the exterior facade of Elements, Haas and Hahn painted a curving grid of interlacing strands of color. Vivid, contrasting colors make the wall pop and create a point of visual interest for passing onlookers. The bright wall echoes the organization's mission of bringing art out of the galleries and into the streets, using walls to unite local communities.