Features
Knoll Introductions Rockwell Unscripted™ and HiLo™ Previewed in Work Design Magazine "Countdown to NeoCon"
Knoll in the News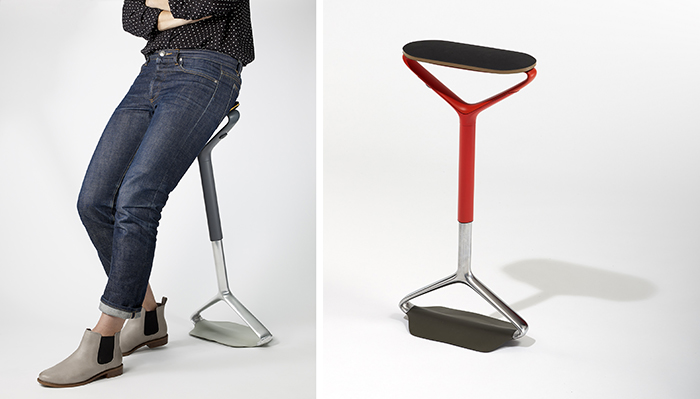 HiLo, designed by Box Clever, is a dynamic perch that supports people's active workstyles.
Work Design Magazine featured Rockwell Unscripted by Rockwell Group and HiLo by Box Clever in its series of product spotlights, "Countdown to NeoCon," on June 1, 2016. Knoll will introduce Rockwell Unscripted and HiLo at NeoCon 2016, the annual contract furniture tradeshow in Chicago that will take place this year June 13 - 15. The two introductions foster interaction, mobility and connected experience and are integrated into the company's showroom, designed this year around an experience-based workplace planning approach, referred to as Immersive planning.
Inspired by Rockwell Group's work in hospitality and stage design, Rockwell Unscripted meets the needs of the evolving workplace, where boundaries between traditional primary and activity spaces dissolve. One of the most expansive office collections released by Knoll to date, Rockwell Unscripted features architecturally-grounded and moveable elements that create a variety of environments and set an improvisational stage for group-based work and shared experiences.
"Our interest is in getting people to look at their work environments as a stage on which movable furniture can be arranged in endless configurations," said Rockwell Group founder and president David Rockwell. "You can craft the scene around what it is you're doing that day."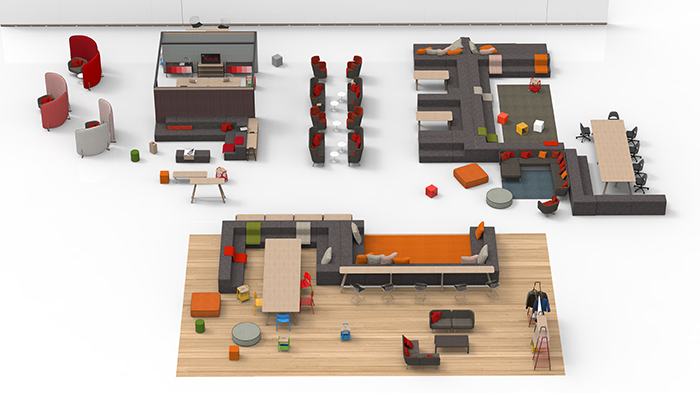 Rockwell Unscripted, designed by Rockwell Group, can be infinitely deployed to create a variety of environments.
HiLo, designed by Box Clever, returns the power to the person and directly meets the demand for more control over workplace well-being and working styles. A new "seat" that keeps you on your feet, HiLo is a dynamic perch that supports people's active workstyles. It is designed to be a handy complement to height-adjustable desks, and a compact companion for impromptu chats and collaborations.
"We conceived of HiLo to personify companionship," said Seth Murray, Box Clever co-founder. "It's right there, it's ready, it's reactive, and engages the user, rather than just providing a passive embrace."
Benjamin Pardo, Knoll director of design, said: "We engineered HiLo with a new sense of user-activated performance in mind. It speaks so clearly to today's spirit of work."
Read the full press release.