Features
Knoll Sponsors Bauhaus Exhibition at Gensler Chicago
The exhibition celebrates the Bauhaus masters and their influence on Florence Knoll
In celebration of the Bauhaus centennial, Knoll worked with Gensler Chicago to curate an exhibition on the famed school of art and design. The exhibition, titled Reimagining the Bauhaus at 100, examines the Knoll designers who attended the Bauhaus – Marcel Breuer, Ludwig Mies van der Rohe and Anni Albers – as well as their mentorship of Florence Knoll and influence on her design philosophy. Furniture and textiles on display by the Bauhaus alumni include the Wassily Chair, Laccio Tables and Cesca Chair by Marcel Breuer; the Brno chair and Four Seasons Barstool by Mies van der Rohe; and Eclat by Anni Albers.
In addition, Reimagining the Bauhaus at 100 features contemporary and reimagined designs from the Knoll portfolio that nod to the ideals and innovations from the legendary school of art and design. In recognition of Mies van der Rohe, the exhibition displays pieces inspired by the architect's cantilevered designs: the Newson Aluminum Chair and Moment Chair. In addition, the rationalist influence of Mies is also highlighted through the reintroduced MR Chair in rattan and reimagined Florence Knoll Relaxed Bench.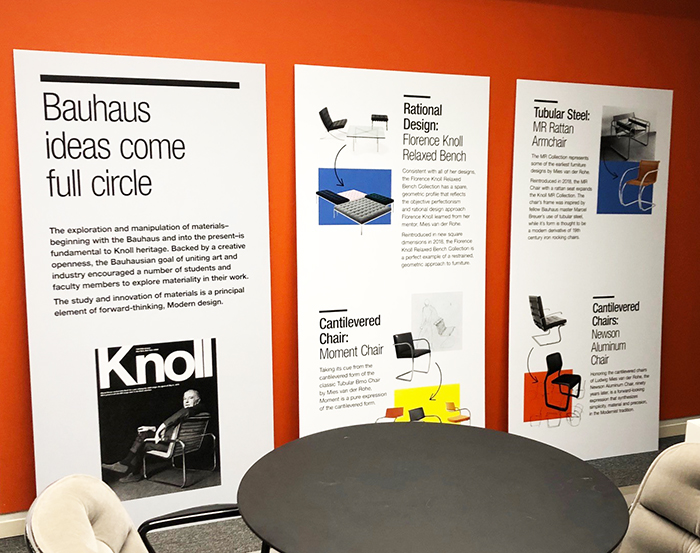 Reimagining the Bauhaus at 100 is on view at Gensler Chicago until mid-May.