Features
Knoll Workplace Research Manager Carolyn Cirillo Publishes 2019 CoreNet Global Summit Highlights for AllWork
Annual corporate real estate summit focuses on creativity, innovation and employee experience in the workplace
CoreNet Global—the leading corporate real estate association for workplace professionals, service providers and economic developers—held their annual North American summit in November 2019. Held in Anaheim, California adjacent to Disneyland Resort, the 2019 CoreNet Global Summit centered around creativity, innovation and the employee experience.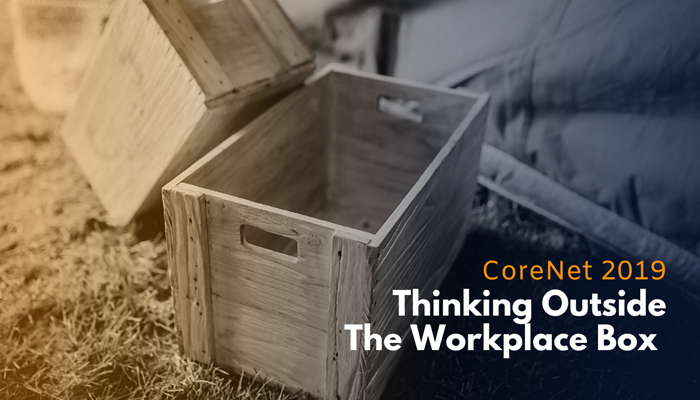 Representing Knoll, Carolyn Cirillo, Knoll Workplace Research Manager, attended the summit and penned her observations as a Contributing Editor for AllWork, an online publication examining the flexible workplace. "The conference focused on the role corporate real estate plays in leading, creating and fostering experiences that enable business success, taking inspiration from Disney's philosophy that a great customer experience starts with an outstanding employee experience," comments Cirillo. "The overall theme focused on inclusion, diversity and equality in the workplace. Several sessions showed how implementation of these policies is not only the right thing to do, but can be profitable as well."
Here are Cirillo's four takeaways from the gathering, as told to AllWork:
Creativity will drive innovation and is the way companies will differentiate themselves.
Duncan Wardle, former head of innovation and creativity at Disney, delivered a highly interactive keynote that emphasized ways individuals can foster their own creativity. He defined creativity as the habit of continuously doing new things in a different way to make a positive difference in our working life.
Using examples of how children play and explore, as well as how artists and inventors such as Salvador Dali and Thomas Edison captured their ideas, he emphasized how important it was to practice mindfulness and diversity to eliminate barriers to creativity. "Diversity is innovation," Wardle said. "If someone doesn't look like you, they don't think like you and they'll help you think differently," he emphasized. Inviting a "naïve expert"—who he described as someone who has no idea what you're working on—can be a path to creativity, productivity and innovation.
He concluded with a reminder that key human traits—creativity, imagination, curiosity and intuition—are superpowers that cannot be replaced with artificial intelligence, which is all the more reason to nurture them in the workplace.
Creating an inclusive, equitable and diverse workplace goes beyond race and ethnicity.
Organizations will need to look beyond race and ethnicity to become truly inclusive, equitable and diverse. Numerous speakers and panelists shared their best practices and positive outcomes when organizations hired not merely for racial and ethnic diversity, but included often-marginalized populations such as individuals with intellectual, developmental and physical disabilities, as well as females in the workforce and working parents as well.
Speakers stressed truly inclusive leadership requires navigating differences, and sometimes this means going deep to make systematic change, according to Dr. Nita Mosely Taylor, Chief Catalyst and Founder, The Equity Project. "Inclusivity is what you do with diversity," she emphasized in a keynote with filmmaker Spike Lee. "If you're not in the room, you're just diversity, not inclusive. Like Hamilton, you gotta be in the room."
In addition, panelists from JLL and Google shared how partnering with Best Buddies, a program that places individuals with intellectual and developmental disabilities (IDD) with organizations, was one answer to the shortage of human capital. A population with an 81% unemployment, IDD individuals are one of the most disenfranchised cohorts, frequently left out of diversity and inclusion efforts. Finding jobs can be a "win win" for organization and individual, such as the Central Park employee who worked as a castle greeter and achieved a 141% increase in fundraising.
Employee experience is the new KPI.
Dr. Peggie Rothe and Racha Kamal of Leesman shared their firm's research that showed how employee experience can be used to create added value in much the same way as density, utilization and cost-cutting can. "Don't dial down cost, dial up experience," Rothe suggested, "because that's the way to maximize corporate real estate assets, employee engagement and organizational performance."
Leesman's research identified thirteen superdrivers that contribute to the employee experience and can be grouped into three categories: experience, physical features and service features.
It is a delicate balance to achieve all the factors, Rothe said, though extremely critical. Getting an element right generally results in a positive employee experience, she explained. However, getting one element wrong will likely result in a negative experience, even if the other factors are positive.
Mentoring, learning, retraining will be increasingly important as organizations leverage their existing talent.
Learning is the new working, according to Madeline Dunsmore, Regional Workplace Manager at Newmark Knight Frank. Learning is not limited to any particular generation. In fact, two-way mentoring is something firms seek to support.
Learning is the new way workers keep up with the pace of business and a way organization can solve for the current talent shortage. She cited Amazon, which is retraining 100,000 individuals, as one company putting this into place.
Education and training also look different than they did in the past, she said. If education 1.0 was factory-influenced education, and education 2.0 was one-size-does-not fit all, education 3.0 is a combination of providing some resources and guidance and allowing employees to "figure it out themselves."
She noted that successful learning spaces model kindergarten classrooms and feature:
Zones, which might include "teacher" spaces
Accessibility, such as different heights of panels and desks
Mobility, incorporating elements of playground design
Respect, allowing resolution of interpersonal conflict
Inspiration and purpose, reflecting the individual in the space and why they are there
Some general learning takeaways from Dunsmore:
Spaces that support play and creativity foster innovation, allowing more problem-solving and learning among team members
Users will "hack" their environments to fit their needs
Process and performance goals should be defined and celebrated
Managers will function as guides and teachers to keep people on track and mark progress