Features
MODERN Magazine Features Bertoia Jewelry Exhibition at Cranbrook
Knoll in the News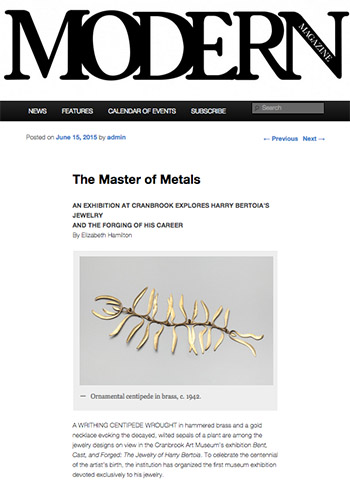 MODERN Magazine's spring issue features a profile of Harry Bertoia and the exhibition of his jewelry at the Cranbrook Museum of Art. The exhibition is the first dedicated exclusively to the prolific sculptor and designer's jewelry.
Inspired by nature, Bertoia's jewelry is important in its own right, and the collection on view at Cranbrook is fascinating, as Bertoia's point of view—what his daughter has termed a very spiritual one—is translated to beautiful, organic form. But the collection is equally interesting to view within the context of his later work for Knoll; jewelry was clearly a scale at which he was liberated to play with material and linear form in a way that opened future potentials.
Bertoia's achievements at Cranbrook would lead to discoveries at the scale of furniture in the 1950s. As MODERN points out: "The highly successful Diamond chairs, with an organic cellular pattern that he had also explored in jewelry, helped popularize modern design in American homes and allowed Bertoia the financial freedom to continue his exploration of sculpture."