Features
The New York Times and Fortune Publish Year End Tributes to Florence Knoll
Pioneering designer celebrated for shaping the modern workplace
Florence Knoll Bassett, who passed away in January 2019 at 101, left an indelible legacy on the world of design, shaping American Modernism—particularly the precepts of spatial planning and the open office—as it is known today. At the year's end, The New York Times and Fortune published tributes to the designer, noting her groundbreaking work and ability to pave the way for women in her field.
In his year-end summary of notable deaths, The New York Times Obituaries Editor William McDonald spotlighted pioneering women across the fields of design, law, science, music and business. "Whether one or the other was the absolute first to break a glass ceiling could be open for debate," writes McDonald. "But let's say, at the least, that each planted a foot inside a door that had long been closed to women and then shouldered her way in—to a roomful of men."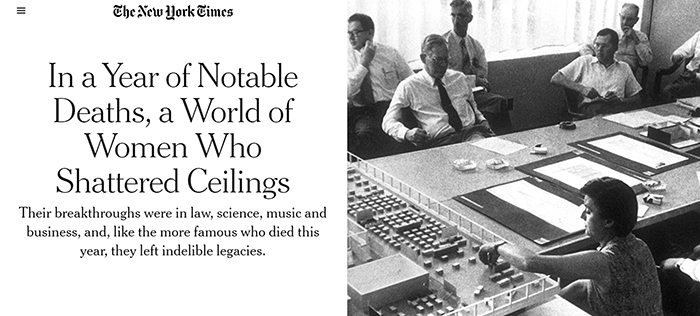 McDonald credits Florence Knoll for the streamlined look and feel of the modern workplace and, presenting an image of the designer delivering a proposal to the Connecticut General Life Insurance Company, he comments, "Ms. Knoll ran a thriving company with her husband, but one look at a grainy black and white photo that ran with her obituary in these pages last January will tell you everything you'd need to know about the world she had to navigate: There she was, in 1953, the lone woman seated at a large conference table ringed by white men in white shirts and ties."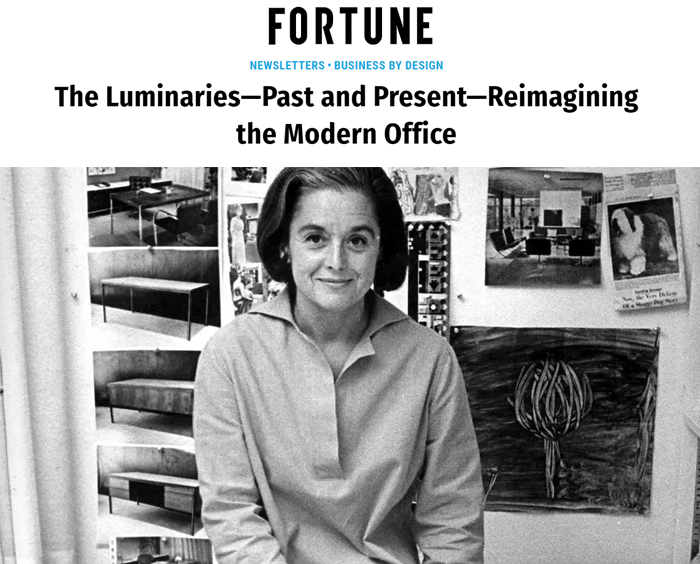 Additionally, in a new Fortune series titled Business x Design, Writer Margaret Rhodes reflected on the legacy of Florence Knoll and her revolutionary work in corporate office interiors. "She led the eponymous furniture and textile company that helped transform corporate offices from fusty, cluttered rooms into airy spaces primed for collaborative thinking," writes Rhodes. "Knoll Bassett turned need-based thinking into Knoll's Planning Unit, an in-house interiors service through which designers would outfit corporate offices based on the specific company's work patterns." Of the noteworthy projects completed by the Knoll Planning Unit, Rhodes cited CBS and Cowles Publications.
Overall, in addition to highlighting the Company's impact on flexible, inspiring workspaces of today, both articles reflect and celebrate the enduring influence of the late Florence Knoll on the world of design.