Steven Heller
Chat with Steven Heller—prolific author, lecturer, art director, and design guru


Do you have a favorite Knoll advertisement or brochure?
I just saw an entire colection of Herbert Matter's magazine ads. I had never seen so many varied pieces. I was blown away. So the answer is I love them all. Beautiful examples of mid-century modern graphic design.
When you think of Knoll, what do you think of?
A Chimney Sweeper. That was one of the most ubiquitous Matter ads.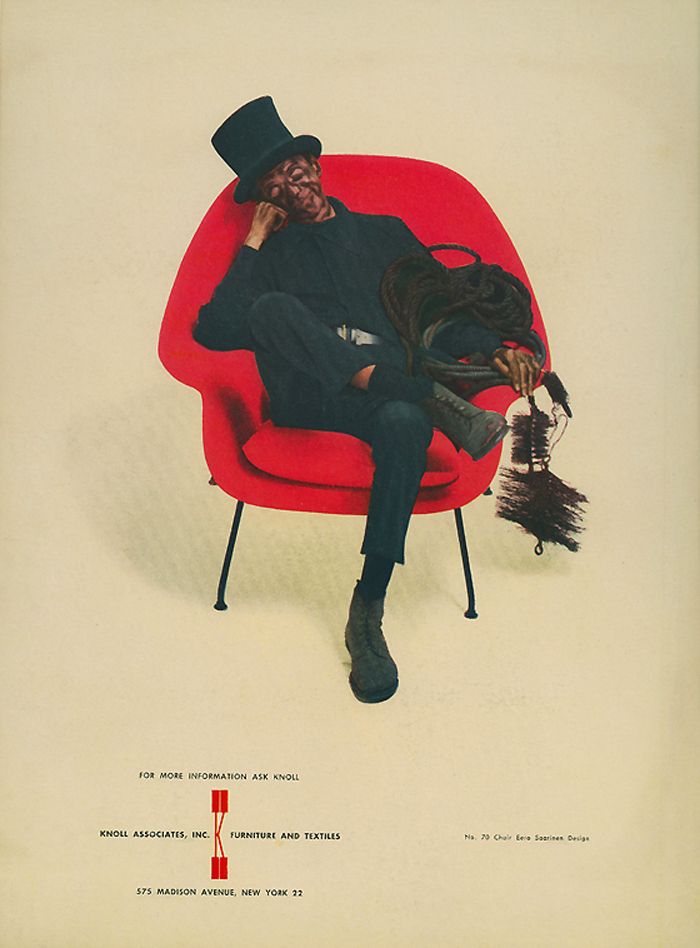 What do you think is the state of the print ad in the Internet age? How about from a production standpoint?
Print ads are still part of the print world. Ads will change radically over time—much more animation. But print ads are still wonderful to have and hold, as they say.
Can you write a few sentences about what you do?
I write about graphic design, or rather I write about popular culture through the lens of graphic design. I also am co-chair of the MFA Design: Designer as Author + Entrepreneur program at the School of Visual Arts in NYC. I used to be an art director at the New York Times, where I still write for the book review.
Do you have a project you're working on that you are exctied about?
I am finishing up my 152nd book, it's a history of 100 graphic design magazines of the late 19th, 20th and early 21st centuries. I am doing it with the U.K. designer Jason Godfrey and it is the most recent in two or three books I've done on magazines. Design mags are the raw material of graphic design history.



What's your first "design moment" or "design memory"?
I think the United Nations, when I was a kid, always fascinated me. That and the TWA Terminal at JFK, and then there was the 1964 New York World's Fair. All these things were so futuristic. From this fascination, I co-authored a book on the 1939 New York WOrld's fair, with emphasis on the graphics.
Who's your design mentor or hero?
When I was 17 my mentor was Brad Holland, the illustrator. Without his guidance, I don't know where I'd be today. Heroes? I've got many, and I've written about many of them.
What's the best-designed object in your life?
Wow, that's almost too difficult to say. But to narrow it down, I'd say the best functional design is the Dreyfuss telephone. We had one in the house for many years and it felt so good in the hand.
What recent movie or TV show has inspired you?
I adore Foyle's War — nothing better.
What's your favorite room in your house?
My bathroom. THat's where I start the day.
What 's your favorite building?
Empire State—I did a book on that.
What's your favorite public space?
Luxembourg Gardens in Paris—the perfect park
What's the best city for design?
Paris, but Berlin is damn cool.
Do you work to music?
No. Wish I could. But can't hear myself think.
What is the best museum for design?
The Wolfsonian Museum in Miami Beach.
Who is someone everyone should know but might not yet?
Earnest Elmo Calkins, the father of "syling the goods," what we called forced obscolecence (sic).
What's the first thing you do in the morning?
Turn on my iPad mini.
What's the last thing you do before you go to sleep?
Turn off my iPad mini.
Photograph: Baden Copeland