The Iquo Café
Collection
Designed by Ini Archibong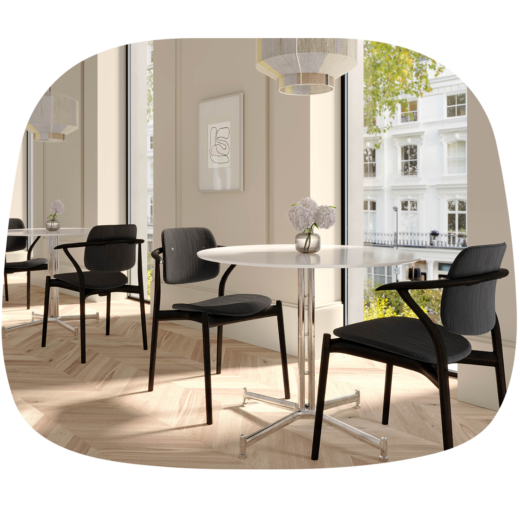 A place to convene, converse, and connect  
Designer Ini Archibong's West African heritage energizes Knoll's modern design legacy in this corresponding set of tables and chairs. The collection—which provides a place to gather both indoors and out in hospitality spaces, offices, and on campus—is named after three generations of Archibong women who share the name Iquo, and it embraces the moniker's feminine spirit in balancing elegant curvature with strength and durability. Archibong, the son of Nigerian immigrants, found equal parts inspiration in West African spirituality and midcentury American furniture, resulting in sculptural silhouettes that feel both airy and robust.
Iquo Chairs
The chair design in Ini Archibong's Iquo Café Collection features a curved silhouette and one continuous frame that's both light and resilient. They come with or without arms and can be stacked six-high on the floor. Available in five colors, the chairs feature a black, textured polypropylene frame, and the indoor chair can be upholstered with textiles and leathers.
Iquo Tables
Available with either a square or round top, the Iquo Café Collection tables come in white, grey, or black resin and laminate, as well as Vetro Bianco stone. They feature an elegant pedestal base, made of four vertical tubes, that provides wire management for power use and is intentionally flat where it meets the floor for comfortably resting your feet.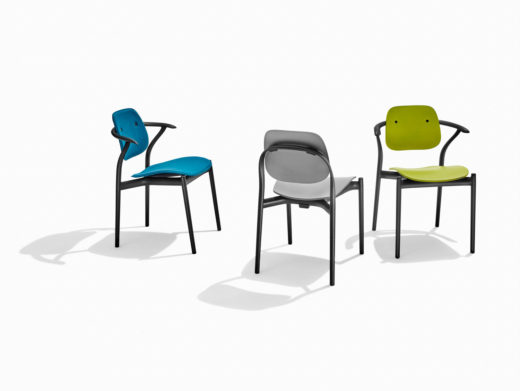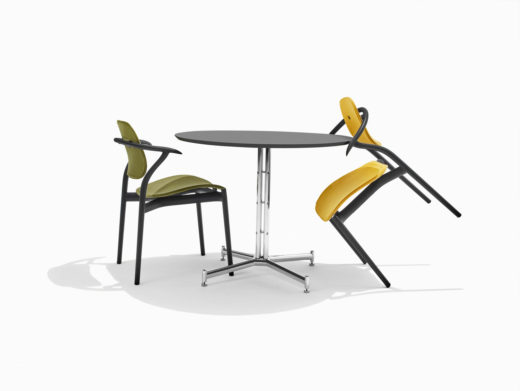 Details that matter
Ini Archibong has an eye for creating shapes and curves that best reflect light—apparent in the structure of the chair frame and table base. The collection was designed to work in harmony, both aesthetically and in comfort. Sturdiness, gracefulness, and consistent details—such as the connection points between legs of the chair and the feet of the table—unify the pieces in the collection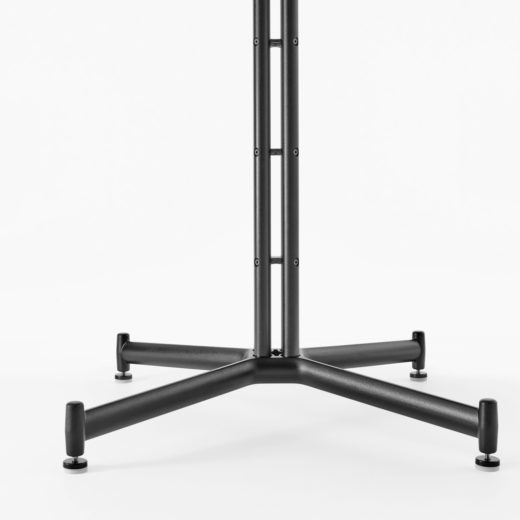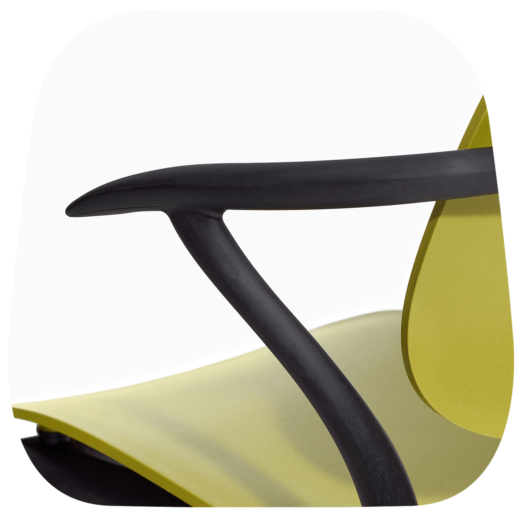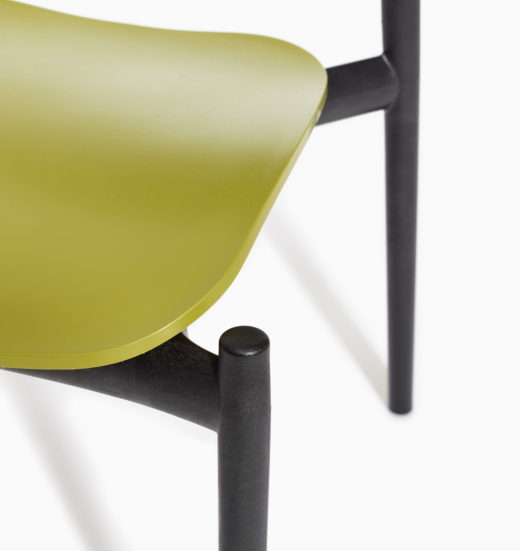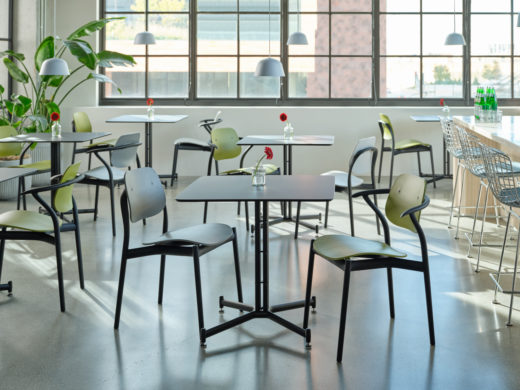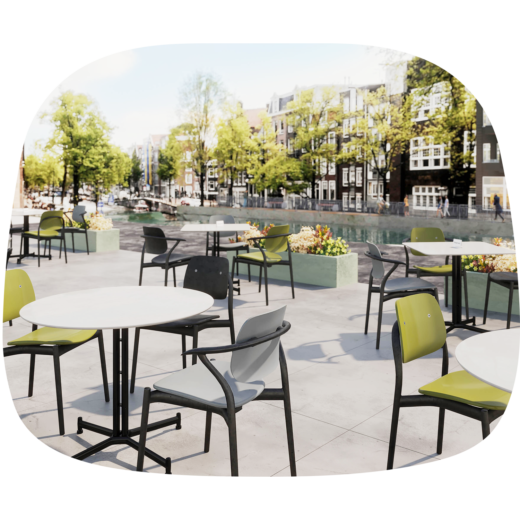 A place for connection
Designed for social settings and environments fruitful for connection and conversation, this collection helps to create spaces that bring people together. Large or small, indoors or outdoors, casual or formal, personal or public, the comfort and versatility of its materials make this collection perfectly suited for gatherings spaces in workplaces, campuses, and hospitality.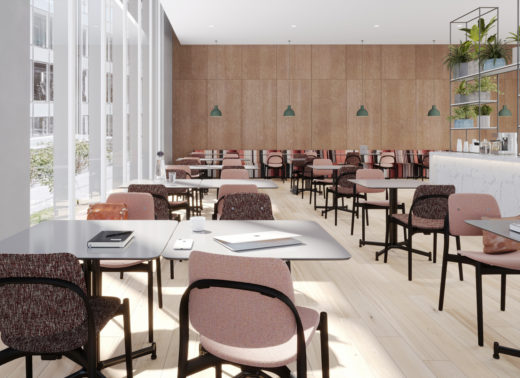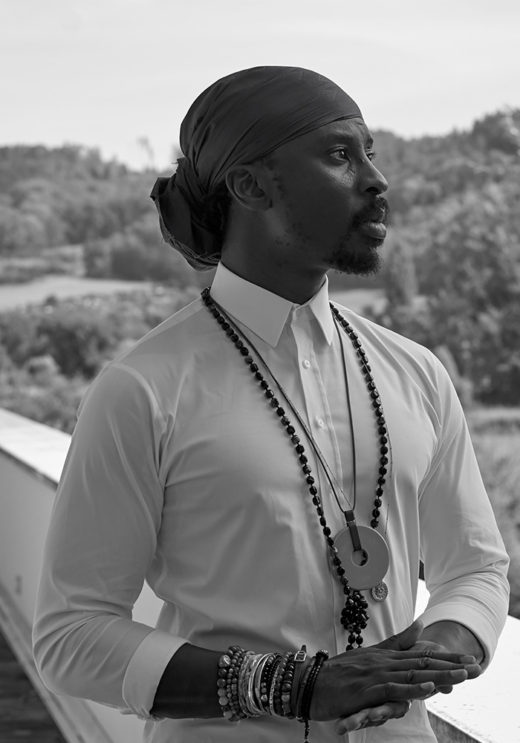 Ini Archibong is an industrial designer, creative director, artist, and musician. His work is characterised by a deep interest in master-craftsmanship and its intrinsic relationship to technology – both modern and ancient. Taking inspiration from the study of architecture, environmental and product design, as well as lifelong passions for mathematics, philosophy, and world religions, he seeks to apply his vision and methods across a wide range of disciplines.