Welcome to the 2017 Showroom.
The showroom presents Rockwell Unscripted™ by Rockwell Group, a broad furniture collection that sets the stage for an Immersive workplace experience. The space also demonstrates the power of bringing together our constellation of workplace solutions and brands – including Knoll Office and KnollStudio furnishings and accessories; DatesWeiser conference and meeting room furniture; Spinneybeck and FilzFelt architectural and acoustic materials; and the diversity of KnollTextiles fabrics, wallcoverings, and drapery.
Immersive Planning and Rockwell Unscripted
Immersive planning blurs the lines between work space types—to enhance interaction, invite connected experiences and create a sense of hospitality at every exchange. Comfortable furnishings and fluid boundaries characterize this group-based workplace where the actions of the people themselves define the space. The result: an environment that can transform at a moment's notice and evolve with use.
Characteristics of Immersive Planning
Inviting work settings
Comfortable furnishings and hospitality-style amenities
Fluid boundaries
Range of scales and vistas
User-defined, multi-use spaces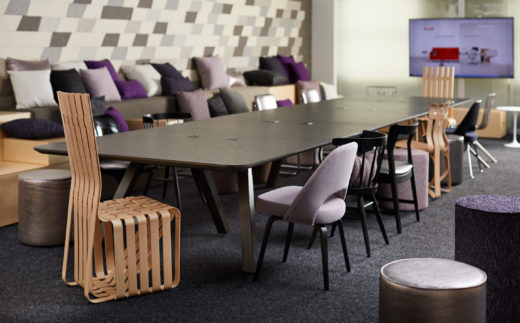 The multi-use amphitheater has Rockwell Unscripted iconic library table at the center, discreetly distributing power to users in various KnollStudio seating and Rockwell Unscripted swivel stools, easy stools and steps. Interpole supports monitor screens at any horizon.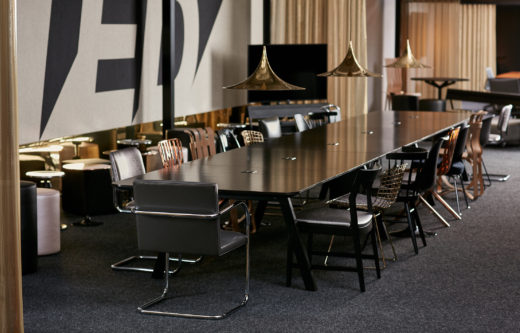 A lobby lounge is defined by Rockwell Unscripted crossbeams and columns, framing a sawhorse work table with an eclectic mix of seating.
As the lines defining work and life blur, we need a workplace that cultivates community and supports customized experiences. The hospitality work experience takes a people-centered view of work, improving workstyle, building camaraderie, and enhancing employees' work-life balance.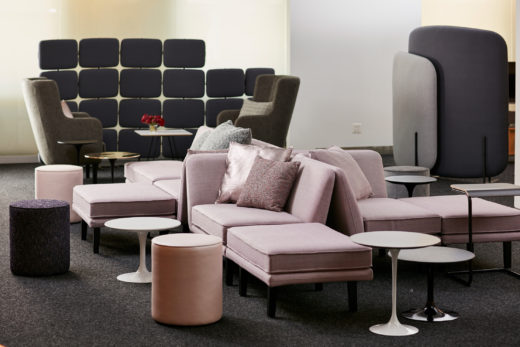 Thoughtfully planned informal lounge areas allow you to quickly connect as you move from here to there. Unscripted lounge pieces throughout the showroom offer spaces to see and be seen.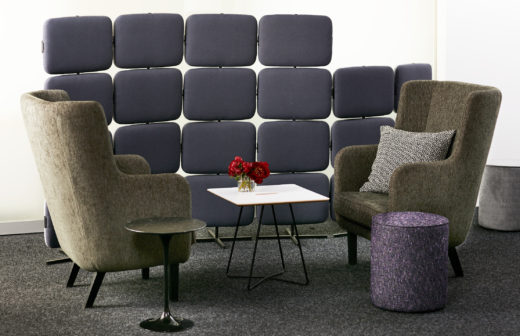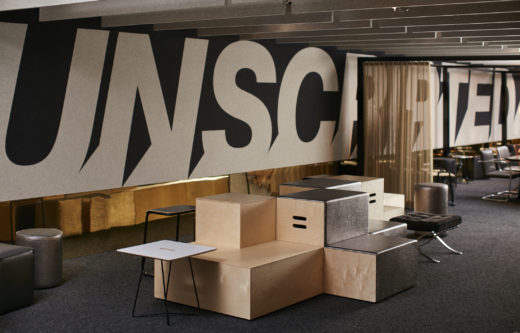 A casual interpretation of the classic concierge, with Rockwell Unscripted upholstered seats, steps and soft storage.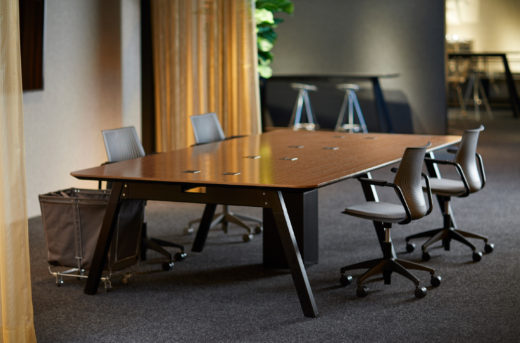 This open pavilion invites people to take a seat, roll up their sleeves and get to work at the Unscripted sawhorse work table, here with MultiGeneration by Knoll light task and Unscripted mobile storage. Unscripted tall tables and mix of seating offer casual adjacency.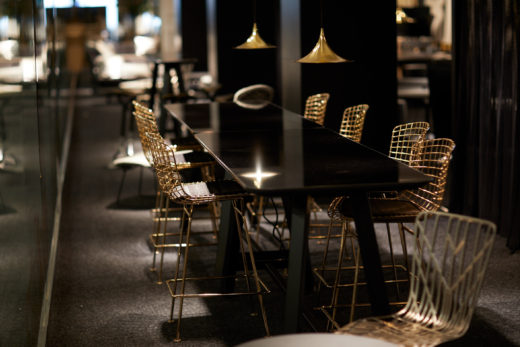 Elements spill out onto the street for an inviting vibe at this sidewalk café setting. Rockwell Unscripted Creative Wall, paired with dining tables and seating at different horizons offers users more choice.
Adaptive Planning
Adaptive planning offers a variety of assigned and unassigned spaces to support diverse work tasks, functions and interactions. Together, these spaces, along with abundant amenities and user-adjustable elements, are interwoven throughout the plan to promote adaptation and social connections.
Characteristics of Adaptive Planning
Varied work settings
Dual-function offices
Assortment of interwoven activity spaces
Ample conveniences and amenities
Social gathering spaces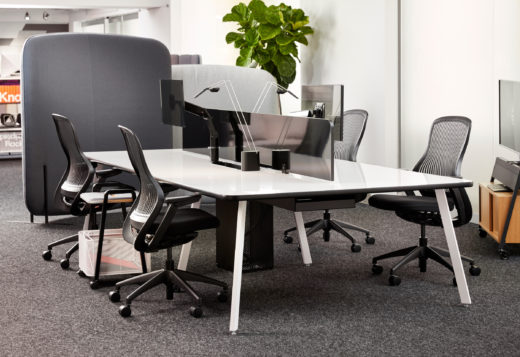 Rockwell Unscripted Puffy screens and modular storage define boundaries of an Unscripted Big Easy table team area with ReGeneration by Knoll chairs.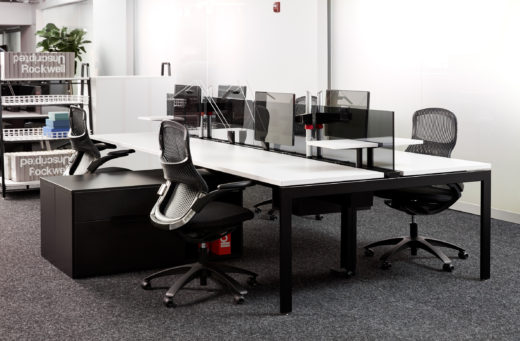 A high-performance team space features Antenna Big Table with new wide end leg and suspended storage, Generation by Knoll, Anchor credenzas and Sapper single and double monitor arms.
Good ergonomics is about more than just reducing discomfort and preventing injury. It should take the increasingly collaborative nature of office work into account, and provide solutions to support these new ways of working.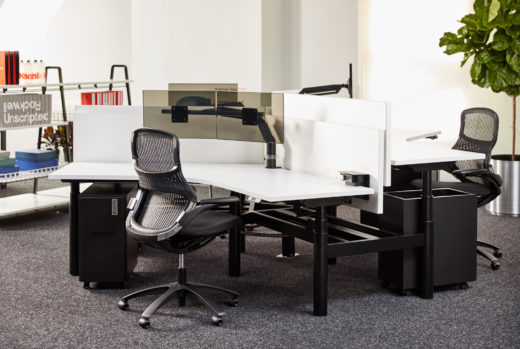 120º planning for a collaborative team environment offers ample individual space while leveraging the shared back-to-back structure and power distribution of Telescope. Generation by Knoll, Anchor 12"-wide mobile storage and Sapper XYZ Crossbar provide additional user adaptability.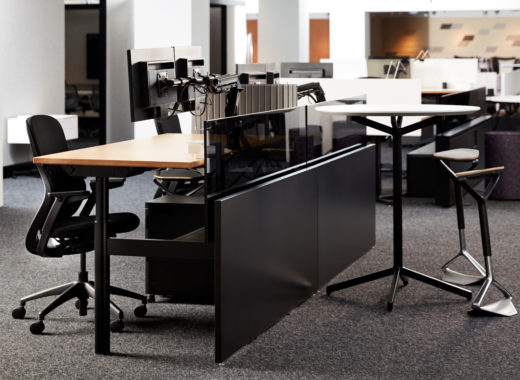 Single-sided Antenna Telescope efficiently accommodates high-density planning with minimal structure and no horizontal feet. Antenna mobile pedestals discreetly nest beneath the worksurface for additional space savings. Shown here with Generation by Knoll, Sapper XYZ and Sparrow desktop LED.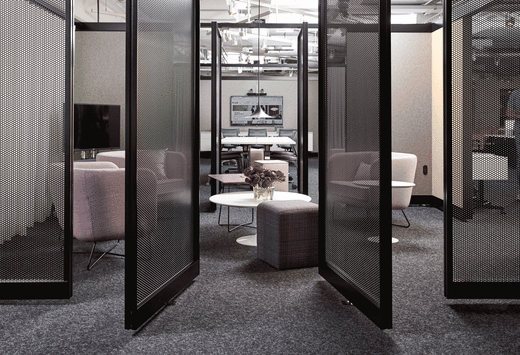 Mobile Pixel tables reconfigure for multiple uses in Unscripted workshops; Unscripted lounge pieces and occasional tables create a secondary activity space.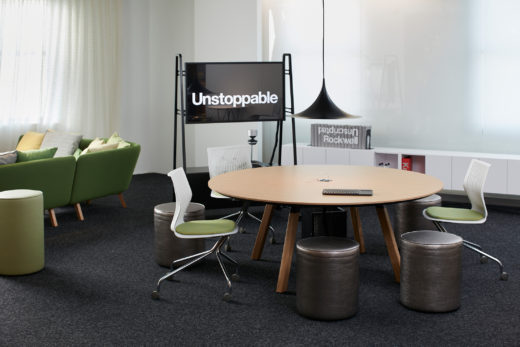 To support an agile workforce, you need nimble technology. A mobile projector becomes an impromptu small group brainstorming tool and multiple material surfaces offer additional ways to collaborate. Rockwell Unscripted round Big Easy table with MultiGeneration by Knoll and Unscripted stools.
Efficient Planning
Efficient planning can create energy and effective collaboration in environments where space is at a premium. Few private offices, narrow circulation and compact work settings help maximize space while promoting shared and team work. Privacy is encouraged through small enclaves and accessible refuge areas.
Characteristics of Efficient Planning
Compact, densified work settings
Low horizons
Few, small private offices
Small-scaled activity spaces
Close proximity, narrow pathways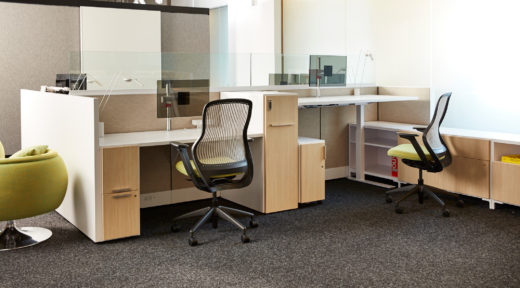 Dividends Horizon with new Anchor raised storage and slide out towers, Tone Height-adjustable Tables and ReGeneration by Knoll seating.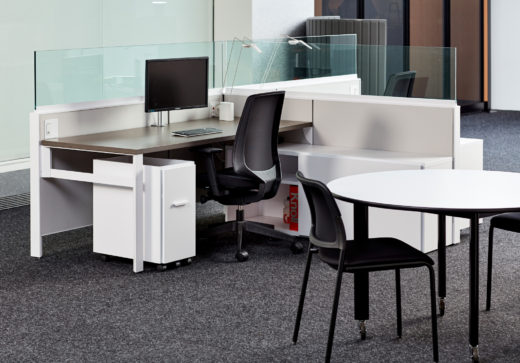 Adjustability is enabled in this efficient workstation by k. stand, k. task and Sapper XYZ, while Anchor raised storage with electrical capabilities distributes power. Keyless locking gives users security even in highly mobile spaces.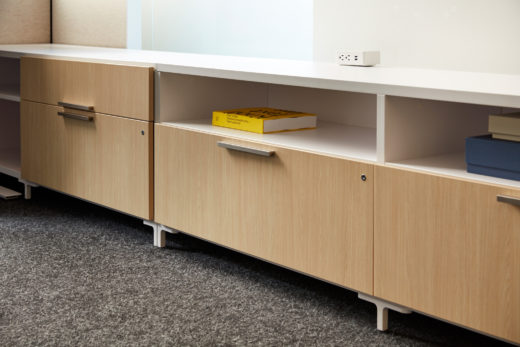 New Anchor raised foot option provides enhanced aesthetic and supports new ways of planning with electrical capacity.
Winner: Best of NeoCon GOLD | Files and Mobile Storage Systems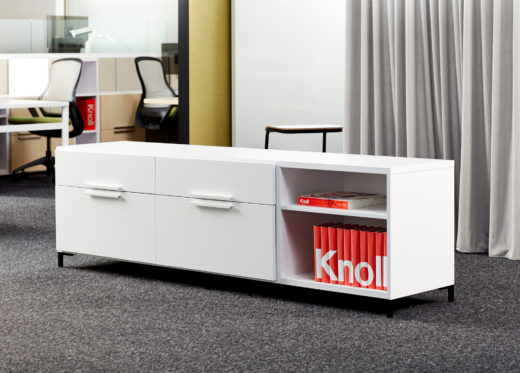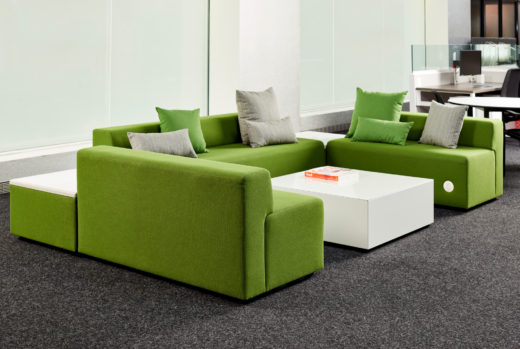 k. lounge with new modular corner table with power option in the top of the unit. Power is also available in the front face of the k. lounge bench seating.
Work lounge settings for group work offer a comfortable alternative to the traditional meeting room.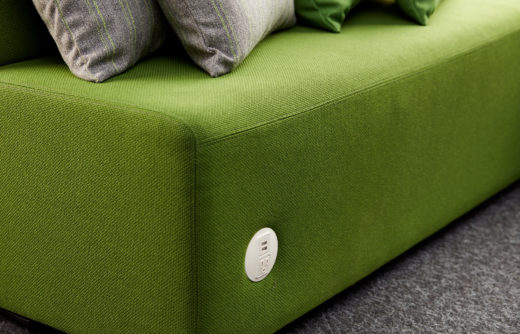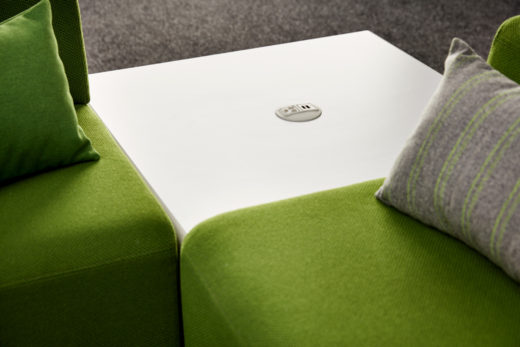 Core and Perimeter Planning
Core and Perimeter planning represent a more traditional approach to workplace planning. Perimeter planning, centered on enclosed individual spaces along the perimeter and large open spaces found at the building core, is ideal for independent and structured work. Core planning places  open spaces around the architectural perimeter, while private, enclosed spaces are planned at the building core.
Characteristics of Core Planning
Connection among workspaces, mid-to-low horizons
Interior private offices
Mixed, formal/informal, open/enclosed activity spaces
Long sight lines, natural light
Characteristics of Perimeter Planning
Separation between workspaces
Perimeter private offices
Large, formal and enclosed activity spaces
Prescribed circulation paths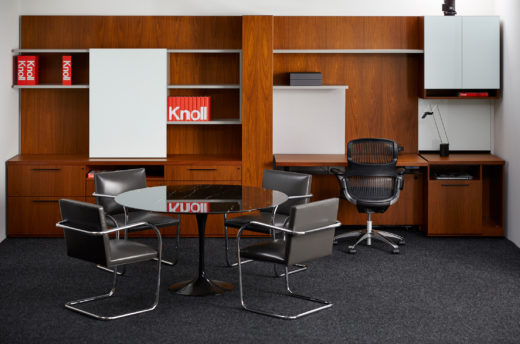 Modular wall components, height-adjustable worksurfaces and multi-functional storage elements form a generous multi-use Reff Profiles private office with Generation by Knoll, Saarinen Table and Brno Chairs.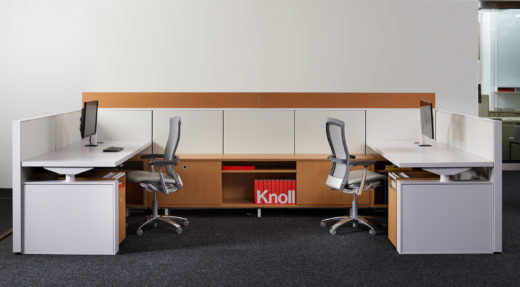 New Reff Profiles height-adjustable peninsulas, combined with freestanding credenzas and mobile pedestal storage and Life Chairs, create an ergonomic environment for focused and shared work.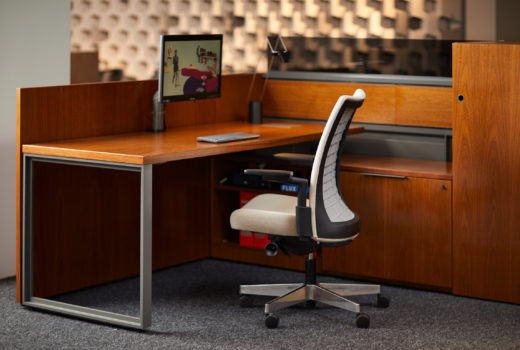 New technology at our Toronto wood manufacturing facility has been engineered to enhance veneer finishing characteristics, resulting in a clearer and more vibrant range of finishes. This new technology builds upon the long-standing Knoll commitment to leading-edge environmental practices, sourcing wood from responsibly managed forests and leading the way in clean manufacturing technology. This will greatly enhance our veneer finishing offering.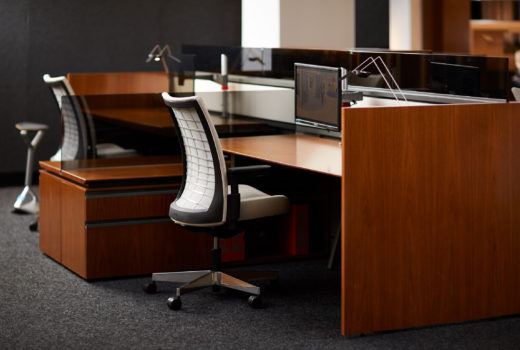 Freestanding Reff Profiles and AutoStrada components pair with Service Wall and Tone height-adjustable desks to create flexible, adaptable work areas.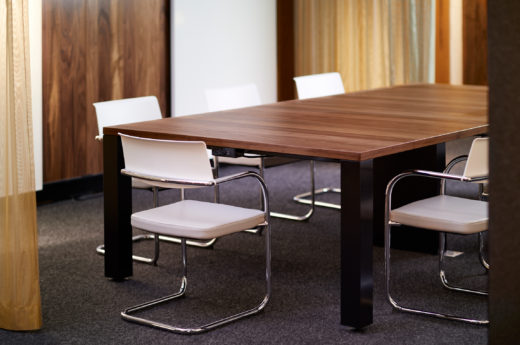 Unscripted Creative Wall in felt, combined with Silver Screen drapery, provides acoustical privacy for this Reff Profiles 4x4 meeting table with Moment chairs.
Celebrating 70 Years of KnollTextiles at NeoCon 2017
Florence Knoll began a legacy of innovation in the 1940s with her unexpected adaptation of simple menswear fabric for furniture application. And with that, the business of commercial textiles was born.
Over the last seven decades the name KnollTextiles has become synonymous with pioneering design. Under the direction of Creative Director Dorothy Cosonas, we maintain our commitment to state of the art manufacturing and material development while fostering design collaborations and expanding into new product categories. We consistently produce product in clear colors and at times reinvent what comes next for interiors with fresh and unexpected color combinations. From the outset, our objective has been to lead with simple, timeless designs. To honor our 70th anniversary, throughout this year we will be launching KnollTextiles fabrics inspired by our archives. We will also be displaying artifacts from the KnollTextiles archive which highlight Florence Knoll's pursuit of perfection and commitment to modern design.