A Modernist Rural Retreat
Palette
A Modernist
Rural Retreat
Nestled in the woods of Northwest Hills, Connecticut lies a rural country home designed for a New York City couple. Almost completely symmetrical from front to back, this modern marvel sits in perfect dialogue with its beautiful surroundings.

Principal architects Stephen Cassell and Kim Yao from Architecture Research Office (ARO) designed a home with beautiful views and minimalist features. With modern and contemporary furniture designs taking center stage – from Bertoia to Barber Osgerby – Cassell and Yao created a home that both blends into its natural landscape and complements it simultaneously.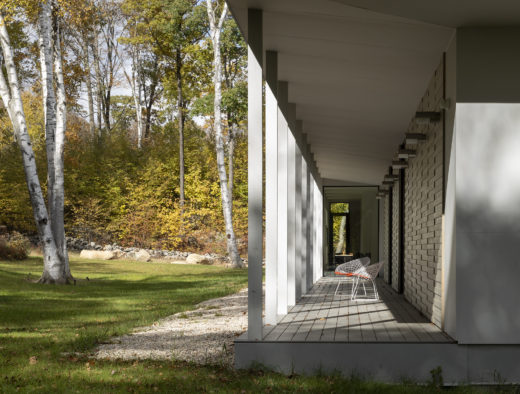 Cassell and Yao used furniture to create interior architecture throughout the property as well as a suite separated by an entry court. According to the them, "in this linear arrangement, the furniture plays a crucial role complimenting the architecture, creating areas for living and guiding vistas from within the framework of the house".
The expansive, open living room and kitchen is a highlight of the home, providing ample views of the surrounding foliage and landscape. A Barber Osgerby Sofa and Ottoman in the living room is an ideal space to lounge, while Bertoia Barstools make for a communal kitchen. "The open foyer connects the two sides of the home and ties the circulation from the valley to the clearing side of the house. In this moment, the house opens up to the expansive views and to the sky." These pieces fit in to the space beautifully and functionally, letting the space feel bright and airy.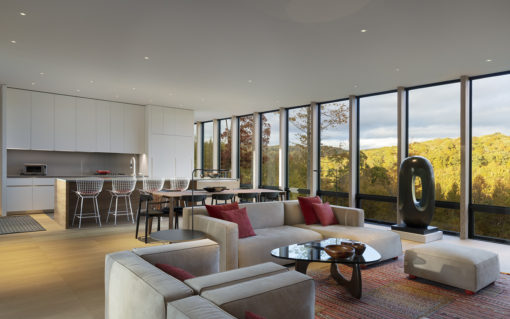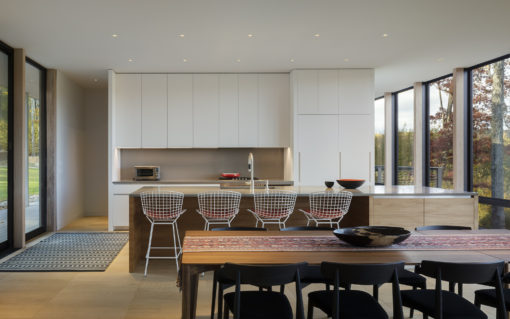 In the sitting room, Risom Chairs surround an asymmetrical Risom Amoeba Coffee Table in the unique skylit multipurpose space. Jens Risom's designs are the first pieces conceived for and manufactured by Knoll in 1943 and fit into any space due to their modest design.
From our first site visit it was clear that the house should be sited along the ridge, creating a linear home that offered both sweeping views of the valley and intimate views of the pool and forest clearing.
Yao and Cassell also described how, "each half of the house opens to a linear covered porch that creates an exterior circulation path, connecting the interior with the landscape." Unifying the space, a duo of Bertoia Diamond Chairs creates a place for relaxation and a space to enjoy the views of the nearby valley. The range of modern collections from Knoll aid to the creation of a cohesive space that meet the challenge of filling this unique home.