Boerum Hill Brownstone
A television and advertising executive fold modernism into a traditional townhouse
Having recently acquired a historic 1875 Brooklyn townhouse, two new homeowners suddenly had to decide how to make it their own. Both modernists at heart, the pair was struggling to incorporate their love of contemporary style within the envelope of old plaster details, marble fireplaces, and pine-plank flooring. The wife, an advertising executive, was raised during the Mad Men era. Her design sense was fostered by her father, for whom modernism was the be-all and end-all. Her husband, who works in broadcast television, shared his wife's vision for a simplified, creative interior. With a clear sense of where they wanted to go, they enlisted the help of Julia Mack, a Brooklyn-based interior designer, who specializes in blending old architectural details with new decorative design selections.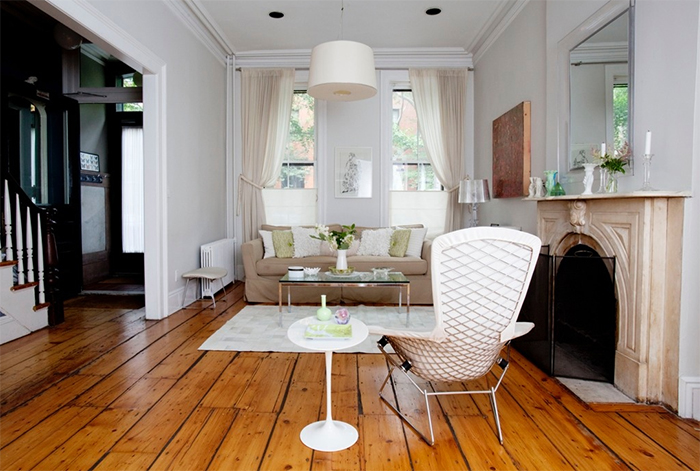 Photograph by Elizabeth Lippman.
After an initial design discussion, Mack understood that her main challenge was to carefully integrate dynamic forms to counteract and balance the innate rigidity of the twenty-foot wide rectilinear space. "I knew that the curves of the Bertoia Bird Chair would perfectly articulate the design concept," she explains, "and provide us with a springboard for additional furniture selections." Subsequently, Mack chose to pair the chair with a white marble-topped Saarinen Side Table.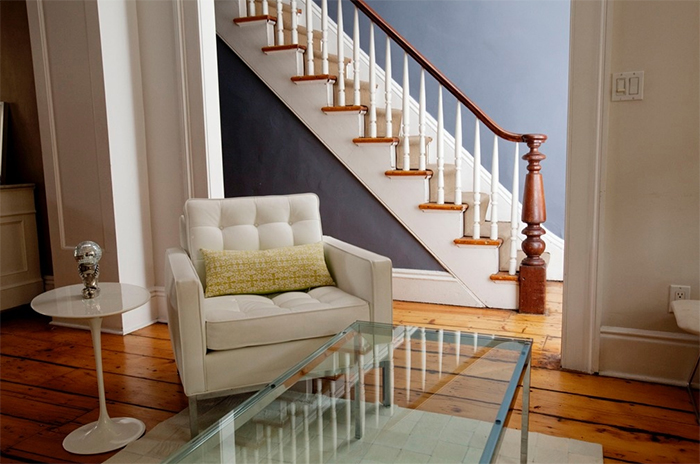 Photograph by Elizabeth LIppman.
Next came the question of color. The living room—with its two floor-to-ceiling windows—was the home's only source of natural light. Mack decided on a palate of tonal whites that would effectively draw sunlight in. Florence Knoll's glass-top Coffee Table refracts light throughout the room, contributing to this end. Ivory-colored wool curtains enclose the living room and compliment the furnishings by providing a soft, textural warmth.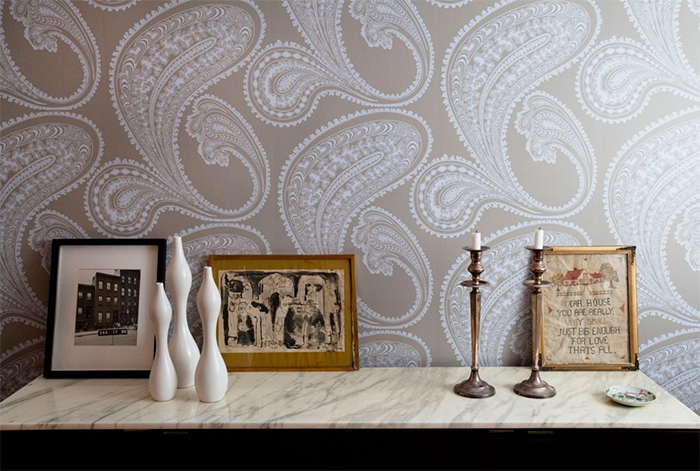 Photograph by Elizabeth LIppman.
"It was of paramount importance to me to offer the clients a moody, dark dining room that fostered intimacy during meals," says Mack, "without jeopardizing the thematic integrity of the house as whole." Building off the leitmotifs established in the living room, the dining room is carefully composed of dynamic, paisley wallpaper, a reflective crystal chandelier, and a brown/black Florence Knoll Credenza with a marble countertop, which hearkens back to the marble fireplace and Saarinen Side Table. "Looking toward the living room, you can see how these discrete spaces are united by their shared elements," Mack interjects with a smile, "I can't help but feel proud."
Project Credits:
Design: Julia Mack
Photography: Elizabeth Lippman