Down By The Seashore
A Cape Cod retreat keeps the modernist spirit alive
Mark Hammer and Don DiRocco of Hammer Architects have been working up and down the coast of Cape Cod for the better half of the last decade. The area has become their stomping ground, where they work within the aesthetic paradigm of the late-International Style.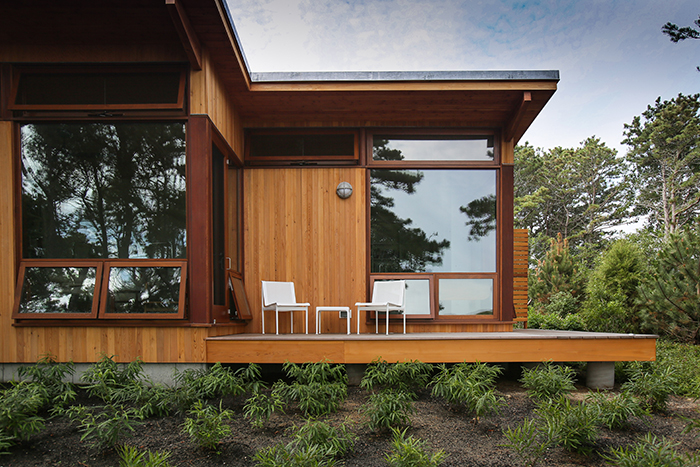 Photograph by Keith LeBlanc.
Perched on a bluff overlooking the Pamet River and the nearby Atlantic Ocean, this 2,900-square-foot residence rests atop the land, surveying the surrounding waters. On approach, the home appears to float, much like Ludwig Mies van der Rohe's Farnsworth House in Illinois. Here, however, the raised decks, open-floor plan and expansive windows have been specifically adapted to withstand hurricanes and other climate conditions.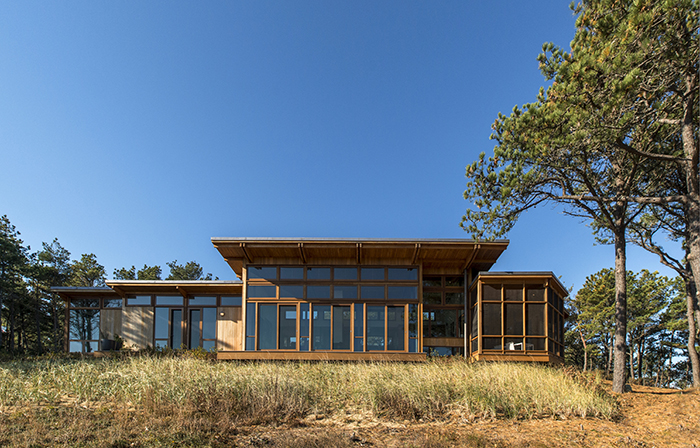 Photograph by Peter Vanderwarker.
According to Hammer, "the design of the home was informed by the legacy on mid-century modern houses on the Outer Cape, which sit lightly on the environment." In keeping with the modernist preoccupation, the architects strove to integrate the home into the native landscape. By building on a gradual incline, Hammer and DiRocco were able to keep sight lines low, allowing for an unimpeded view of the ocean. Elsewhere, too, the architects took care to blend house with landscape: the entrance path is hidden by brush, and the red cedar façade fades into its setting.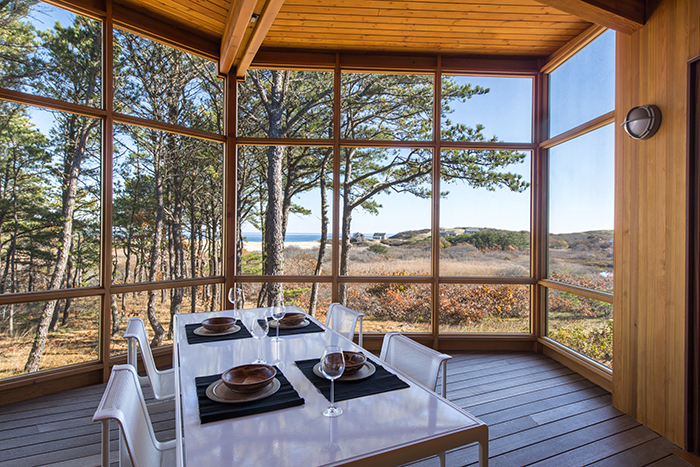 Photograph by Peter Vanderwarker.
Inside, nature is emphasized at every turn. Hammer and DiRocco created a spectrum of indoor-outdoor spaces—screened porches, covered decks and open decks—all of which put the emphasis on the surrounding environment. Pieces from Richard Schultz's 1966 Collection—notably the 1966 Dining Armless Chair and 1966 Dining Table—are used throughout, as the collection's powder-coated frames contrast beautifully with the richly colored woods while withstanding the corrosive seaside air. There are also no curtains in the entire residence. Instead, overhangs reduce glare, glazed windows counteract UV light and cultivated trees provide shade.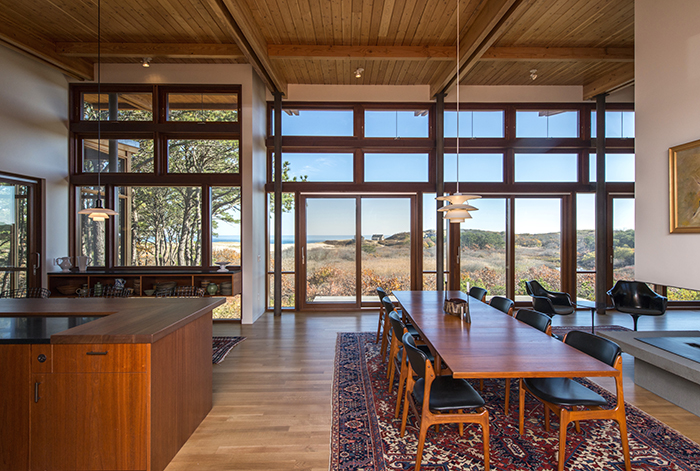 "They love to read in those Tulip Chairs, they can swivel from the view of the fireplace to the view of the ocean."

—Don DiRocco
Photograph by Peter Vanderwarker.
In the main living room, the high, lofted ceiling features exposed structural beams, a salient feature given the home's modernist template. As Hammer explains, the room's furnishings are "a carefully selected grouping of mid-century classics and new Knoll furnishings, which together complement the modern architecture and contribute to the natural open feeling of the home." In between the floor-to-ceiling windows and the central fireplace, two of Eero Saarinen's Tulip Armchairs repose, alongside a Side Table. "They love to read in those Tulip Chairs," DiRocco notes, "they can swivel from the view of the fireplace to the view of the ocean." By the kitchen island, a trio of Bertoia Barstools enables the home's guests to socialize with their hosts while they cook.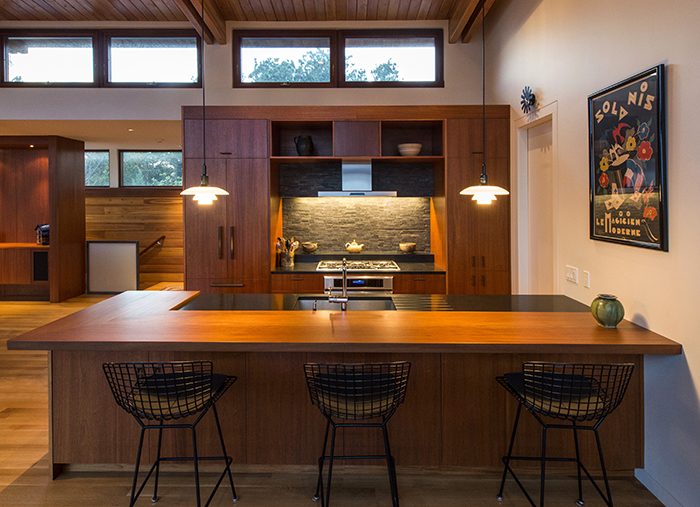 Photograph by Peter Vanderwarker.
Project Credits:
Design: Hammer Architects
Photography: Peter Vanderwarker and Keith LeBlanc