KnollTextiles Archival Collection
Five inspired fabrics are added to the KnollTextiles Archival Collection
Under the creative direction of Dorothy Cosonas, KnollTextiles has released new additions to its Archival Collection, an assortment of upholstery fabrics based on and inspired by the company's rich history of textile design. The latest series comprises: Striae Stripe, Kingston, Radiance, Melange, and Liberty. This assortment is intended to complement previous Archival Collections, which have reintroduced notable fabrics including Cato, Knoll's most historically iconic fabric, Eclat, originally devised by Anni Albers as a printed upholstery based on a Latin American weave pattern, and Fibra, a heddle loom-inspired fabric designed by the Hungarian textile designer Estzer Haraszty in 1953.
In combing through KnollTextiles' copious archival materials, Cosonas searches for inspired fabrics that are both integral to brand's story and underrepresented in today's textile market. Using the original swatch as a jumping off point, Cosonas looks back at Knoll's heritage fabrics with an eye toward their contemporary application. Rather than simply reissuing archival fabrics, the KnollTextiles unit reinterprets historic textiles in a manner that makes them relevant for today's interior designer. Thus, continuing the company's tradition of promoting innovation, the latest contributions to the Archival Collection are intended to further round out KnollTextiles' comprehensive product offerings.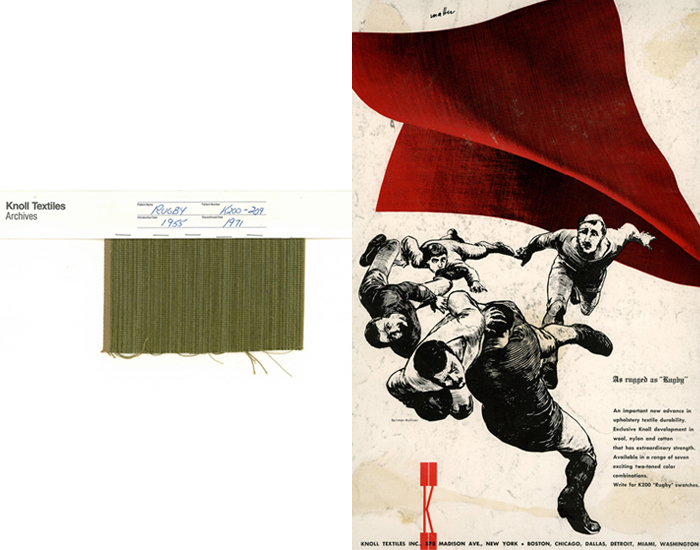 Left: Archival Rugby upholstery, inspiration for Striae Stripe, Right: Vintage Herbert Matter advertisement.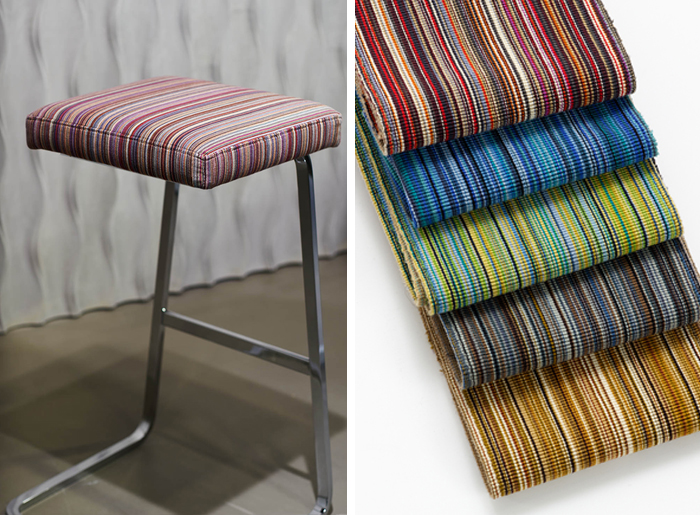 Left: Barstool upholstered with Striae Stripe, Right: Striae Stripe colorways.
Striae Stripe is based on Rugby, a 1955 fabric designed by the Swedish textile designer, Astride Sampe. A commercial success, Rugby was aggressively marketed for a number of years and included a series of advertisements designed by Herbert Matter. Cosonas was as inspired by the visual treatment of the textile in Matter's printed materials as the vintage fabric swatch itself. In this latest iteration of the popular fabric, the original tone-on-tone cotton/polyester fabric has been updated into a nine-yarn warp stripe and has been re-released in eight different colorways. The fabric is as durable as the name suggests, exceeding 100,000 Wyzenbeek Rubs, making it ideally suited for heavily utilized furniture.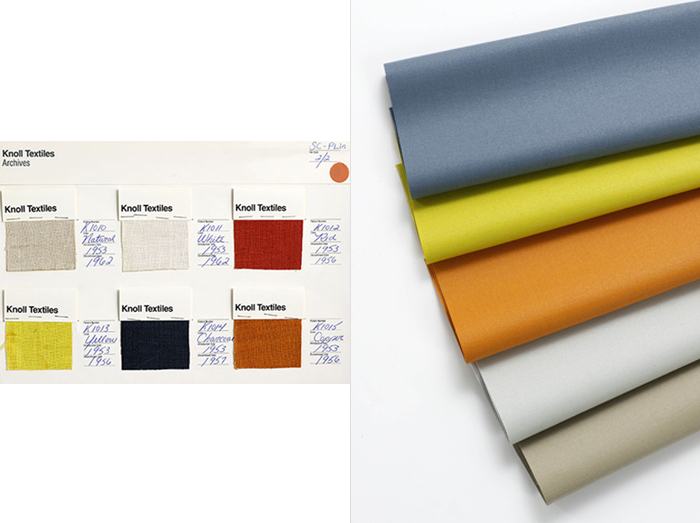 Left: Archival Plain Linen upholstery, inspiration for Radiance, Right: Kingston colorways.
Kingston is an interpretation of Plain Linen, a fabric originally designed by Florence Knoll when she headed the Planning Unit in 1953. The updated classic features a polyurethane and ceramic coat applied over a base canvas duck cloth.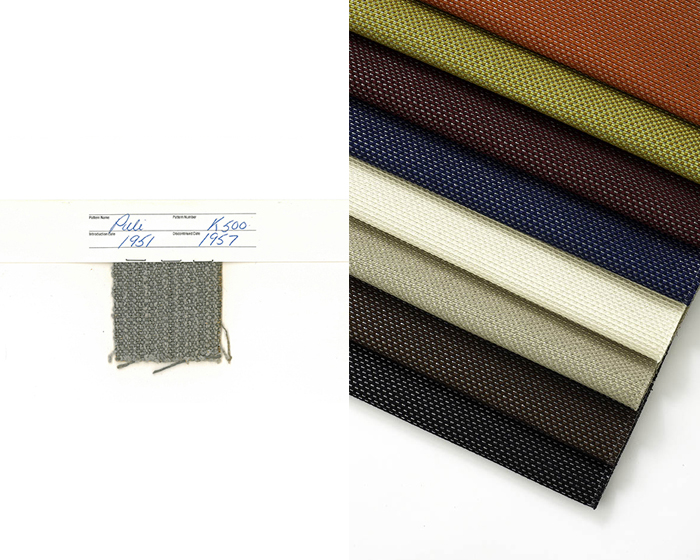 Left: Archival Puli upholstery, inspiration for Radiance, Right: Radiance colorways.
Radiance is based on a 1951 design by Marianne Strengell (1909-1998). Strengell was Loja Saarinen's successor at Cranbrook Academy and helped jump-start the Knoll Textiles division in its infancy. Originally named "Puli," the fabric was Strengell's last textile for Knoll and fashioned using her own intricate handweavings as a reference. Although initially a composite of cotton, linen, and rayon, Cosonas' modern interpretation of the fabric incorporates olefin yarn to enhance the shimmer effect of the interlacing weave structure.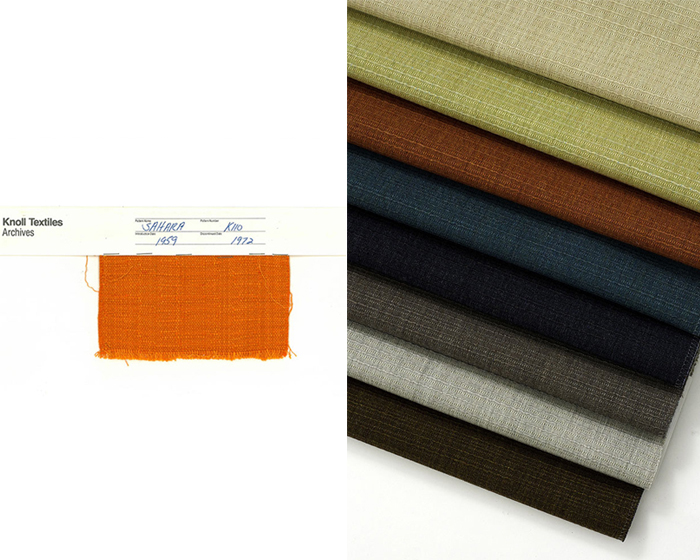 Left: Archival Sahara upholstery, inspiration for Liberty, Right: Liberty colorways.
Liberty is an update of an all-over solid wool/cotton fabric known as Sahara. Retaining the slubby characteristics of the original swatch, Liberty features a tighter weave that makes it more versatile than its parent.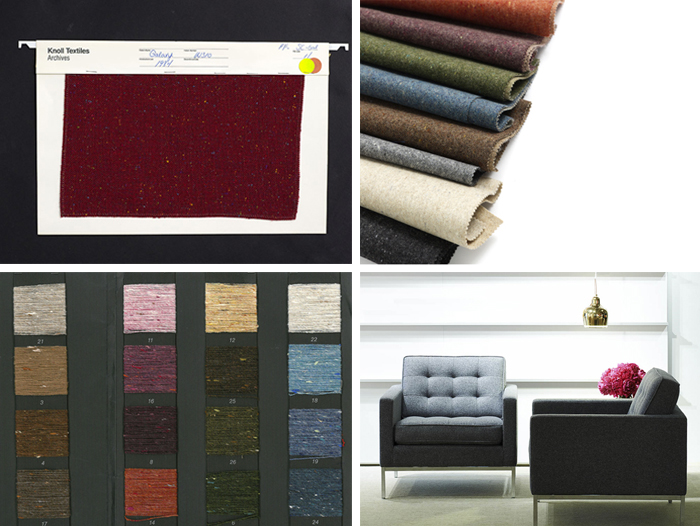 Clockwise: Archival Galaxy swatch, Melange colorways, Florence Knoll Lounge Chairs upholstered with Melange, yarn inspirations for Melange.
Melange is a new fabric inspired by Galaxy, a panel fabric from 1984. Heathered with flecks of contrasting color, Melange can be pulled in a variety of different directions and is made up of extremely dense, premium wool.
For purchasing information, visit the KnollTextiles Archival Collection.