David Baker in San Francisco
An architect's home blends Bay Area history with an Eastern worldview
The fifth house that architect David Baker designed for himself testifies to the wide array of influences he's fostered over the course of his career: from his father, a self-trained architect, to the accomplished Japanese architect, Toyo Ito. The home is exemplary in its simplicity, while embracing creative experimentation (the back wall includes a designated graffiti space).
Salvaged from the Great Quake of 1906, the original building comprised a grocery store, living quarters, and rear stables. "I liked that the building had a history," Baker remarks, "it freed me to do my own interpretation." But when he took on the renovation, Baker opted to preserve much of the original shell, opening it up to air and light through the addition of clerestory windows.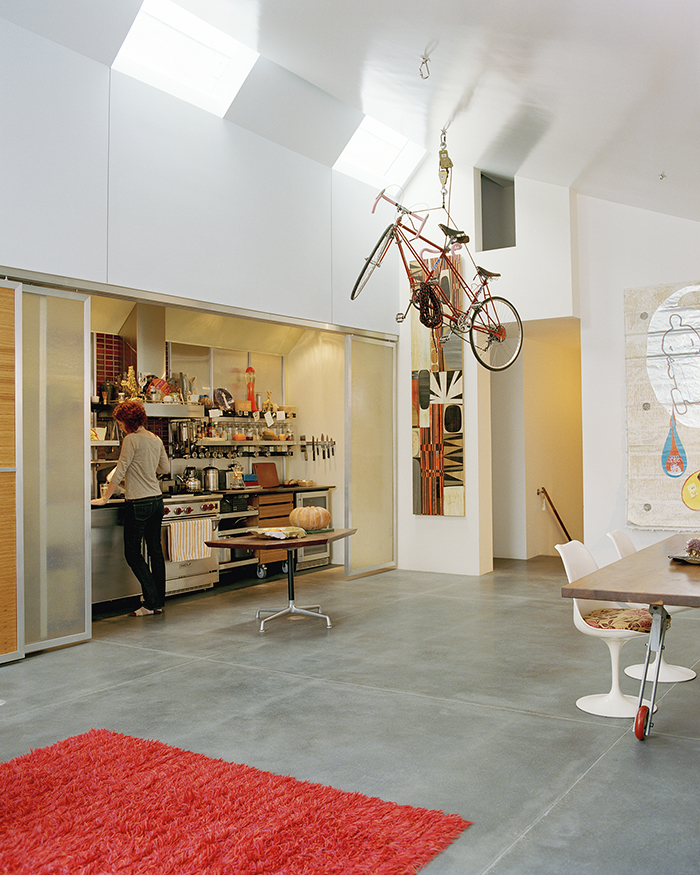 Photograph by Dave Lauridsen.
"Rooms in Japanese houses can be reconfigured just by sliding doors," Baker explains, demonstrating the functionality of the sliding screen doors that provide access to the kitchen and home office. Such wabi-sabi values, a Japanese worldview concerned with aesthetics, are apparent both inside and out. Green by design, the eco-conscious home features a thermosiphon system that captures and recycles rainwater for potable purposes. Similarly, the roof is designed with a slanted roof, bamboo planters, and filtration system that collectively mitigate runoff. Baker's bikes—he jettisoned his car years ago—are suspended from the ceiling with a rope-and-pulley system of his own design.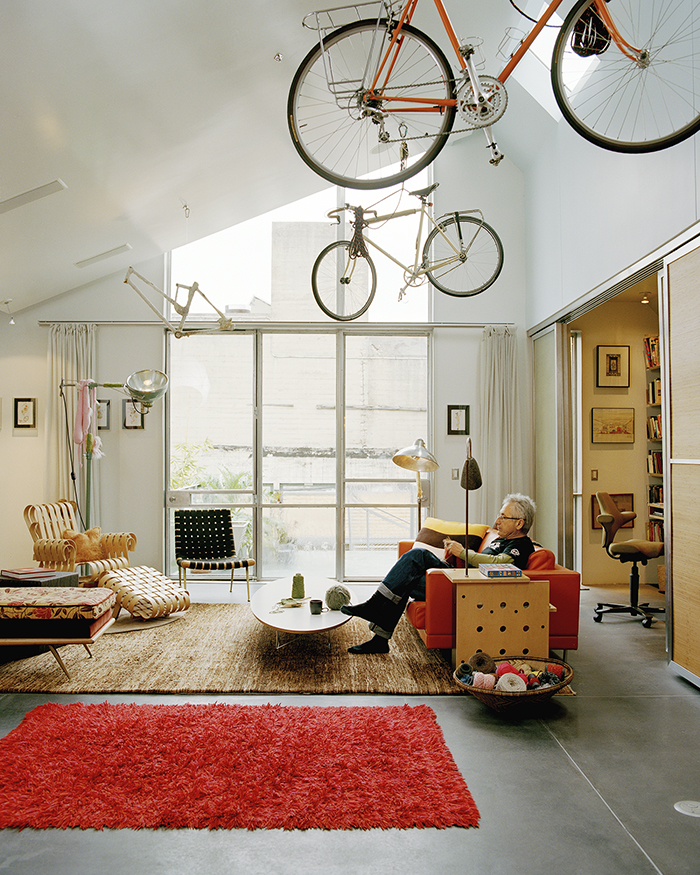 Photograph by Dave Lauridsen.
The home's furnishings are a mix of old and new, historic and personal pieces. The Eero Saarinen Tulip Armless Chairs are the same 1960s vintage models he grew up with, complete with original upholstery. Frank Gehry's Power Play Chair & Ottoman is a relatively new addition, although he's had a signed photograph of Gehry with the chair—from when he debuted his bentwood furniture collection in 1990—hanging in his studio for much longer. Given his affinity for design-related ephemera, Baker has amassed a collection of what he calls "illustrious scrap," discarded projects in states of semi-completion, started by various venerated architects, including Gehry, Herzog & Meuron, and Libeskind. Such physical proximity to historic matter affords Baker a wellspring of inspiration.
Project Credits:
Design: David Baker
Photography: Dave Lauridsen